Car batteries are an integral part of the ignition system of a car; the battery has pre-stored energy that is used by the ignition coil to pass on the power to the spark plug to create light sparks that are responsible for igniting the air/fuel mixture your car is using in the form of gasoline.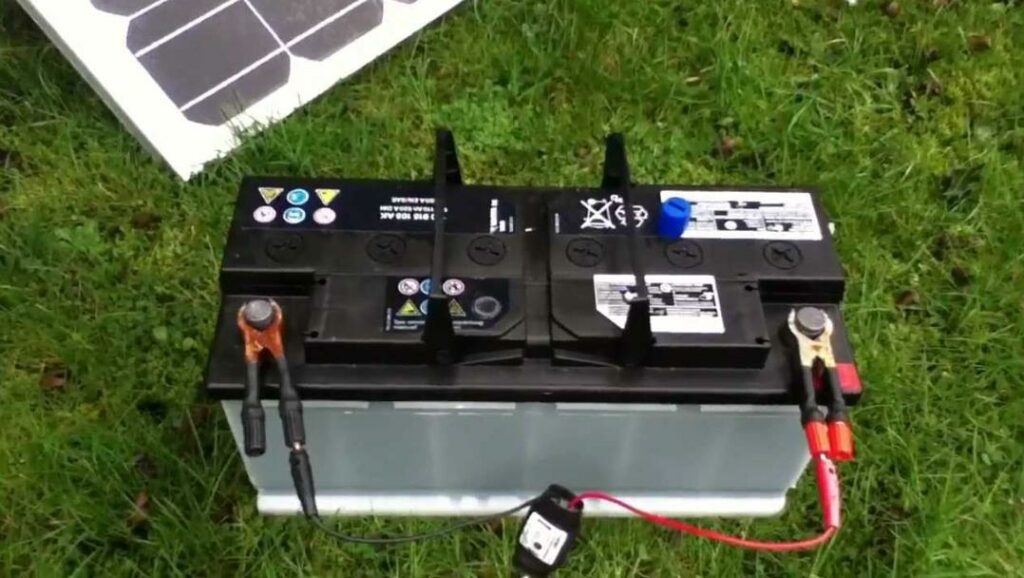 Solar panels are also one time energy reserve that is becoming popular day by day, and there are strong reasons to support this argument, as they are more cost-efficient and energy-efficient when compared to any other energy reservoir. One of the most common questions related to solar panels is, can you use a car battery for solar panels?
This might seem tricky to some people, so we have come up with a detailed analysis of this topic that would help you understand the relevant points that will clarify your view.
---
What are the differences between car batteries and solar batteries?
While both the car batteries and the solar panels are used widely as a source of energy for vehicles and appliances, the proper distinction between the two would help you to understand the individual use of both the energy reserves.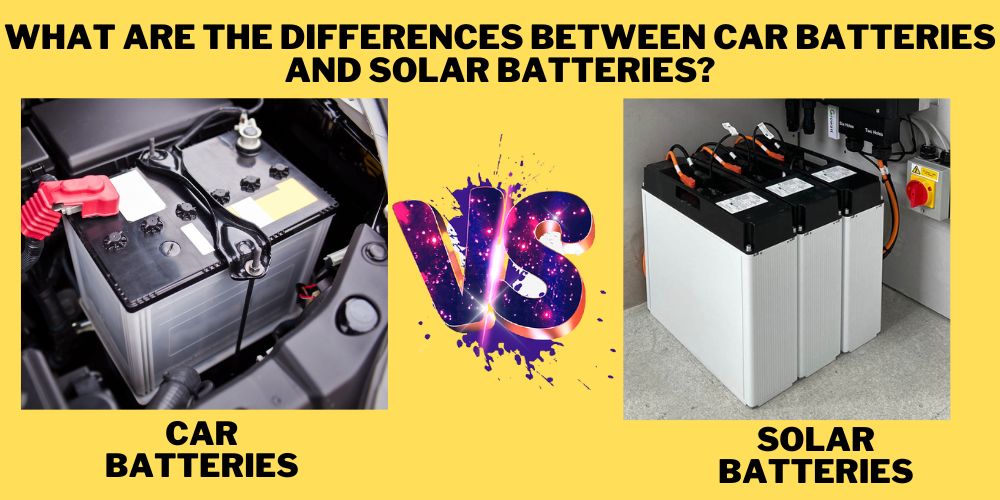 🚗 Car batteries
Car batteries are a pre-stored energy reserve used in vehicles to generate power in the induction coil. It will then hit the spark plush through the induction coil to create a light spark that will help ignite the air-fuel mixture, which will carry out further internal combustion for the sole purpose of running the car. Moreover, car batteries are an integral part of the internal combustion in a car.
Car batteries are operated on the principle of chemical reactions. 
Car batteries are pre-stored energy reserves. This means that car batteries do not require to take energy from other sources every time they are put into use. However, you will need to charge the car batteries every three to four years.
🚗 Solar panels
The working of solar panels is different from that of car batteries. Solar panels have PV cells that are present on them deployed to capture the photons of sunlight particles and convert them into free electrons for energy mobility. Household appliances then use this energy to work.
Solar panels do not involve chemical reactions and work on the principle of sunlight particles or photons.
Solar panels are not pre-stored energy reserves like car batteries and are required to absorb sunlight to produce electricity from them. Therefore, you need to charge the solar panels every day.
---
Can You Use Car Batteries for Solar Panels?
The direct answer to this question would be that you can use a car battery to power your solar panel. Solar panels require a constant power supply to produce electricity that home appliances use.
Vehicle batteries are capable of lighting up the house or used in heavy machines as a power supply source; likewise, you can use the car batteries to charge your solar panel. Car batteries power a large chunk of electrical systems in a car, which is a vital component in a car's ignition system. The pre-stored energy is used again upon the car batteries' deployment.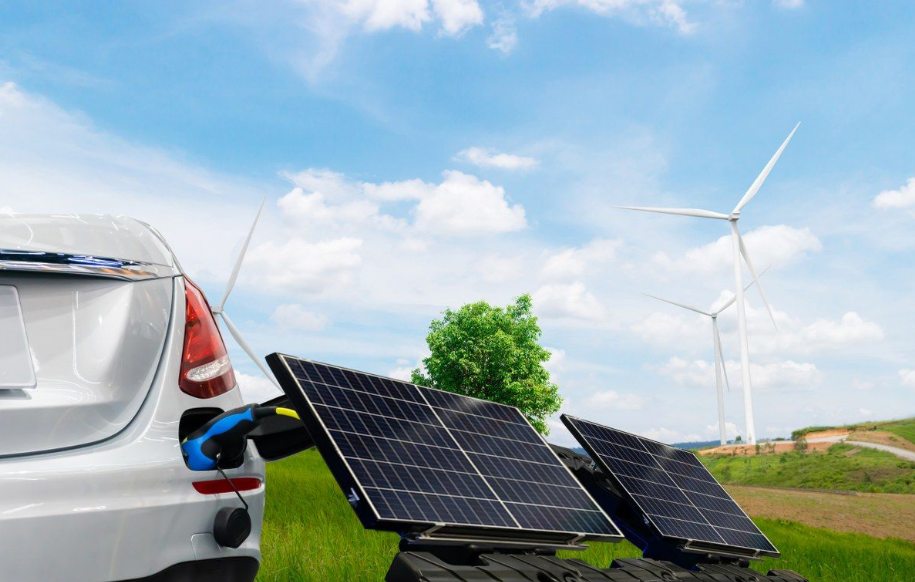 You can use the car batteries to charge s small-sized solar panel; depending upon the lifetime of an average car battery which is about 3 to 4 years, your solar panel can also be charged simultaneously. After that, you would need to charge your car battery. There are specific kinds of batteries that are used to charge solar panels.
---
What different types of batteries can you use to charge the solar panels?
If you wish to charge the solar panels using your car battery, we have articulated a list of batteries you can use to do the same. Some of the batteries are listed below: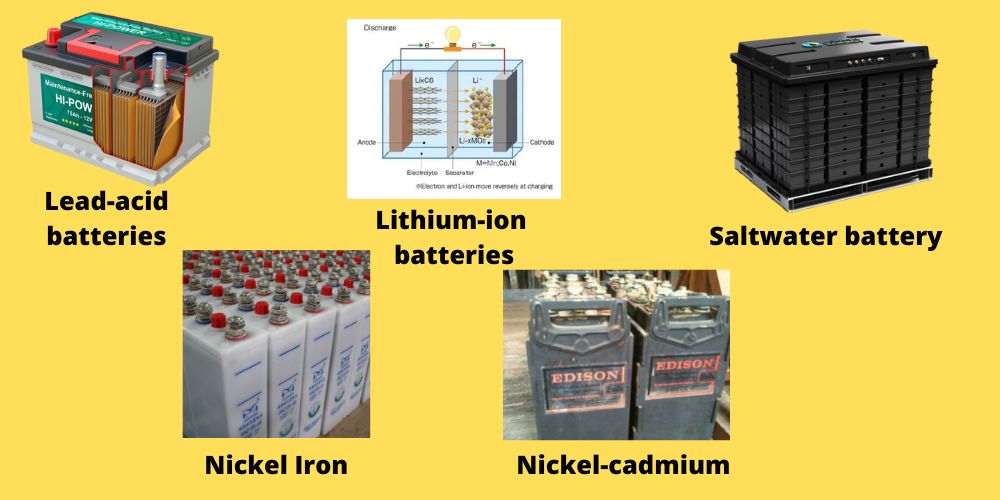 🚗 Lead-acid batteries
It is the preferred kind of battery that is used for solar power systems. Lad-acid batteries are widely used in a lot of cars and other vehicles. However, lead-acid batteries cannot be used for a long time to power your solar panels as these have a short life span compared to other options.
🚗 Lithium-ion batteries
It is considered the best choice for solar energy systems as these batteries. The charging ability of these batteries is quite impressive and is designed in such a way to power the solar energy systems as well. Moreover, lithium-ion batteries are known to have a larger period than any other batteries compatible with solar energy systems.
🚗 Saltwater battery
Saltwater batteries are becoming popular day by day as these work on the basic principle of saltwater and do not involve any other chemical like other batteries; these use just the electrolytes drawn from the saltwater. However, these batteries' life span is very low compared to other car batteries capable of supplying power to solar panels.
🚗 Nickel Iron
Nickel iron batteries are alkaline based and run on potassium hydroxide; these are reliable and dependent sources of power supply for the solar panels. However, after charging, these batteries release a considerable amount of energy which is the reason for the low recommendations for these batteries.
🚗 Nickel-cadmium
If we break the nickel-cadmium batteries in terms of positive and negative terminals, then the positive terminal will be nickel, and the negative one is cadmium. This kind of battery is not recommended for regular use as the nickel-cadmium batteries are quite expensive and should only be used in case of absolute emergencies.
---
Conclusion
You can use car batteries to charge the solar panels. Still, it is not something that you should consider as a permanent solution or remedy as the solar panels are meant to power an entire house along with additional appliances that would be a huge load if you are using only a single battery, so you would require a large number of batteries connected simultaneously to your solar panel system which is a bit difficult and costly.