I drive a big Dodge truck. I drive American cars – J.B. Smoove
Ever reliable, old fashioned muscle has been the driving force behind the iconoclastic cars that made the American auto industry the envy of the world.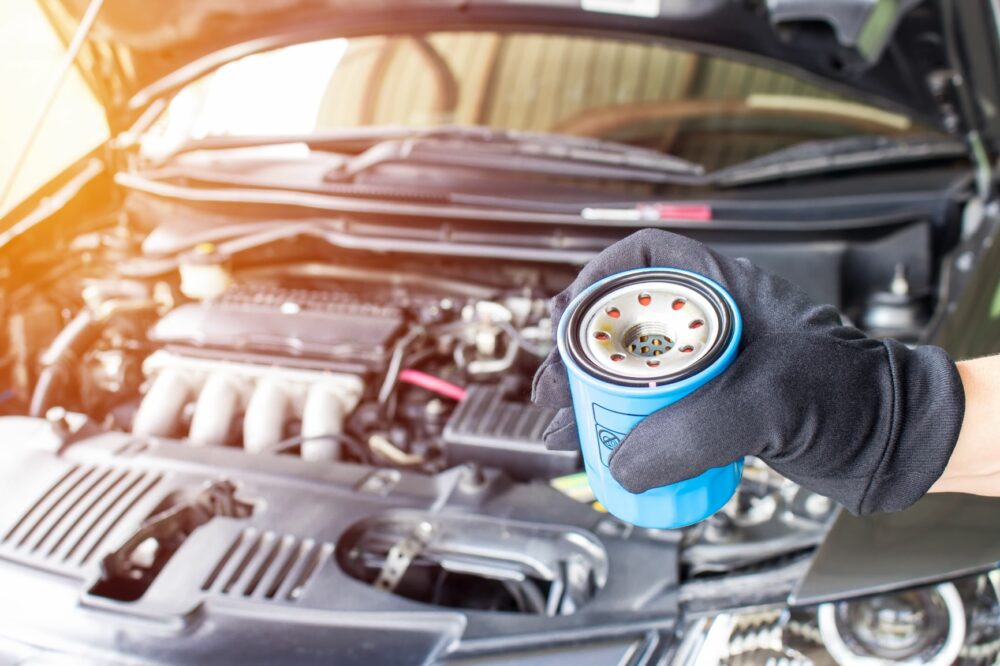 A blue-collar business that launched a thousand instantly recognizable cars between the nineteen-thirties and the seventies, car manufacturing entered a fallow period during the last couple of decades of the twentieth century, before roaring back into life, reinvigorated and ready to tear the concrete off of every road surface everywhere at the beginning of the millennium.
And at the heart of the new revolution was the incredible Chrysler motor that helped kick things into overdrive, the 5.7 liter Hemi.
Responsible for pushing most of Dodge's high end, dream cars and their smaller RAM's toward the horizon at dizzying speed, the Hemi is also a turn-key, everyday motor that stars without a glitch and comes with the kind of built dependability that you can trust to always get where you want to go.
Best Oil Filters for 5.7 Hemi: Quick Summary
---
Best Oil Filters for 5.7 Hemi: Detailed Reviews
So, even the most faithful motors need a little care and attention to keep them on track and performing at their peak every now and then, which is we've found the seven best oil filters for a 5.7 Hemi so that when you change the oil in your Dodge, you'll know that the filter, just like the motor it's fitted to, will never let you down.
It's time to find the best oil filter for your 5.7 liter Hemi…
Features
Exclusive Synthetic Blended Two-Ply Gradient Density Filter Media Is Engineered To Remove 99 Percent * Of Engine Oil Impurities And Trap Up To 36 Grams Of Contaminants Based On Industry Tests.
An Oil Filter So Good It Meets Or Exceeds Proposed Industry Specifications For Capacity And Efficiency.
A Premium Oil Change Calls For A Premium Oil Filter.
Package Dimensions: 8.1 L X 8.6 H X 8.1 W (Centimeters).
Pennzoil has been at the forefront of the gasoline game for more than a century and the one thing that this American company does better than almost anyone else is making sure that every motor always runs the way it was made to.
After all, a premium oil change calls for a premium oil filter, and this Platinum model is one of the guiding lights in the Pennzoil range.
Designed to be easy to use, it's a spin on filter that anyone who can perform an oil change can fit in under two minutes.
Engineered to help reduce engine wear and increase the lifespan of your motor when used in conjunction with a premium brand oil, if there are particles floating around in your Hemi's oil, this filter will catch them, trap them and ensure that the oil in your motor remains as pure as the day you poured it in there.
Pros
✅ Easy to fit and easy to remove, this Platinum filter has a brand name stamped into it that generations of American muscle maniacs have entrusted to look after their motor for more than one hundred years.
✅ It's a lightweight filter that's been built to keep any and all particulates away from your Hemi and make sure that it always runs smoothly and never skips, or misses a beat.
Cons
❌ It's a five thousand mile filter, try to push it any further than that and it'll start to go downhill fast. But then, as you've got a Hemi up front, you already knew that, didn't you?
❌ And it's also kind of flimsy, and dents easily if you put too much pressure on it when you fit it. While that might seem like a cause for concern, it shouldn't really be a problem. Just be careful when fitting it and your Mopar will continue to purr like a kitten.
---
Features
Proven protection for up to 15,000 miles.
Engineered for use with premium conventional and semi-synthetic oil.
Ideal balance of dirt trapping efficiency and dirt holding capacity.
99% dirt-trapping efficiency.
Sure Grip anti-slip texture makes changing FRAM oil filters quick and easy.
Since they first started making filters in nineteen thirty-four, FRAM has wholeheartedly believed in a simple idea – "The dipstick tells the story".
The only filter company to have received a Naval award for excellence, and in doing so became the Navy's sole supplier of filtration technology, FRAM owns and operates the largest filtration research and engineering facility in America, and everything they discover is plowed into every filter that they make.
This probably explains why FRAM's Tough Guard filter that uses SureGrip technology for easy installation and removal is so good at what it does.
Its silicone anti-drain back valve has three times the hot oil resistance of standard filters, which guarantees safe start-up and increases the time between oil changes and its unique blend of silicone and glass blended media ensures that it captures ninety-nine percent of dirt particles.
Or in layman's terms, it's an ideal oil filter for high mileage drivers and anyone who likes to push their Hemi a little harder and to the limits of its ability.
Pros
✅ Purposely engineered to increase the time between oil changes by increasing the efficiency of the filter, FRAM recommends that the perfect oil interval, if your Hemi is using Tough Guard, is around fifteen thousand miles instead of the more usual five thousand.
✅ The SureGrip technology that FRAM uses on this filter makes it simple to fit and easy to remove. And who doesn't like an oil change to be straightforward and hassle free?
Cons
❌ Make sure you get the right filter, as FRAM makes more filters than there are extras in a MOPAR catalog. Get the wrong one and it won't fit your 5.7 and you'll be back to square one. But if you get the right one, you'll be good to go for another fifteen thousand miles.
---
Features
Package Dimensions: 10.922 H x 9.652 L x 9.906 W (centimetres).
Country of Origin : United States.
Package Weight: 0.567 kilograms.
Fit type: Vehicle Specific.
If you're looking for the sort of oil filter (and who isn't?) that's been made to help your Hemi roar and throw down with the very best every single time that you fire it up, then you're going to want to fit a high-performance filter to your high-performance engine.
And that's where SRT (Street and Racing Technology) comes in, as this filter has been engineered and made by the Chrysler division who helped Dodge to reclaim the road and make it their own.
Built for Hemi's by the people who designed the engine, this SRT filter has been fashioned to deal with all of the heat and power that your Hemi will subject its oil to and won't falter in the face of motor adversity.
It's a twist on and twist off filter that simply screws into place and keeps the oil in your motor clean regardless of how hard you push your Hemi.
Those three letters, SRT, make all the difference and will help to keep your motor sharp and focused between oil changes.
Pros
✅ It's an SRT filter that's been made by Dodge for Dodge motors. Take a look at the filter that was attached to your Hemi, and then take another look at this. Can you see the difference? You can't? That's because there is none.
---
Features
It is better than conventional filters and removes more contaminants than them.
This oil filter contains synthetic fibers that help in producing clean oil.
Standing out from the rest, it effectively supports long engine life and performance.
It can bear up to 9 times the pressure of a normal operating system.
Improves filter efficiency to a great extent by reducing the resistance to oil flow.
Made on a sophisticated framework, this oil filter can be installed effortlessly.
Fitted with an anti-drain back valve feature, this largely prevents the retaining of oil in the filter after the motor has been stopped.
The Mobil 1 M1-204A Extended Performance Oil Filter is a 4*4*4 inches automobile filter designed to present its users with great mileage. Its lightweight of 0.53 pounds makes it portable and very easy to install.
Made of synthetic fibers, it greatly helps in promoting clean oil, which in return supports good performance and long engine life. Being a generic afterthought, the Mobil 1 Extended Performance Oil Filter filtrates more contaminants than the normal ones.
This premium quality oil filter keeps the oil cleaner for a longer time and provides its customers with the added convenience of saving on oil changes. Besides, when combined with Mobil 1 Annual Protector, drivers can go up to 20,000 miles without any replacement in oil or filter.
Built on a technologically advanced mechanism, it can easily withstand up to 9 times the pressure of a standard operating system. In addition, reducing resistance and improving filter efficiency are the key prospects for the oil filter.
Rated by millions of customers, the Mobil 1 performance enhancer oil filter is the best for synthetic oil users. Moreover, its longevity and style make it the No. 1 choice for Mobil consumers.
Therefore, this high-performance oil filter from a reliable, competition-proven manufacturer comes with unique yet innovative features and outstanding quality.
Pros
✅ With a staggeringly high particle and dirt capacity and a silicone anti-drain back valve to help prevent leakage, Mobil's oil filter is designed to let you fit it and forget about it until it's time for your next oil change.
✅ And thanks to the advanced blend of synthetic fibers that this filter uses, the period between those necessary oil changes will be far longer than you've previously been used to.
Cons
❌ There have been rare examples of fitment issues, but whether that was down to customer or auto parts store issues is anyone's guess. As long as you order the right size filter for your Hemi, Mobil will keep your motor running sweeter than the production line at a candy factory.
---
Features
Optimizes engine life for up to 10,000 miles (when used with a full synthetic oil).
99% dirt removal power.
High-density synthetic blend media.
Silicone anti-drainback valve that lasts longer than traditional nitrile to protect against dry starts and oil leaks.
Metal end caps and center tube provide stability and integrity for greater wear resistance.
Purolator was founded by the duo of engineers, Ernest Sweetland and George H. Greenhalgh who patented the world's first automotive oil filtration system in nineteen twenty-three.
Priding themselves on their thirst for innovation, Purolator has been a driving force in the filtration industry ever since they filed the patent that started it.
Using a high-density synthetic blend media, this filter traps and contains ninety-nine percent of particles and dirt, and as long as you're using synthetic oil it can last for up to ten thousand miles between oil changes.
And thanks to its silicone anti-drain back valve, as long as you fit a Purolator filter, dry starts, and leaks will be a thing of the past.
Pros
✅ Designed using metal end caps and a center tube, the Purolator is built to be hardy, durable, and lasts far longer than most traditional oil filters do.
✅ Easy to fit and remove, it's made to spin on to your Hemi when you need it and spin off again when you don't.
Cons
❌ If you don't make sure that the filer you order is made to fit your Hemi, it won't. Thanks to the vast number of filters that Purolator makes, you have to pay attention when you're ordering or there's a chance that you'll end up with the wrong oil filter for your Dodge.
---
Features
Fit type: Vehicle Specific.
Package Dimensions: 9.144 H x 8.128 L x 8.128 W (centimeters).
Country of Origin : China.
Package Weight: 0.222 kilograms.
Almost every Dodge owner will tell you that the only parts that you should ever fit on to your Hemi, have to wear the Mopar name.
If you're going to run a Chrysler engine, you need to use Chrysler parts. It's an argument that's hard to fault, and much as we've tried to, it's one that it's almost impossible to disagree with.
A purpose-made Mopar filter that's designed to screw straight on to your Hemi after you've removed the old filter and changed the oil, this Mopar monster will keep your motor in meticulous running order between recommended oil changes.
It'll take care of any particles, eliminate dry starts, and nullify oil leaks. And it'll do all those things because that's what it was made to do and because Mopar parts always keep their word and do everything that they say they will.
Pros
✅ It's a Mopar oil filter for a Mopar motor. That's all you'll ever need to know, and more than enough reason to screw it onto your Hemi.
Cons
❌ Again, it's a fitment issue. Even though your Dodge might be running a 5.7 liter Hemi, it might not fit your motor, due to the way the motor has been fitted in the engine bay. So before you lay your cash down for this filter, check whether it'll fit your make and model of Dodge.
---
Features
HIGH FLOW RATES: Designed to provide exceptional flow rates and a consistent flow of oil to your engine
VERSATILE COMPATIBILITY: Designed to operate with all synthetic, conventional, and blended motor oils
PROTECT YOUR ENGINE: Pleated synthetic-blend filtration media removes most harmful contaminants
EXTENSIVELY TESTED: Laboratory tested to ensure excellent capacity and burst strength
EASY TO REMOVE: Fast and easy Wrench-Off removal
K&H has been a leading filtration industry brand for more than half a century. Whether you're looking for an air or an oil filter, they make a model that's designed to fit your requirements to the letter and exceed your wildest expectations.
They might not the biggest dog in the filtration yard, but their filters have more than bite to make sure that they keep up with the leaders of the pack.
Engineered to twist on and off, and provide consistent and high flow rates to your motor, this filter uses a patented synthetic media blend to remove and store almost all of the particles and debris that pass through it.
Laboratory tested, this high-density filter has been built to be durable and cope with everything that you Hemi can hurl at it.
Pros
✅ Simple to fit and easy to remove, this filter was made to keep your Hemi humming between oil changes and to keep you and your Dodge on the road whatever the weather and no matter how far you have to travel.
✅ And it comes with K&N's limited one year warranty. If it doesn't do what K&N says it will, they'll either replace your filter or refund your money.
Cons
❌ While the incidents of it happening are few and far between, K&N's oil filters have been known to fail or suffer from durability issues. It isn't a common occurrence, and it's covered by their warranty, but it's an issue that you should be aware of before putting the safety of your Hemi in K&N's hands.
---
You May Also Find Useful: Best Oil Filter for 5.9 Cummins
Best Oil Filters for 5.7 Hemi– Buyer's Guide
🚗 Which Oil Filter Should I Use With My 5.7 Hemi?
As all of the filters on our list are designed to do exactly the same thing at a roughly similar price point, the main thing that you need to think about is how often you change the oil in your Hemi.
If you change it every five thousand miles or so, then ideally you should use a Mopar filter for your Hemi. It just makes more sense to use Mopar parts for a Mopar motor.
If, however, you can't commit to a regular oil change schedule because sometimes life and the world get in the way, and you have to fit services and oil changes around your routine, then it makes more sense to use a longer interval oil filter like the FRAM or the Mobil.
And as long as you do change your Hemi's oil before their long life deadline, it'll keep on running exactly the way it was supposed to.
---
Frequently Asked Questions (FAQs)
What Is A 5.7 Hemi? 
A Hemi is an engine that uses a hemispherical combustion chamber, which allows the engine to use bigger valves and, as a result, can produce far more power, and has become known the world over as a high-performance engine.
Primarily associated with the Chrysler brand, which owns the trademark to the word "Hemi", since the beginning of the twenty-first century the Hemi has become synonymous with both Dodge and RAM trucks.
The 5.7 Hemi is a powerful motor known for its ability to produce high torque and a large amount of horsepower and is primarily used in SRT Dodge cars, namely the Charger and the Challenger, and is the standard motor that the RAM 1500 uses. 
What oil filter does a RAM 1500 5.7 take?
A RAM 1500 5.7 usually takes Mopar Original Equipment oil filters for efficient use. This original equipment oil filter can be popularly addressed as Part no. MO-090.
What brand of oil filter does Dodge recommend?
The best brand of oil filters that Dodge mostly recommends is the use of Mopar Engine Oil Filters.
How often should you change oil 5.7 Hemi?
Oil change intervals should not exceed twelve months or at least 10,000 miles. The durability extends a bit when it comes to 5.7 Hemi, but it cannot be confirmed from beforehand. Therefore, it is always advised to have a look at the engine oil level before starting for a long trip.
Can I use thicker oil in 5.7 Hemi?
Yes, you can always use a thicker oil on your 5.7 Hemi, but it won't be much advantageous. It will not benefit you. The cold wear might increase, and the MDS would stop working. Hence, it may result in rough running. 
 
Well, the perfect oil for 5.7 Hemi is SAE 5W-20. With a viscosity rating of 5 in cooler weather and 20 at optimum temperatures, this oil provides your engine with long life and enhanced performance. 
Should I use synthetic oil in my RAM 1500?
Yes, you can use synthetic oil in your RAM 1500, but it is not always applicable. If only your RAM 1500 is well-equipped with the 3.0L V6 EcoDiesel engine, it's ideal to use synthetic engine oil. Further, the engine oil should weigh around 5W-40 for its efficient utilization.