Having the appropriate oil filter ensures your engine will be kept in optimal condition. That's why it's crucial to get the best oil filter for 5.9 Cummins, rather than letting it slide.
This oil filter is designed to work with the diesel engine of your Dodge Ram and comes in different case sizes to make sure you always have one on hand when you need it. It has the fluted shell for your vehicle and serves as an upgrade of the older model.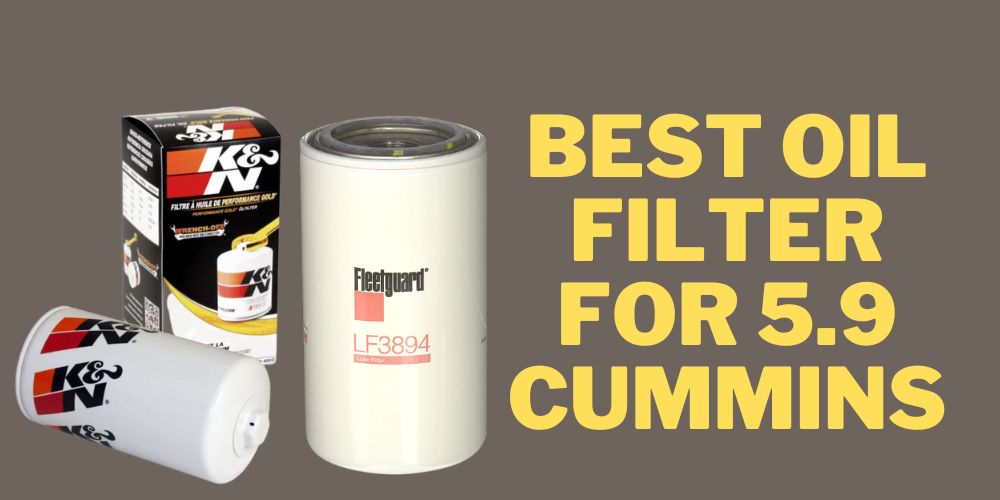 By installing a new oil filter you'll set your vehicle up to function better and the engine to run cleaner. You want to be sure that the oil is free of dirt, debris and other particles it can pick up as a general rule. The correct filter will provide more cleaning capabilities, keeping the oil running through the engine just the way it needs.
At this point I've already shared my favorite when it comes to oil filters for your truck. However, others deserve to be mentioned, at the least. I'm going to catalog the top ten products out there to choose from. The Fleetguard is my favorite, but not everyone is going to like it. Thus, below are some options to consider.
---
Review of the Best Oil Filters for 5.9 Cummins
---
Best Oil Filter for 5.9 Cummins: A Detailed Review
Who this is for:
For anyone who wants an upgraded filter that's designed to improve the quality of filtration in your vehicle.
Why I like it:
It's high quality and you can use it whether you're running your truck with synthetic or with standard/conventional oil.
Pros
✅ Inexpensive.
✅ Designed to extend the time between oil changes.
✅ Improves flow over other filters.
---
Who this is for:
For anyone who wants an original part directly from the manufacturer.
Why I like it:
It's designed by Chrysler, which means you know exactly what you're getting. Also, know there won't be any fuss about fitting the part into the vehicle.
Pros
✅ OEM replacement part.
✅ Easy installation process.
✅ Designed for 2004 – 2012 Dodge Rams.
---
Who this is for:
For an owner of a Dodge with a 5.9L diesel engine that's anywhere from an 86 to an 02. It's designed for a wide range of different vehicles.
Why I like it:
It fits many different vehicles and it's considered an upgraded version of the traditional filter in a Dodge Ram.
Pros
✅ Upgraded version of LF3885.
✅ Fits vehicles 1986 – 2002.
✅ Larger size than similar options.
---
🚗 4. K&N HP-4003 – Oil Filter for 5.9 Cummins
Who this is for:
It's designed to fit just about any vehicle you could find and it gets rid of most contaminants.
Why I like it:
Iit helps remove up to 99% of contaminants, which keeps your engine running properly for a lot longer.
Pros
✅ Designed for rough conditions.
✅ Anti-drainback valve.
✅ Fits large range of vehicles.
---
Who this is for:
For anyone looking for durability and longevity. It's great for those who need a new filter and prefer the best.
Why I like it:
It's efficient and takes care of many particles that might otherwise clog up the engine, which is definitely a cost-saving aspect.
Pros
✅ Works up to 12,000 miles.
✅ Durable and long lasting design.
✅ High quality brand with top notch products.
---
Who this is for:
For anyone who wants a simple install unit that will fit just about any Dodge diesel.
Why I like it:
It's designed to fit dodge vehicles from 1989 to 2016, which means you're getting a lot of versatility out of this one filter.
Pros
✅ Fits vehicles 1989 – 2016.
✅ Strong seal during installation.
✅ Provides improved air flow over similar options.
---
🚗 7. FRAM PH3976A – Oil Filter for 5.9 Cummins
Who this is for:
For anyone who wants an efficient installation process of the new oil filter with no room for error.
Why I like it:
This filter is easy to install and it's able to remove just about anything. Plus it's designed to prevent leaks because it has locked seams.
Pros
✅ Statistical Process Control lock.
✅ Precision coil spring.
✅ Uses high strength thread plate.
---
🚗 8. Napa 1607 – Oil Filter for 5.9 Cummins
Who this is for:
For anyone who wants a quality product from a reputable brand but doesn't want the expense.
Why I like it:
It's a high quality filter and it's from a respectable company without paying a high dollar price.
Pros
✅ Moderate pricing for high quality.
✅ Limited product warranty.
✅ Wide range of vehicle compatibility.
---
Who this is for:
For anyone who wants a full flow lube filter and a product with the full force of a reputable company behind it.
Why I like it:
It's high quality, durable, and it's built and manufactured by a company that knows oil filters.
Pros
✅ Reputable company behind it.
✅ Full flow lube filter.
✅ Moderate price point.
---
Best Oil Filter for 5.9 Cummins – Buyer's Guide
Ready to pick out an oil filter? Maybe you're not sure that any of the options I've mentioned are going to be the best choice? Maybe you've started a bit of research and you're not sure what you're looking for?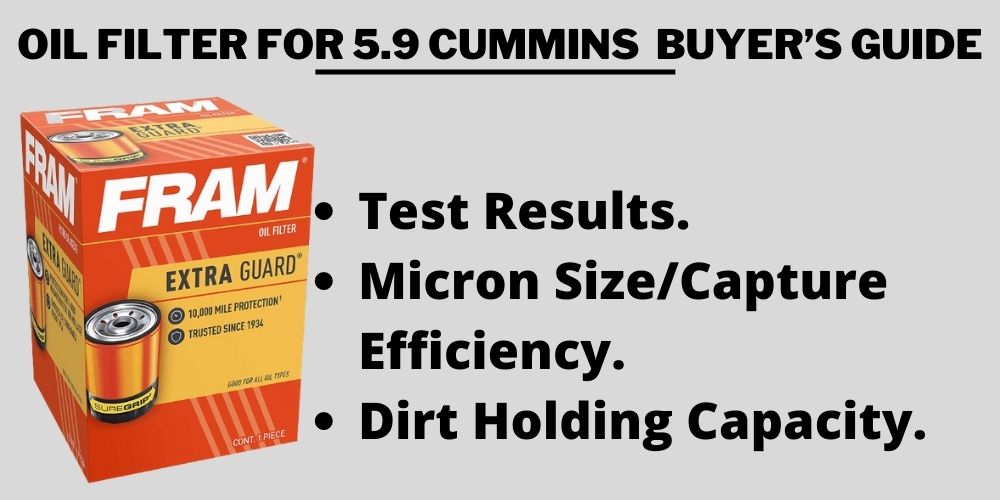 Thus, I'll lay out some of the ground rules that go along with choosing an oil filter. After all, you want something that's going to work for you. Following are the tips and features to consider when it comes to picking out an oil filter.
🚗 Test Results
One of the first things to confirm (after you ascertain the oil filter is built for your vehicle) is how well it does on tests. There are a number of different types of tests including single pass particle retention capability, media migration, inlet and outlet anti-drain valve and mechanical tests to validate how that oil filter performs.
This will let you know if you're getting a high quality oil filter and if it'll get rid of as much of the particles that might enter into the engine and oil as possible.
🚗 Micron Size/Capture Efficiency
You'll want to look at these two numbers because they give you a better idea of what can be captured with the filter. For example, if you have a 95% capture efficiency on particles that are 10 microns or more then you're getting a good filter.
The larger the capture efficiency and the smaller the microns the better the air filter. You'll never get a filter that's 100% effective, but some protect against more than others.
🚗 Dirt Holding Capacity
Finally, make sure the unit you're looking at is able to hold enough dirt that it will last a while. You want to ascertain that it's built to last at least until the next oil change. Don't be forced to change out the oil or oil filter (or both) more frequently just because it's not built to stand up to the normal pressures while driving.
---
How to Use an Oil Filter for 5.9 Cummins?
Using an oil filter is quite simple. All you need is to take out the installed oil filter that's in the vehicle and replace it. At that point, you're ready to start driving. It's really that easy. Alternatively, you can go to a mechanic or auto technician to get the job done as well.
That allows you to get the job done correctly and efficiently. Plus, they'll take care of things like an oil change while they're at it, so you're getting more for your time and money.
If you decide to go about it on your own, just make sure you're choosing the appropriate oil filter in the first place and follow the instructions to remove the old filter and get the new on without damaging something. It's not a complex process, but with flimsy oil filters it's important to be careful.
---
Frequently Asked Questions (FAQs)
Before I get to the end of this article, lets go over some frequently asked questions about new filters for their 5.9 Cummins. After all, you want to make sure that you're getting the suitable item. Make sure it'll work the way you expect and that you're installing it properly. In general there are many questions and I'll go over several of them here to get you started.
Are Oil Filter Relocation Kits Safe?
One common question is whether this type of relocation kit is safe. The short answer is that you won't have problems if it's done properly. The key part of that is to relocate the oil filter accurately.
Otherwise you could end up with damage – especially to the engine – which will cost a lot of money and take a lot of time to fix (if it's even worth getting fixed in the first place). Make sure to follow the instructions and that you're getting a reputable kit.
Are Oil Filters All the Same?
Oil filters are quite different. This is intentional because they go into assorted vehicles. Know exactly which type of vehicle you're buying a filter for. Also, when choosing between various oil filters, they could be made with different materials or in slightly different ways.
This means you can't just pick up a single oil filter and hope it's the same as the oil filters from other manufacturers. You'll need to do some research.
Are Fram Oil Filters Good?
Some people suppose these oil filters aren't the best and you may even find some negative information. The truth, however, is that they're not so bad. These oil filters get the job done and they are well-tried.
In fact, they go through tests to filter out different types of particulate matter and to make sure they can stand up to a lot of abuse (for those times when you want to put your vehicle through a lot). And they've passed those tests, so that's good to consider.
Can an Oil Filter Affect Oil Pressure?
The short answer is yes. The wrong oil filter can affect the overall oil pressure of the vehicle. The wrong size or type, a clogged filter or a number of different issues could reduce the oil pressure.
And a reduction in oil pressure is dangerous because that reduction could cause less oil to go into the engine (or too much oil). Either way, that can cause severe damage.
Can an Oil Filter Cause Engine Light?
In general, an oil filter will not cause the check engine light to come on, but that's not always the case. If the oil filter gets destroyed, it causes damage to the engine itself and that will definitely cause the light to go on.
Or, for example, if it restricts oil flow. The oil filter itself doesn't cause the light but some things could transpire as a result of the oil filter leading to problems with the check engine light.
Can an Oil Filter Leak?
Not if it's in good working order and installed correctly. The only way an oil filter can leak is if it is installed improperly, which can result in excess pressure from the engine pushing oil out of the filter.
If a filter isn't the right size for the vehicle you could also find leaks because of the loose fit between the filter and the connection. This leaves gaps where oil could be seeped out of the filter as you're running the vehicle.
Can an Oil Filter Be Reused?
In some instances you can reuse an oil filter and that's something to consider as long as you carefully clean the filter. Always make sure it's completely cleaned before you use it again after an oil change or any other service to the vehicle.
Make sure that the filter is in the best possible condition, after all. If you don't clean it you could end up with problems with the oil or even your engine as a whole.
Verdict
Now that we've gone over the top 10 oil filters for your 5.9 Cummins and I've even laid out the top features, you should be more than ready to choose the appropriate oil filter for your vehicle, get it installed and ready. You'll be able to jump right into driving.
The best oil filter for 5.9 Cummins will make it a lot easier to get the best out of your vehicle and will ensure you won't sacrifice anything. Take a look at one of these or start your research based on the features mentioned above.