A coil over is a shock-absorbing device with a coil spring in the upper part that wraps around a damper, or rather, a rod. In other words, it's a screw suspension with the ability to adjust the height and stiffness of the coil spring without having to dismantle the coilover.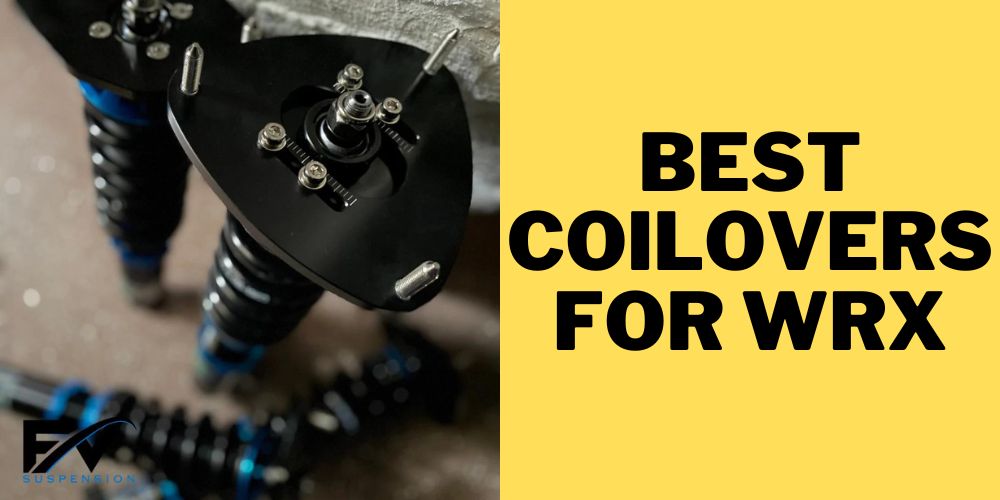 The coil spring, located at the top of the rod, moves against the damper itself and makes it harder or softer, depending on driver requirements.
Not only can the suspension stiffness be effectively changed with the help of coilovers but also the clearance height (ground clearance), depending on your needs.
The best part is that you get all these suspension changes with the same shock absorbers without disassembling them.
Best Coilovers for WRX Overview
Subaru Impreza WRX 2000-2007: maXpeedingrods Coilover
Best 2004 WRX Coilovers: JDMSPEED F034-SBRD
Best Coilover for Legacy 1994-1998 GDA GDB: POLE MOTOR Coilovers Shock Absorbers
Top Coilovers for 2011 WRX: Rev9 R9-HS2-039
Best Coilovers for WRX: Tein VSSB0-D1SS4
---
What do coilovers do WRX?
Coilovers is the abbreviated form of "Coil over Shock Absorber." The coilovers are responsible for setting the height and damping of your Subaru WRX STI. You gain better control when coilovers enable you to reduce the center of gravity and tighten the chassis.
---
How long do coilovers last Subaru?
Though some claim that the coilovers can last for 50,000-75,000 miles, in the actual scenario, they should be checked after 30,000 miles and fixed or replaced with new ones if required.
---
Should I get coilovers for WRX?
Coilovers help to enhance the maneuvering of almost any type of car. It also helps to make alterations in operating features and even ride height over time occasionally.
---
Best Coilovers for WRX: A Detailed Review
Now let's take a look at some of the best affordable coilover kits for Subaru WRX.
The coilovers fit perfectly at both the front and rear. The height adjustment is easy, and so is the installation. 24 levels of rebound force are available for better control.
For roads on mountains with frequent turns, you can set the levels at 9-16. For regular streets, the manufacturer recommends setting it at 17-24. Adjustment is pretty straightforward and possible at any given time.
Specifications
Comes with Bolts or Clamps
9kg/mm (504lbs/in) of front spring rate
7kg/mm (392lbs/in) Rear Spring Rate
Damper force can be adjusted 24 ways.
Camber plate and height is also adjustable. 
Features
Ride height is adjustable. 
Pre-load spring tension is also adjustable as per your choice. 
The Pillow ball top mount helps fight noise while tuning. Enhances steering feel and response.
The increased hardness is due to the 6061 aluminum used with T6 in most components. It results in superior strength, while aluminum enables keeping the weight down.
The spring is highly durable as it goes through special surface treatment.
---
These affordable coilover struts come from a reliable seller on Amazon (since 2016). JDMSPEED produces high-quality coilovers and can answer any questions you have about their coils.
Specifications
2 front + 2 rear.
Weight – 57.3 lbs.
Front spring rate: 8 kg.
Rear spring rate: 6 kg.
Dimensions – 23.6″ x 18.5″ x 6.7″.
Hardware included.
Material – 6063 T6 aluminum.
Non-adjustable damper.
1-year warranty.
Features
Adjustable height.
Integrated aluminum top mounts.
Increased handling performance.
Independently adjustable lower mount.
Allows for fine tuning of a vehicle's height without sacrificing shock travel.
Easy installation (provided you have the right tools).
---
This coilover come with an adjustable camber plate and adjustable tension, resulting in the adjustment of perfect spring height for better riding.
Installing them is relatively easy. The thicker top aluminum mount offers more durability though keeping the weight down. It comes with six bolts to handle more pressure capacity. 
The vehicle lowers to an optimal level, and the back doesn't go too high. The enhanced steering feel and noise reduction are due to the Pillow ball design on the top mount.
Specifications
Comes with 2 pieces Front.
Bolts or Clamps is included in the package. 
8kg/mm (448lbs/in) of front spring rate. 
7kg/mm (392lbs/in) of rear spring rate.
Height and camber plate is adjustable.
Features
High tensile strength.
Damper Dust Cover.
The Pillow ball top mount helps fight noise while tuning. Enhances steering feel and response and gives better control of the steering.
---
🚗 4. Rev9 R9-HS2-039 – Top Coilovers for 2011 WRX
Are you looking for coilovers that will not make you spend a fortune? Rev9 affordable coilovers are considered one of the best coilovers for WRX on the market to provide you with features that can't be found in other coilovers in the same price range. The kit includes top hats and 32-way adjustable dampers with height-adjustable shocks.
These Rev9 coilovers are great, especially for drivers who want to replace all of their factory shocks with new ones and have a height-adjustable coilover suspension. These Rev9 coils are all about performance and comfort, designed for everyday driving to provide the perfect mix.
Specifications
Includes a full set of 4 coilovers.
8 kg front and 8 kg rear springs.
Height adjustment range of about 1″ drop from max height to about 3″ maximum drop.
1-year warranty.
Fitment – 08,09,10,11,12,13,14 Subaru Impreza/WRX (excl. WRX STI).
No installation instructions.
Features
Full-length adjustability.
Great performance.
Easy installation (with right tools).
Professional installation recommended.
Front camber plates included.
32-way adjustable dampers (soft to firm).
Height-adjustable shocks.
Camber plate with pillow ball.
Standard top mount.
---
These high-quality coilovers are made of high-tensile steel SAE9254 (tensile strength 200 kgf/mm2 or higher) and cold-formed for ultimate resistance to sagging and excellent stability. Flex A has adopted the new wrought aluminum spring seats and low-friction hard-resin thrust washers.
With these coilovers, no matter how big the bump, the impact gets absorbed and converted to thermal energy inside the shock absorber, minimizing the shock and eliminating rebound force.
Tein (VSSB0-D1SS4) Flex A Suspension Kit for Subaru WRX/STI
Flex A comes with the "Hydraulic Bump Stopper (H.B.S.)" feature, tested in the world's harshest motorsports events including the World Rally Championship and the European Rally Championship. The efficiency of this impact-absorbing technology is impressive!
There's no need to change the damper stroke length and/or spring pre-load – Flex A's full-length ride height adjustment system does so by setting the case length. Thus, when the height is adjusted, the change in ride quality is minimal. Apart from maintaining the balance of comfort and low-ride appearance, you also have more setting choices for sport driving!
Specifications
4 shock absorbers.
4 springs.
Height adjustment -0.6″ to -2.9″ (front), -0.7″ to -2.1″ (rear).
Fitment 2015+ Subaru WRX (VAG) WRX 4DR/2015-Up Subaru WRX (VAF) STI 4DR.
Complete kit with upper mount.
Weight – 60 lbs.
Features
Sleek green finish.
Smooth big impact absorption.
High durability and reliability.
Comfortable ride.
Damping force adjustment system.
Full-length ride height adjustment.
Twin-tube structure.
Low resiliency.
Sufficient stroke.
16-level damping force adjustment.
Hydraulic Bump Stopper (H.B.S.).
Tested in World Rally Championship and European Rally Championship.
---
These will lower your car and won't keep to the original ride height. The spring rate at the front is 8kg/mm, and at the rear is 6kg/mm, which is enough to provide an ideal suspension. The top mount is equipped with four bolts and is easy to install.
These coilovers don't have an adjustable damper. You can adjust the height to 1-3 inches with adjustable camber plates. The spring tension is also adjustable to suit your needs. The central rod has a diameter of 20mm to provide excellent strength and long life. It is also covered with dust cover to protect the piston and rod from dirt and dust.
The manufacturer recommends checking the car model and bolt's center length before purchasing these coilovers. Some cars won't match the front struts holes these coilovers have. You may have to drill them to fit them perfectly.
Specifications
It comes with 2 Front and pieces rear.
Front spring rate is 8kg/mm and rear spring rate is 6kg/mm.
The camber plate and height is highly adjustable. 
Features
The Pillow ball top mount reduces noise during tuning with an improvised steering feel and response.
High Tensile performance spring after being vigorously tested continuously has resulted in limiting distortion of less than 0.04%. The smooth surface helps to improvise the longevity and performance.
Adjust height as per weather and road conditions. The coilovers are designed to meet any critical situation.
Rubber boots fitted to all inserts prevent the damper from filth and dirt. It may result in a longer life of the product. Structured with 6063 aluminum with T6 enables toughness with superior strength.
Installation is easy with the right tools.
---
The BR series coilovers are produced from SAE9254 high-strength cold wound steel. They feature a large 46 mm diameter piston in a 53 mm diameter damper body to maximize oil capacity. As the damper unit operates the oil contained within heats up.
The viscosity of the oil changes as the temperature varies, which can lead to the changes in the unit's damping characteristics. The main priority for BC Racing is the adjustable suspension for street and motor racing.
BC Racing BR Series Coilovers Fits 02-07 Subaru Impreza WRX & 04 STI - GDA/GDB
Their products are manufactured at a large factory producing screw pendants and components. By the way, the same factory produces quite famous premium suspensions. Due to the fact that BC Racing products are manufactured at a large factory with a wide range of coilovers, prices are quite competitive, and the quality is very high.
All BC Racing suspension components are manufactured on high-precision, modern equipment and assembled manually, going through many stages of quality control. In contrast to some of the medium/premium segment, BC Racing supplies fully customizable coilovers, the so-called "full-tap" construction, as well as pre-tensioning adjustments on the springs, compression stiffness and shock absorber rebound, and upper supports with adjustable angle of collapse.
BC Racing's suspension mounting kits completely replace the standard suspension including all braces, brake brackets, ABS sensor mounting brackets, etc. The single-pipe design and larger shock absorber diameter allows you to work out the irregularities with high quality while maintaining clear and collected characteristics and with a greater safety factor.
BC Racing only uses high-quality oil with its coilovers. The engineers go the extra mile to maximize performance and build their BR range with a large 53 mm diameter damper body.
This increases the capacity of the unit and the volume of oil contained which, in turn, reduces the top temperature, significantly improving damper performance. Pressurized nitrogen also adds an extra element of effective spring rate to the damper unit.
This Coilover use a locking collar to prevent the bottom mount from loosening. BC Racing dampers use a sophisticated shim stack design to consistently control the compression and rebound speed of the damper rod even in the harshest conditions
Specifications
Single-tube design.
Aluminum top plates.
Weight – 50 lbs.
Dimensions – 30″ x 6″ x 6″.
Single wrench adjustment.
Front camber plates included.
1-year warranty.
Features
30-way adjustable damping.
Adjustable spring platform.
Adjust compression/rebound 2-axis bushings.
Perfect fit.
Ride comfort.
Height adjustment via bottom mount.
Dust boot for damper seal protection.
---
🚗 8. KW 10245018 – Best Suspension Coilover Kit for WRX
These coilovers are perfect for drivers who prefer to lower their vehicles while counting on sporty driving, comfort, and safety, which is possible due to the extensive driving tests of KW experts who have preset the dampers for ultimate balance and performance.
With KW coilovers you will achieve ultimate lowering in the tested adjustment range. Even after many years, you can quickly and effortlessly adjust the height due to the dirt-resistant trapezoid thread and composite collar. Lowering at the front axle is done using a one-piece composite height adjuster.
The same goes for the rear axle (unless the car has a separate spring and shock absorber). The supplied rear height adjuster sits either above or below the rear spring.
KW 10245018 Coilover Kit (V1 10245018, Subaru Impreza WRX & STI (V1))
The KW inox-line coilovers give the sporty driver its harmonic basic setup. These kits are developed for each specific vehicle with a unique damper setup and spring rate to increase driving comfort with an optimal balance of sportiness and practicality. KW uses only its own resources, high-quality components, and the best damper technologies. With KW coilovers, rolling motions of the body are reduced during compression, and you simply enjoy sportier handling while driving.
Specifications
Material – stainless steel.
Weight – 46.3 lbs.
Dimensions – 30″ x 18″ x 6″.
Length – 30″.
Width – 18″.
Height – 6″.
Features
Individually height adjustable.
Optimal performance.
Factory pre-adjusted.
Excellent driving dynamics.
Sporty and comfortable dampening technology.
Inox-line stainless steel technology.
Lifetime warranty.
High-quality components for durability.
German TUV-tested lowering range.
---
Best Coilovers for WRX – Buyer's Guide
As you know, a regular rod is a spring with a shock absorber inside, not an adjustable suspension. That is, the lower support in the rod, which firmly holds the spring, as well as the lower mount (which is attached to the suspension) are absolutely non-adjustable.
All you can do manually to tune such an inseparable suspension is to trim the coils on the spring so the shock absorber rod will drop down and the car will be lower, which is what hundreds of "folk" tuners actually do – probably everyone has seen lowriders.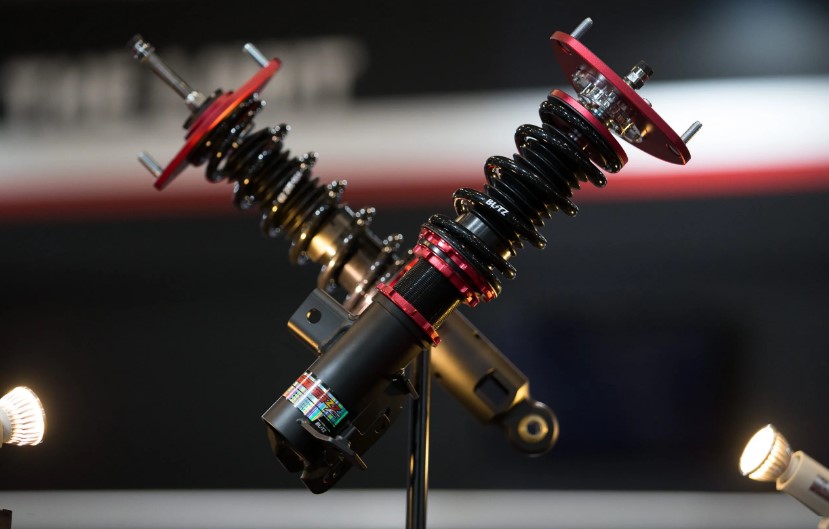 But this kind of tuning makes traction on the road much worse, regardless of what anyone says, because you significantly worsen suspension characteristics – the struts are simply not designed for that!
But what do you do if you're itching for suspension? Consider coilovers.
Coilovers come with a fully adjustable damper (not cast), which means you don't have to cut the coils on the shock absorber spring. All you have to do is unscrew the lower support and move it down by the thread that is on the body.
Thus, the spring will move down, which will lower your car without any "barbaric intervention", i.e. spring trimming.
🚗 Different Coilover Types
There are two methods of coilover installation – keeping native shocks or installing a complete coilover kit. The first option is to modify the installed shock absorbers by installing a screw thread with a spring on them.
The disadvantage of this method is that a regular shock absorber is not designed to work in different extreme positions, so you risk damaging the shock absorber and get quite mediocre characteristics and poor handling.
The second option is to install a factory-made coilover kit with a full replacement of stock shock absorbers. In this case, the manufacturer considers all the nuances, and the screw thread is applied to the shock absorber body itself.
Off-the-shelf coilovers are more convenient and practical; they do not require excessive manipulation, time, or money. The advantage here is that the rod is already designed for different load ranges, and its service life is much longer.
🚗 Working Principle and Design
The base of the adjustable suspension is a conventional shock absorber rod. The only difference is its characteristics, which allow for operating in a wide range [from the lightest (rebound) to the most rigid (compression)]. The rod body is threaded, or a special cover that's already threaded is put on. At the bottom, there is a stop, which can move up and down.
The spring is between the two stops. The lower position can be changed. The upper part of the adjustable suspension lever has a special mounting. Its lower part is screwed onto the thread by screwing it in so that it can move up or down freely.
The main advantage of coilovers is the possibility to adjust the height without interfering with your suspension and the ability to use them with conventional shock absorber rods.
---
How low can I lower my car with a coilover?
It is hardly possible to give an exact number, as everything depends on the specific vehicle and its clearance. Coilovers often have an understatement of about 20 mm at the lowest point, and the adjustment range varies between 20 and 100 mm.
Note that coilovers are not always about lowering cars – there are those which increase the clearance of vehicles for certain purposes and goals with the help of screw suspension. Besides types, there are two lines of coilovers. Each of them is responsible for making its own individual changes:
Street- The suspension gets increased stiffness but less swinging and hanging and does not roll on corners. The difference in car behavior on corners, turns, and other maneuvers become especially noticeable with maximum adjustment – there is a tangible sporting "temperament".
Track- These products provide stability on the road, making the suspension even more assembled and harder. Even with the softest settings, it responds well to steering and operates steadily.
Depending on the adjustment possibilities, the following types are also distinguished:
Standard shock absorbers with threaded support. These are the types of coilovers that are in the highest demand. From a technical point of view, they are suitable for nothing but a clearance change.

The advantage is the low cost. The main disadvantage is that you can't change the suspension stiffness.

Simple coilovers with the stiffness change function. The cost of these is a little higher than for the first type, but they can be installed on any car.

The stroke of the rod directly depends on the set clearance.

The advantage is that they are suitable for different cars. The disadvantage is that they decrease controllability.
Full-tap coilovers (DGR) provide adjustment of ground clearance, suspension stiffness, and spring preload. Manufacturers often equip such rods with support bearings to adjust the wheel alignment. The advantage is the flexible adjustment of the suspension. Their disadvantages include being difficult to install and expensive.
Professional coilovers with high-speed and low-speed compression capability are practically not used by auto enthusiasts because of the high cost and inexpediency of installation.
---
Pros and Cons of Coilover
Pros
✅ Simple design, fast installation.
✅ Quick increase/decrease of ground clearance without dismantling the suspension.
✅ Shock absorber stiffness adjustment for any purpose.
✅ Acceptable cost and no need to produce high-tech, expensive suspension tuning.
✅ Separate installation on OEM shock absorbers.
✅ Versatility – coilovers can be installed on almost any car.
Cons
❌ Price is twice as high as quality shock absorbers from well-known manufacturers.
❌ Not always possible to install over old rods.
❌ Certain skills and time are needed for adjustment.
❌ The difference in adjustment of two coilovers can lead to unbalance and further worsen driving characteristics.
❌ Once the coilover is adjusted, a wheel alignment is often required.
As you can see, coilovers are really nothing complicated, and under the fancy-sounding coilover there's an ordinary spring shock absorber with adjustment capability. Now that you know what coilovers are and what are the best coilovers for wrx, we think you can easily decide for yourself whether to install them.
In this way, with a well-founded installation and clever adjustment, the screw suspension on coilovers makes driving more comfortable, easier, and more confident, as well as giving it the desired sporty look.
The main thing is to choose the right part for the installation, not to skimp on quality, and ensure that the part's operation does not actually degrade the performance of the vehicle. Oh yeah, and don't rebuild on stock STI shocks, it's a waste of money.