If you're driving your truck on a regular basis, especially over irregular terrain, one of the most important things you can carry in your truck bed is a toolbox.
Trucks are rugged, hard-wearing vehicles, but they run into problems now and again, and having all your tools with you can be a real lifesaver in these instances.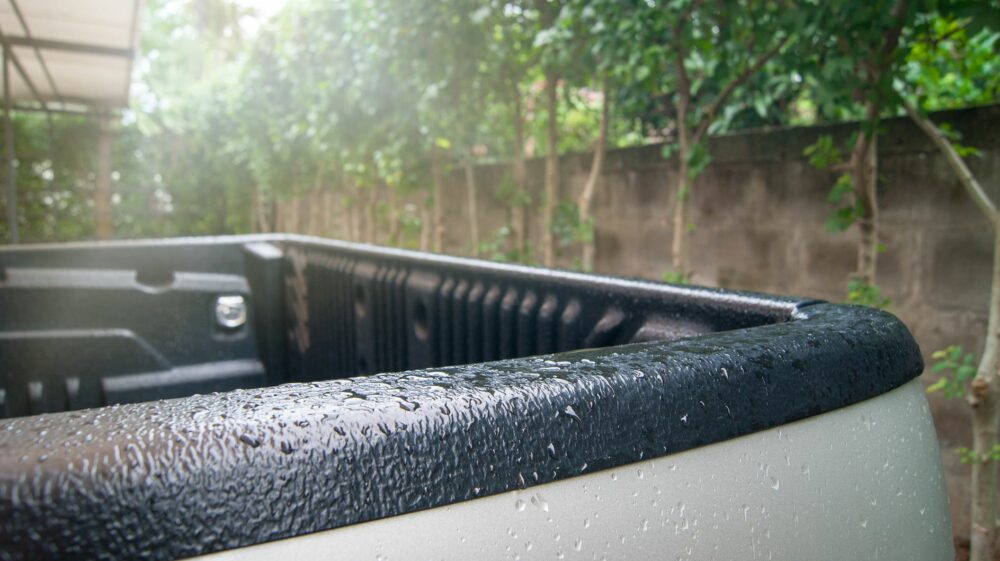 Toolboxes are also convenient places to store other essentials besides tools. A toolbox is a more secure place to keep things like your wallet and keys compared to your glovebox or your pocket, and it's also a good space to store your first aid kit for emergencies.
Not all toolboxes are created equal, though. Installing a substandard toolbox in your truck can actually cause more problems than it solves, especially when it comes to accessibility.
Undercover's SwingCase Truck Bed Storage Box or toolbox has become widely known as one of the best tool boxes for truck beds currently available on the market. So, we thought we'd check it out ourselves and let you know our thoughts!
Undercover's SwingCase Truck Bed Storage Box has been around for the best part of 2 decades now. It was released in 2004 and soon began to gain popularity amongst truck owners thanks to its convenience-enhancing design.
One of the top reasons truck drivers don't carry their tools with them while driving is that they see it as an inconvenience – which, a lot of the time, it is. But with the Undercover SwingCase, it doesn't have to be!
Main Features
Durable Construction
The first thing we want to highlight about the Undercover SwingCase is that it's tough. As in, really tough. This box can handle being carried around, knocked about, dropped… You name it (although obviously, we recommend being as careful with it as you can).
The durability of the Undercover SwingCase is mainly due to its rugged tonneau construction. The plastic material might not sound like the most long-lasting option in the world on paper, but it's actually ideal for this toolbox.
This is because the plastic is both super lightweight (you don't want too much extra weight to carry on top of your tools, right?) and thick enough to make the box impact-resistant.
In addition to being high-impact and easy to carry around, the SwingCase is weatherproof thanks to its built-in moisture seal, so any corrosion-sensitive tools you might have will be kept safe and dry.
75 lbs Capacity
Another bonus of the SwingCase's construction is its large capacity. The SwingCase is big and strong enough to hold up to 75 lbs worth of tools, which is a pretty significant amount of carrying space.
75 lbs is more than enough capacity to hold your entire tool kit and more! You won't find yourself running out of storage space any time soon with the UnderCover SwingCase.
However, it's a good idea to try and keep under the hard capacity limit by at least a few lbs if you can, for reasons we'll get into shortly (see 'Swing-Out Accessibility' section).
Truck Bed Compatibility
The SwingCase is a highly vehicle-compatible toolbox that can be installed in a variety of truck models, including Jeep, Chevrolet, Ram, Toyota, and more.
Boxes for individual truck makes and models can be found through Amazon.com, and you can use the retailer's vehicle compatibility search function to double-check the fit of the toolbox before you finalize your purchase.
Alternatively, the SwingCase can be sourced directly through UnderCover's website, where you can select the year, make, and model of your vehicle from dropdown menus to find your perfect fit.
Moreover, the SwingCase is compatible with all of UnderCover's truck bed covers.
Swing-Out Accessibility
If you ask any tool-carrying truck driver what the worst part of getting tools out of a truck is, most will give the same response.
No matter how long you've been doing it, clambering over everything else in your truck bed to get to your tools (and then having to do it all over again to put them back) never seems to get easier.
UnderCover is committed to making its customers' lives as hassle-free as possible, so the SwingCase is designed to swing out towards you so that you can access it from the tailgate of your truck.
The way this works is actually pretty simple. When it's in its locked position, a hinged attachment fixed to the back of the box secures the SwingCase to the side of the truck bed, just above the wheel well.
However, when it's swung out at the bracket, the box comes forward and rotates so that you can reach it without having to physically get into your truck bed.
And don't worry – the way the attachment is designed ensures that the toolbox always hovers 3 inches from the bottom of your truck bed, so you won't be scuffing either the bed or your new toolbox every time you swing it out.
With that said, you should still try to be as careful as possible when operating the bracket because it's not quite as durable as the rest of the toolbox. There have been reports of these brackets snapping off after around 1 year of use.
Make sure not to pull on it too aggressively, and especially make sure not to overload the box to prevent this from happening.
Additional Features
Locking Function
Anyone who's ever invested in a high-quality toolset knows that tools. Are. Expensive. There are no two ways about it: if you want functional, high-performing, versatile, professional-grade tools, you're going to need to shell out.
With all that expensive equipment in your toolbox, it goes without saying that you definitely don't want anyone gaining unauthorized access to it. The stakes for keeping the contents of your toolbox safe and secure get even higher when you're also using it as a storage box for your valuables.
Undercover has thoroughly thought through the design of the SwingCase and added a lockable function. The lock system is a twist-lock that also doubles as a key lock. This allows the user some room to use the SwingCase in whatever way feels most convenient.
If you like having the peace of mind of keeping the key to your toolbox on your person, you can lock your toolbox with the key and go about your day knowing that you, and only you, have access to the contents.
However, if you're someone who easily loses things (we hear you), you can go ahead and just use the twist lock function. This will keep your toolbox securely shut and make it more difficult for somebody else to get into, without the added pressure of keeping track of a key.
Alternatively, if you're planning to use your SwingCase to store sensitive or valuable items such as your phone and wallet, you might want extra security.
For this purpose, UnderCover has included a padlock loop in the design of the SwingCase, so you can also lock it in this way. You will need to buy the padlock yourself, though.
No-Tools Installation
If you thought the SwingCase couldn't possibly make your life any easier, stay tuned! In addition to being one of the easiest and most practical toolboxes to use from your truck bed, the SwingCase also happens to be one of the easiest boxes to install.
Because Undercover's customer base is largely made up of people who already own tools, the company could have been justified in manufacturing a toolbox that requires tools for installation.
However, Undercover has managed to construct the box in such a way that no tools are actually needed for the installation process.
The SwingCase does come with instructions, though, so you won't be without guidance if you do run into problems.
The other great thing about the installation process is that the instructions that come with the toolbox are vehicle-specific. This means that the instructions you'll be working with will be based around the specific design of your vehicle, taking any guesswork or vagueness out of the equation.
Specifications
Model: SC300P
Manufacturer: UnderCover
Material: Plastic
Height: 16 inches
Width: 34 inches
Depth: 8.5 inches
Weight: 20 lbs
Overview
Advantages
Wear-resistant plastic construction
Weatherproof
Lightweight
Multi-vehicle compatibility
Twist lock with key and padlock options
High 75 lbs capacity
Swings out for access
Disadvantages
Expensive
Quality control issues surrounding bracket
UnderCover SwingCase Truck Bed Storage Box | SC300P | Fits 2002 - 2018, 2019 - 2020 Classic Dodge Ram 1500, 2003-20 2500/3500, Passenger
Fits 2002-2018, 2019-20 Classic Dodge Ram 1500, 2003-21 2500, 3500, Passenger
TRUCK BED COVER COMPATIBLE ; The UnderCover SwingCase maintains a 3-inch clearance from the truck bed and works with virtually all tonneau covers: soft, hard, folding, and rolling
ULTIMATE ACCESSIBILITY ; This toolbox swings out nearly 180° towards you for easy access from the tailgate and swings back into a locking position over the wheel well for maximum bed access
SECURE STORAGE SOLUTION ; The SwingCase has a key-lockable lid and can hold up to 75 lbs. of cargo. It features an organizational tray, as well as a moisture seal to help keep contents dry and protected against the elements
Before purchase please verify if you have New Body Style or Classic Body Style on 2019-2021 Ram 1500 - This part is for the Classic Body Style.NOTE: Will NOT fit 2013-2021 Ram 3500 with Factory Tow Package
Final Thoughts
Our verdict on the Undercover SwingCase Toolbox is overwhelmingly positive.
This is a lightweight, practical truck bed toolbox with a high capacity and an excellent level of wear resistance considering its plastic shell.
It may not be the strongest toolbox on the market, nor does it have the most compartments or mechanical functions of any storage box out there. In terms of sheer practicality and convenience, though, the SwingCase is a life-changer.
We would recommend the SwingCase to any truck drivers who are tired of struggling to carry and access their tools on a regular basis.
It will cost you more than most toolboxes upfront, but when you take into consideration all the time, effort, and energy it will save you, as well as the peace of mind it will bring you, we'd say it absolutely worth it.