Any diesel truck driver will understand the importance of monitoring their truck's performance.
Trucks are expensive vehicles to buy and insure, so it's a good idea to consistently monitor your truck's functions and performance to catch any potential issues before they worsen.
Unfortunately, keeping an eye on how your truck is performing on a daily basis can be tricky, especially while driving.
Many dashboards are designed with multiple gauges, which are often less than intuitive to read.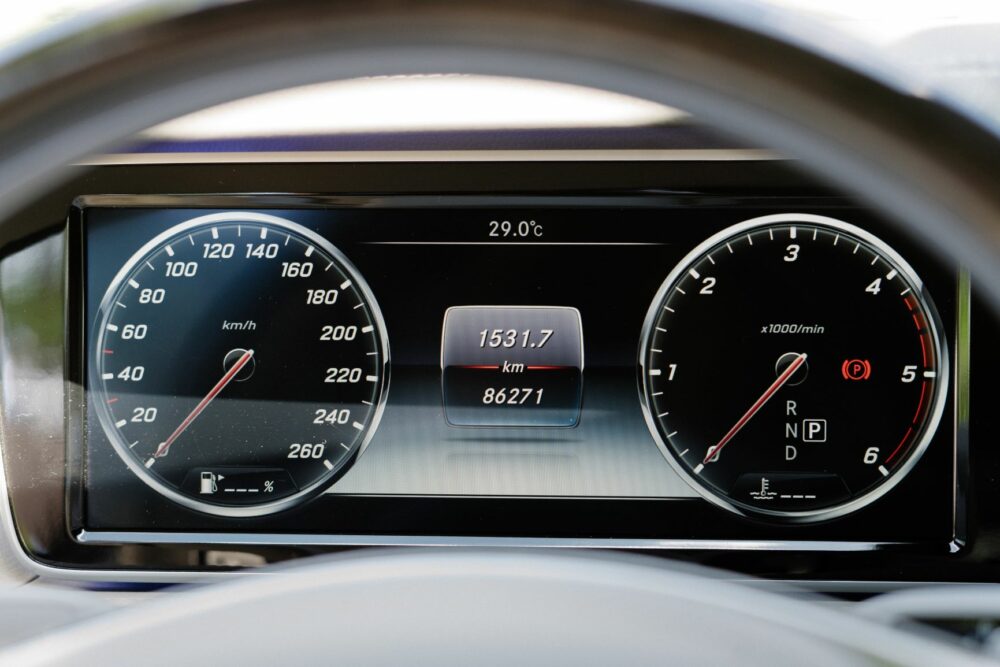 The Edge Insight CTS2 monitor, however, provides everything you need to keep on top of your truck's performance all in one place. Its sleek, high-tech aesthetic will fit seamlessly into your truck's dashboard or pillar.
From there, the Insight will tell you how your vehicle's primary functions are operating, including your transmission temperature, fuel consumption, and more.
The Insight has received mostly positive reviews since its release in 2012, but we wanted to take a closer look at the Insight ourselves and give you our honest verdict.
All About Edge Products
You can often discern a lot about a product from the company that manufactures it, so we like to start our product reviews with a little insight into the manufacturer.
Edge Products started out as a much smaller company than it is now. It was founded in 1999 and initially focused its demographic entirely towards diesel truck drivers. Since then, though, the company has grown significantly and been taken under the direction of Powerteq LLC.
Today, Edge Products offers a wider range of products, including performance monitors for SUVs and gas-powered trucks as well. The company is now the go-to for many truck owners looking to enhance their knowledge and control over their vehicle's performance.
But we aren't here to discuss all of Edge Products' achievements (although they are impressive!). Suffice it to say that the Insight monitor has clearly been developed and manufactured by a reputable, trusted, and successful brand.
Now that we've established this, let's move straight on to the Insight itself!
Main Features
Machined Frame
It makes sense to work from the outside in, so to speak, so let's start with the Insight monitor's frame, also referred to as its 'case.'
Whenever you're purchasing something that's going to be installed in your truck, you want to make sure that its frame or case can handle the movements and vibrations of a moving vehicle.
Because this monitor has a touchscreen (see below), it's doubly important for the external construction to be durable.
The Edge Insight CTS2 features a tough, precisely-machined frame around and behind the screen, which effectively protects the more sensitive components of the device.
The additional benefit of this frame is that it lends the monitor a smooth, sleek appearance that's in keeping with the overall quality of the product.
The case is also lightweight – in fact, the entire monitor only weighs 1.98 lbs. This is reassuring from the get-go because the frame is designed to mount to truck interiors using a suction cup, which can easily be rendered ineffective by a product that's simply too heavy.
Luckily, thanks to the lightweight construction of the Insight CTS2, the provided suction cup holds the device securely.
High-Resolution Swipe Screen
Now we come to the central component of the Insight monitor, which is the high-resolution swipe screen.
This 5-inch touchscreen offers a large, full-color, high-resolution display through which drivers can access information about the performance of their vehicle and much more.
Better still, this display is fully customizable! The display features a color mixer so you can view your vehicle's statistics and performance gauges in your favorite color or whatever shade suits your mood for the day. Color changes can be applied to the backgrounds, needles, and arcs.
Moreover, there are multiple screen layouts programmed into the Insight monitor, so you can tailor the way information is presented to you in whatever layout feels most intuitive.
The swipe screen is also fitted with a light sensitivity meter, which automatically adjusts the brightness of the screen in accordance with the light levels inside your vehicle.
Something we did notice about the screen, however, is that it takes a few seconds to fully load up. We personally didn't mind this too much considering how many features and displays the monitor has to juggle, but we've also seen reviews from customers for whom this was a big disappointment.
Ultimately, if you have very high standards for time efficiency, the loading time for the Insight monitor might decrease the value of the product in your eyes.
However, if you're okay with waiting a few seconds after your engine starts up for your monitor to get going, this shouldn't be too much of a problem. It's also worth remembering that this monitor is still quicker to respond than a lot of competitor products.
Reports have also come in from customers about the screen developing certain glitches after a couple of years of use, to the point where some of the gauge options seem to disappear altogether.
This isn't something that we experienced ourselves, and from the customer testimonials available online, it doesn't seem to be a particularly common experience with this product.
Nonetheless, in light of these reports, we would encourage buyers to keep the customer support contact details for Edge Products to hand and call the number at the earliest convenience, especially if you haven't yet reached the end of your warranty period.
One-touch Controls
Ergonomic, accessible, and intuitive controls are crucial in a truck performance monitor. While you absolutely shouldn't be doing anything while driving that draws your attention away from the road, there may be times when you need to check a particular gauge or change a setting quickly, for example, while you're at a stoplight.
In addition to the display screen, the Insight monitor features a smaller, 2.4-inch button control screen through which the customization and other functions of the monitor can be controlled.
All buttons are operatable with a single touch, which keeps the monitoring process quick and easy.
Performance Monitoring
Now that we've covered the construction, display, and controls of the Edge Insight CTS2, it's time to discuss its primary function, which is performance monitoring.
While the Insight offers other features and functions, as we'll see soon enough, most buyers purchase the monitor first and foremost to track the performance of their vehicle. This is where the Insight CTS2 really excels, so stay tuned!
The Edge Insight CTS2 can monitor just about every important function of your vehicle, including exhaust temperature (EGT), transmission fluid temperature, oil temperature, coolant temperature, and revolutions per minute (RPM). The monitor also tracks miles per hour (MPH) and has a fuel economy function that instructs you on how to maximize your fuel efficiency.
With all of these monitoring functions, you'll easily be able to stay on top of all of your vehicle's main processes – and all the information is accessible in one user-friendly and convenient place.
Diagnostic Function
Sometimes, even when you're provided with all the numerical information relating to your vehicle's performance, it can be difficult to work out when and where something has gone wrong.
Luckily, Edge Products has also built a diagnostic function into the Insight monitor that can tell you exactly what's gone awry.
Not only will this save you time, but it could also potentially save you money that you might otherwise have spent on taking your truck to a mechanic to root out the source of the issue.
Alerts
It's one thing for a performance monitor to display the numbers relating to your vehicle's performance and even tell you that there's a problem with your vehicle. But without audible and visual alerts, it's easy to miss important notifications.
Edge circumvents this issue by providing both audible and visual alerts. These alerts are programmed to go off when a monitored function runs into issues.
The combination of standard visual alerts (much like the warning lights on other vehicle monitors) with audible alerts is extremely useful because it means you don't need to take your eyes off the road to be alerted to the fact that something needs your attention.
When you hear the warning tone, you can find somewhere to pull over and deal with the problem without losing focus.
Having said that, we also know that having audible and visual alerts going off left, right, and center might not be ideal for some people.
If you already have alert functions built into the dashboard of your truck, for example, you might not need the extra notifications. If that's the case, no worries – you can turn the alerts on and off at your convenience.
View Video/Recording
Another neat feature of the Edge Insight CTS2 is its ability to provide live video of your view in real-time and even record the video for future viewing.
As far as keeping your eye on the road is concerned, it's always helpful to be able to see clearly behind you as well, especially when reversing.
The recording function is also a great addition, especially since the footage is high-quality. Camera footage can be used as reliable evidence in court if you get into an accident or need to defend yourself legally after a road-related incident.
However, the backup camera is sold separately, so you will need to purchase this yourself in order to use these functions.
This has been noted as an inconvenience by some customers, and we agree that considering the starting price point of the monitor, having to buy accessories separately can seem like a drag, especially for something that is essentially a safety feature. The camera itself doesn't exactly come cheap either, which adds to the problem.
Additional Features
Device Connectivity
Clearly, the Edge Insight monitor is a highly functional device on its own, but another feature that increases its effectiveness significantly is its ability to connect to other devices.
The Insight CTS2 is fitted with several built-in ports for connecting wired devices. These include an HDMI port for connecting the monitor to Edge Products' optional EAS (Expendable Accessory System) and a USB port and cable for internet updates.
A video port has also been built into the device for those users who choose to invest in the backup camera as well.
Specifications
Model Number: 84130
Manufacturer: Edge Products
Weight: 1.98 lbs
Dimensions: 5.5 x 3 x 1.2 inches
Overview
Advantages
Compatible with all OBD2 trucks
Durable machined frame
Lightweight
Effective suction cup mount
Built-in light sensitivity meter
Customizable displays
Intuitive, one-touch controls
Monitors oil, fluid, and exhaust temperatures
Provides fuel economy coaching
Video/recording ability
Updatable via internet connection
Disadvantages
Screen loading is not immediate
Some reports of screen glitching
Backup camera sold separately
Sale
Edge Products 84130 Insight Monitor
5 fullcolor, high-resolution, swipe screen
Custom color mixer for gauge arcs, needles, and backgrounds
Multiple gauge screen layouts
Fully customizable backgrounds
HDMI style plug for power and linking EAS accessories
Frequently Asked Questions
How do I update my Edge Insight CTS2?
Completing software updates for the Edge Insight CTS2 is easy!
All you need to do is download the Fusion Update software available through Edge, plug your monitor into your device using the provided USB cable, and let the update take care of itself!
Does the Edge Insight CTS2 void vehicle warranty?
There have been some rumors circulating amongst the diesel truck community that the Edge Insight CTS2 voids vehicle warranty. We'd like to take a moment to clear this up because this isn't actually the case – or at least, it shouldn't be.
The idea that the Insight CTS2 may void your vehicle warranty probably stems from confusion between the Insight monitor (which is a truck performance gauge) and vehicle tuners (which actively optimize vehicle functions by bypassing firmware).
The fact that the Insight CTS2 mounts to the inside of the truck cab using a suction cup and only monitors (as opposed to interfering with) engine function means that it doesn't meet any of the criteria for a device that would void your vehicle's warranty.
Final Thoughts
All in all, we'd be happy to recommend the Edge Insight CTS2 to OBD2 truck drivers who want to enjoy greater peace of mind surrounding their daily driving activities.
Installing the Edge Insight CTS2 into your truck cab is an easy (if not necessarily inexpensive) way to stay on top of all the functions supporting your vehicle's operation.
Monitoring your truck in this way is likely to save you money and time in the future by alerting you to issues before they become unmanageable and coaching you through ways of maximizing your fuel efficacy.
In light of some rare quality control issues, though, we'd advise buyers to contact customer support at the first sign of any glitching.
Customers who do go ahead and purchase this product should also manage expectations surrounding immediate response times and, if using the backup camera, be prepared to wait until the monitor is responsive before driving off.