The Chevy avalanche and Silverado, Both are great trucks, but they have unique features that may make one a better fit for your needs. Let's look at these two trucks and see which one comes out on top. It is important to pick the right Chevy truck for your daily needs because a truck that is too small or too large can be inefficient and difficult to handle.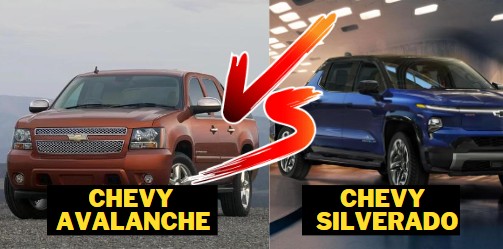 A smaller Chevy truck would be good for someone who needs a vehicle for light-duty tasks like running errands or moving furniture around town. On the other hand, a larger Chevy truck would be more appropriate for someone who needs to transport heavy loads or drive in off-road conditions.
 The Chevy Avalanche and the Silverado are both full-size pickup trucks available in various configurations. The key difference between the two models is that the Avalanche has a mid-gate that can be used to extend the cargo area, and the Silverado does not have this feature.
---
Chevy Avalanche: An Overview
The Chevy Avalanche is a four-door, full-size Sport Utility Truck (SUV) produced by General Motors from 2001 to 2013. The Avalanche was originally launched as a 2002 model year vehicle, and was based on the Silverado 1500 full-size pickup truck.
One key feature of the Avalanche was its "Midgate" system, which consisted of a rear window that could be lowered and an extendable cargo area.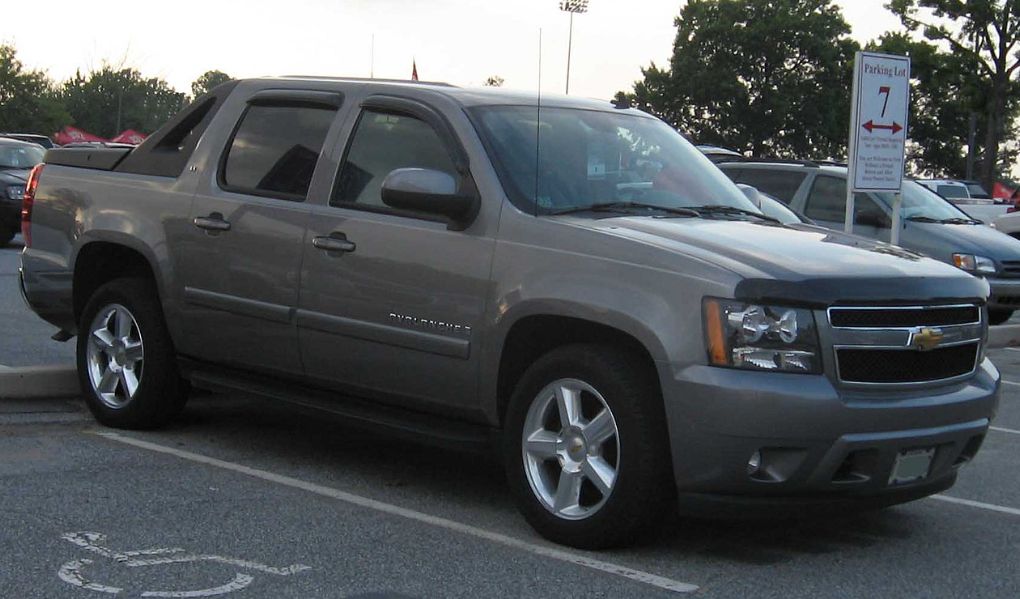 This allowed the Avalanche to carry larger loads than traditional SUVs. Another key feature was the "Z71" off-road package, which included skid plates and other enhancements for improved off-road performance.
The Avalanche was available with both two-wheel and four-wheel drive and could be equipped with various engines, including a 5.3-litre V8. In total, over 200,000 Avalanches were sold during its production run.
---
Chevy Silverado: An Overview
The Chevy Silverado is a full-size pickup truck that General Motors have manufactured since 1998. The Silverado is available in a wide range of trim levels and configurations, and it offers some unique features that set it apart from its competitors.
For instance, the Silverado 1500 can be ordered with a 5.3L V8 engine that produces 355 horsepower. And, for those who need even more power, the Silverado 2500HD and 3500HD are both available with a 6.6L Duramax diesel engine that delivers up to 445 horsepower and 910 lb-ft of torque.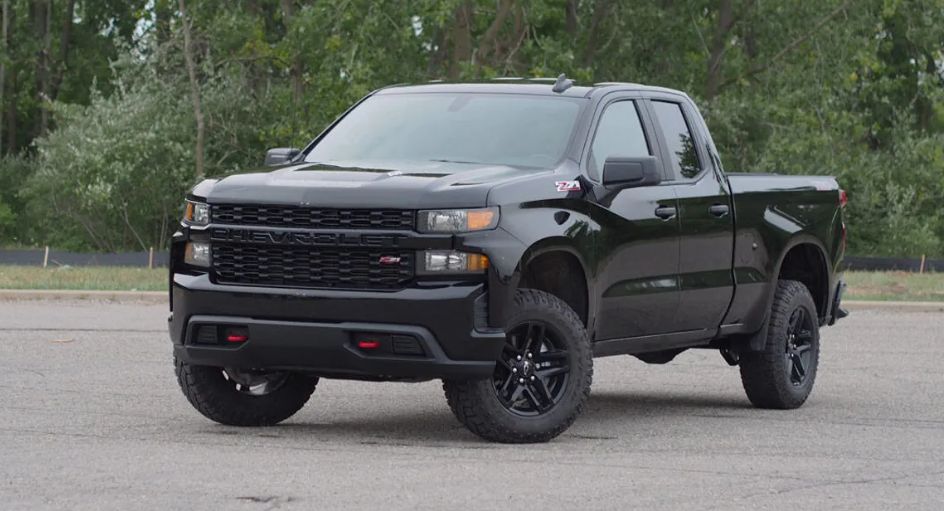 In addition, the Silverado is one of the few tracks on the market that offers a factory-installed spray-in Bedliner. This feature protects the bed of the truck from wear and tear and makes it easier to clean. As a result, the Chevy Silverado is an excellent choice for those who need a versatile and durable pickup truck.
---
Chevy Avalanche vs Silverado: Key Differences and Comparison
When it comes to picking the right truck, there are a lot of factors to consider. But if you're looking at Chevy models, you're probably trying to decide between the Avalanche and the Silverado. Both are great trucks, but there are some key differences that you should be aware of before making your decision.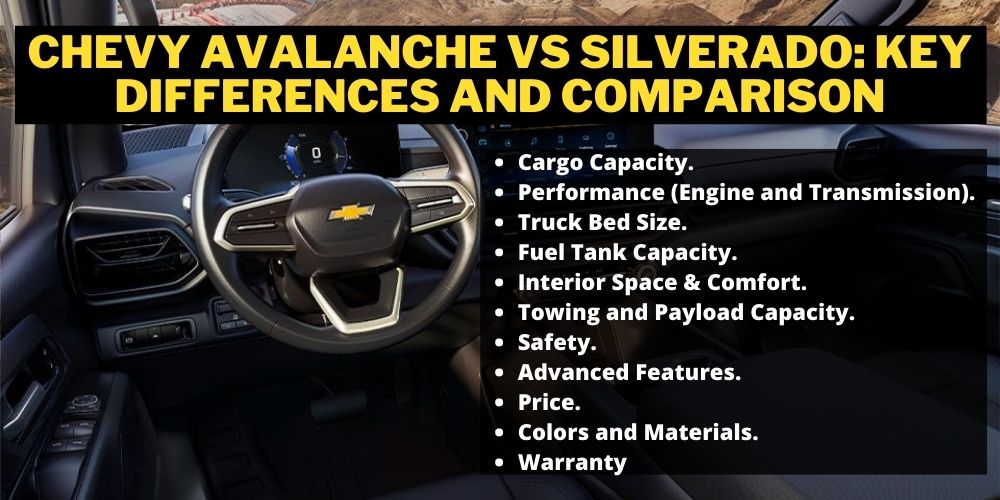 🚗 Cargo Capacity
The Silverado offers a bit more cargo capacity, with 22.7 cubic feet of space behind the first row of seats and 59.7 cubic feet with the second row folded down. The Avalanche has a slightly smaller maximum volume of 21.3 cubic feet and 57.5 cubic feet.
🚗 Performance (Engine and Transmission)
The Chevy Avalanche has a V8 engine with 325 horsepower, while the Silverado has a V8 engine with 360 horsepower. So, the Silverado has a slight edge when it comes to pure power. However, these trucks have plenty of power for most driving situations.
The Avalanche can tow up to 8100 pounds in terms of towing capacity, while the Silverado can tow up to 9000 pounds. So, if you need to do a lot of heavy hauling, the Silverado is the better choice.
🚗 Truck Bed Size
The Chevy Avalanche and Silverado are very similar when it comes to truck bed size. Both trucks have a standard bed size of six feet, perfect for hauling large loads. However, the Avalanche does have a slightly larger bed size than the Silverado, which gives it an edge when it comes to hauling bigger loads.
🚗 Fuel Tank Capacity
The fuel tank capacity on the Silverado is larger than the Avalanche. The Silverado has a fuel tank capacity of 26 gallons, while the Avalanche has a fuel tank capacity of only 20 gallons.
🚗 Interior Space & Comfort
The Chevy Avalanche has more interior space and is much more comfortable than the Silverado. The Silverado is a smaller, compact truck that doesn't have as much interior space as the Avalanche.
🚗 Towing and Payload Capacity
The Chevrolet Silverado 1500 has a towing capacity of 12,500 lbs. and a payload capacity of 2,250 lbs. The Chevrolet Avalanche 1500 has a towing capacity of 8,100 lbs. and a payload capacity of 1,790 lbs.
🚗 Safety
When it comes to safety, the Silverado is the clear winner. The Avalance has been recalled numerous times for airbag and brake issues, while the Silverado has never been recalled. The Silverado offers more safety features, such as blind-spot monitoring and lane departure warning systems.
🚗 Advanced Features
The Chevy Avalanche and the Silverado are great trucks, but they have different strengths. The Avalanche is a bit more versatile because of its fold-down rear seats, while the Silverado is a bit more advanced because of its features like the MyLink infotainment system. Ultimately, it comes down to personal preference.
🚗 Price
The Chevy Avalanche is more expensive than the Silverado. The Chevy Avalanche starts at $38,000, while the Silverado starts at $27,000. So the Chevrolet Avalanche is more expensive than the Silverado by about $11,000.
🚗 Colors and Materials
The Silverado is available in more colors than the Avalanche-including shades like "Deep Ocean Blue Metallic" and "Tungsten Metallic." The Avalanche also has a few unique exterior design features, like its grille dubbed "the teeth of Chevrolet" by some enthusiasts. As for materials, the Silverado offers both aluminum and steel exteriors, while the Avalanche is exclusively steel.
🚗 Warranty
The Chevy Silverado and Avalanche are both built tough and rugged, making them great choices for a truck. Warranty is one important difference to consider. The Silverado comes with a 3-year/36,000-mile bumper-to-bumper warranty, while the Avalanche only has a 2-year/24,000-mile warranty.
---
Conclusion
So, which truck is right for you? If you're looking for a vehicle that can handle the tough jobs and is perfect for weekend getaways, the Chevy avalanche might be just what you need. But if you want a truck with great fuel economy and all the bells and whistles, the Silverado would be a better option. No matter which truck you choose, both will give you many years of faithful service.