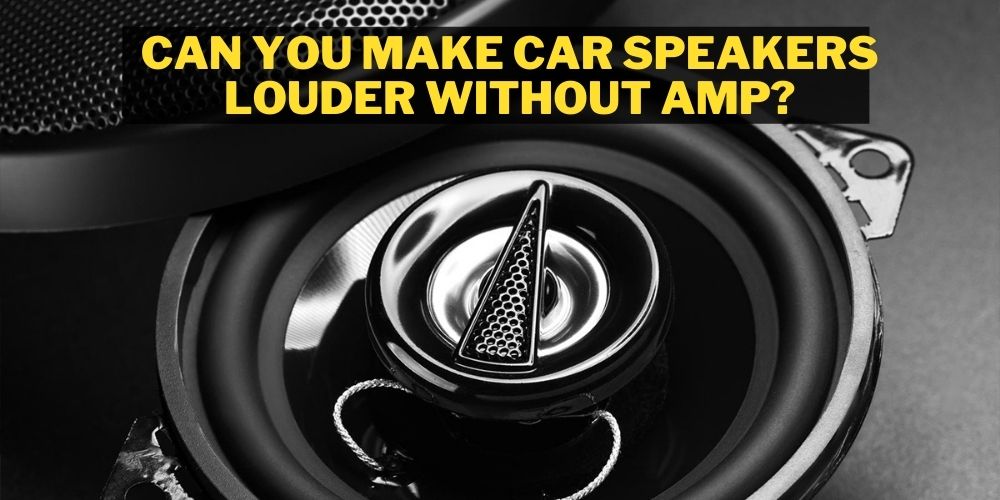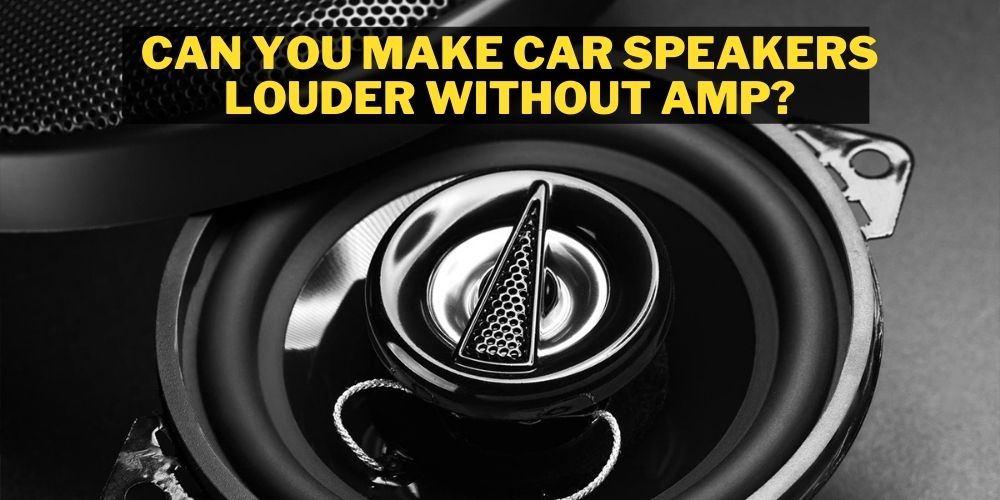 Most of us have a clear idea about how to make car speakers louder with amp, but can you make car Speakers louder without amp? Let's find out.
---
Can You Make Car Speakers Louder Without Amp?
To increase the volume of your car's speakers, you can use an amplifier. What you need to do is get a high-quality amplifier for your car's music system. Everybody will tell you this.
However, a high-quality amplifier can be extremely expensive, and you may not be able to afford one because of its high cost. As a result, you're left wondering. Can you make car Speakers louder without amp? YES, you can do it and I have shared 9 easy ways to do it below!
Speakers may be made louder and more dramatic without the use of an amplifier by sealing them to the door panels and properly positioning them in the vehicle.
---
Why Are Your Car Speakers Not Loud Enough?
The back speakers of a car may play a wide range of frequencies. Its overall sound quality is superior to that of the main speakers. They create audio that immerses the listener into the story they're conveying in an immersive way.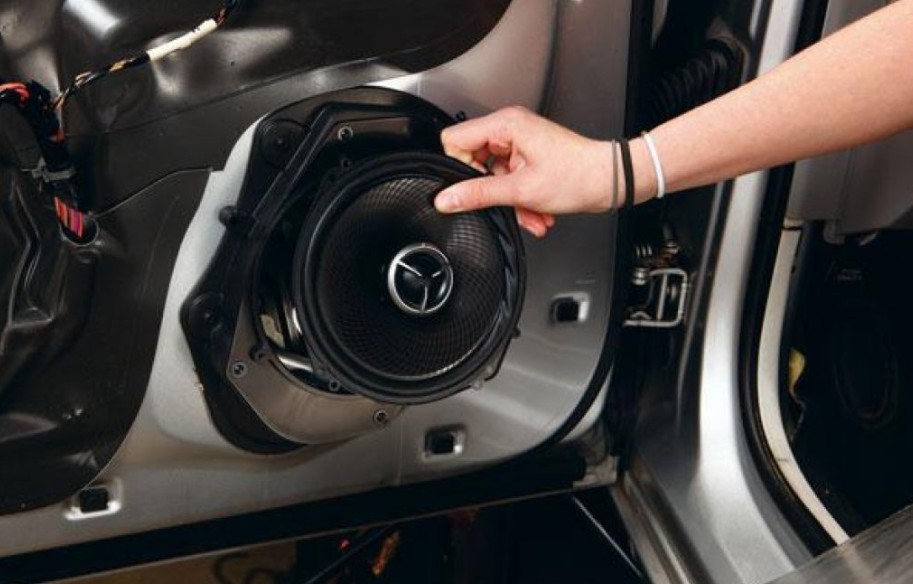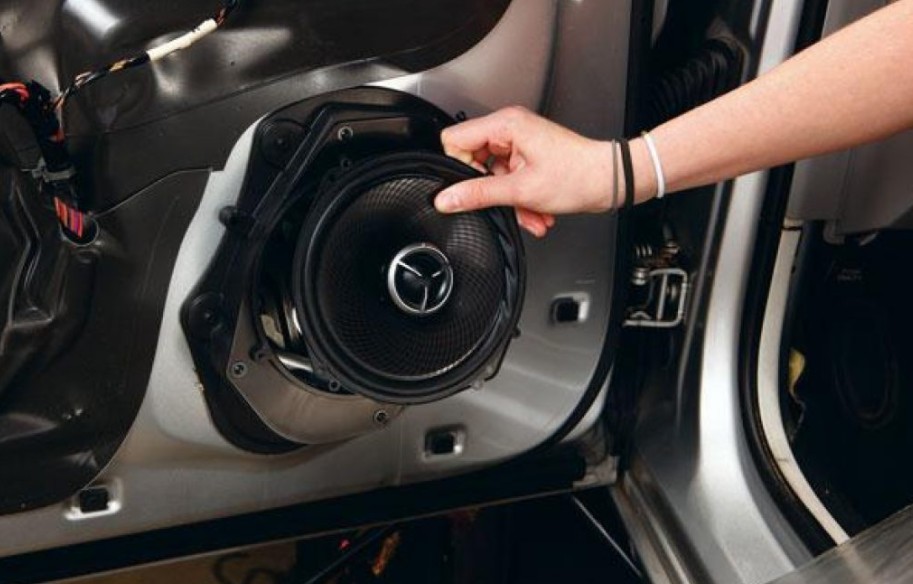 You may not be able to hear anything from the back speakers in some circumstances. The back speakers in my car have a substantially lower volume level than those in the front.
To have the best music experience, the most important reason to get the loudest speakers is to do so. All audio equipment has space for improvement. When listening to your favorite tunes, the volume on our speakers is always an important consideration. As a music fan, this is a typical occurrence.
You won't get the most out of your favorite music if your vehicle speakers are becoming quieter even when your radio is set to maximum volume. To keep up with the loudness of your radio, your automobile speakers have to be less efficient than they should be.
---
9 Easy Ways to Make Car Speakers Louder Without AMP
I have compiled a list of nine easy ways about how to increase volume of speakers without amplifier, check it out!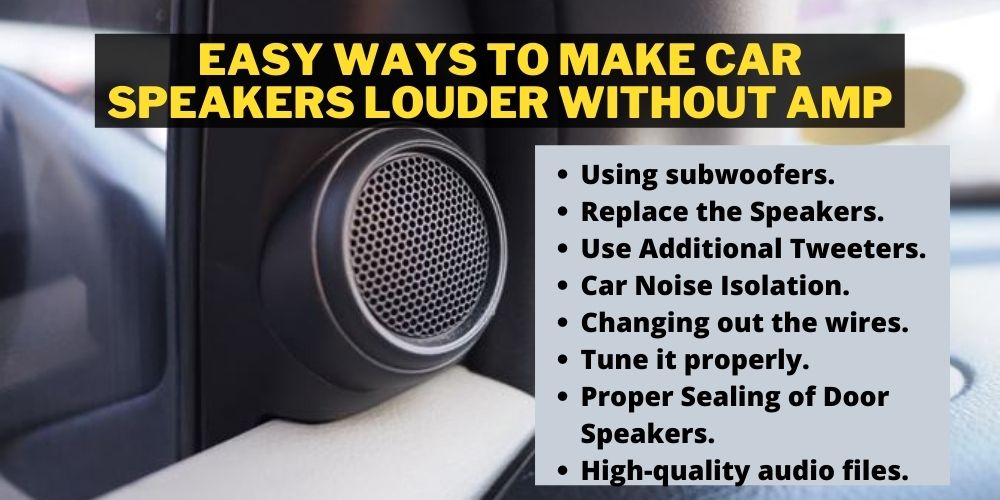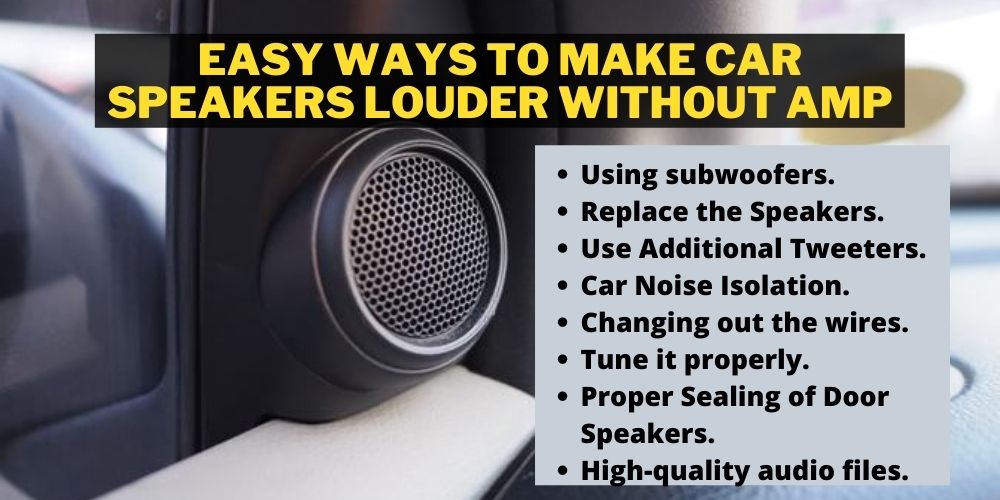 🚗 Using subwoofers
Investing in subwoofers is a great method to significantly boost the loudness of your car's speakers. An amp is more expensive. Thus, a subwoofer is more cost-effective.
While it's possible to position your speakers in any portion of your vehicle, it's preferable to keep them in an area where they won't be affected by vibrations and other forms of interference.
Placement in a corner is a no-no. According to most audiophiles, subwoofers should be placed in the trunk of your car for maximum bass production.
In addition to installing your new sub, you should also make sure it's in phase with the rest of your system by fine-tuning it. Your subwoofer won't compete with the speakers for sound, resulting in better audio quality.
🚗 Replace the Speakers
Investment in the best car speakers would be the best choice. If we're not too picky and just want a little extra oomph and bass from the four speakers, we can upgrade all of the car's speakers.
Your money will be spread out over a larger number of components, making it cheaper in the long run. This isn't the best solution if we want the highest possible quality upfront. A speaker upgrade will result in better sound.
🚗 Use Additional Tweeters
In addition to subwoofers, you can also add tweeters to your sound system for a dramatic boost. The audio system's heavier bass will be enhanced by including tweeters, which will also keep the music clean and free of distortion. The addition of tweeters to your subwoofers would make a huge difference in quality and volume.
🚗 Car Noise Isolation
The volume of an intelligent sound system can be distinguished from a bad one by the soundproofing provided by asphalt sheets. As a speaker housing, the inside of the front doors should be treated with this product.
Resonances and errors will be much decreased as a result of this strategy. At higher volumes, the bass will sound richer and more detailed. When installing the dampening equipment, if you lack the skills, it is best to hire a professional.
Engine
If your car's engine makes a loud banging noise, it should be considered while choosing speakers. You may automatically increase the volume of your car stereo by minimizing the noise from your car engine's emissions. As a first step, dampen your car engine to keep the noise to a minimum in your vehicle.
Doors
The car's doors are the most critical components for protection and insulation. The doors of automobiles can be cushioned with a variety of materials. You can use the Superlite dynamic trip kit for this purpose alone.
Floor
Shock and noise might also come from the floor of your vehicle. Because of this, it is essential to dampen or insulate the floor to keep it quiet. The pitch and volume of your speakers will automatically rise as soon as you've successfully insulated the floor of your automobile.
🚗 Changing out the wires
The condition of the wires you're using to connect the head unit to your automobile speakers can have a significant impact on their volume.
A unit's ability to send audio signals freely to its speakers can be hampered by faulty wires of shoddy construction and sizing. As a result, your speakers will not be able to perform at their full capacity.
Cables wear down over time, making them less effective. Keeping an eye on and replacing these wires regularly helps guarantee that your speakers are getting the proper amount of power at all times.
If you haven't had your cables replaced in a long time, it's time to take your vehicle to a mechanic who can do it right. You may be shocked by how much of a difference this small modification makes to your automobile speakers.
🚗 Tune it properly
It is a common misconception that pushing up the volume and quality of your audio system's tone settings to the maximum results in higher sound quality and louder speakers. This is not the case!
The truth is that while this might sound great in your driveway, it quickly becomes distorted on the interstate. A hefty, low-frequency boost may place too much load on your normal system.
🚗 Proper Sealing of Door Speakers
Sealing the space between the car's panel and speakers is the simplest approach to increase the quality of your sound system without the need for an amp. The speaker gasket tape with an adhesive backing must be used around the speaker's edges.
A good seal will be created between your speaker and panel with this product. As a result, you'll hear a sound that is crystal clear, louder, and free of distortion.
🚗 High-quality audio files
Music files you are listening to must meet acceptable quality standards. The file's bitrate determines audio quality. The bit rate may sound easy, but it has a big impact on the sound quality.
Typically, users use low-quality MP3 files and compressed audio files from sites like YouTube. Apple Music and Spotify music subscriptions allow you access to high-quality audio files. There's no other way to download high-resolution audio files.
🚗 Others
 Use Capacitors
This may be the root of your car's overpowering bass by using capacitors. Like when we play louder music with a lot of basses, the quality of the audio system is typically compromised. When you add capacitors, you can increase the volume of your audio system without destroying it.
  Add-ons and Gadgets
You don't need an amp to get more volume out of your car speakers with various accessories and add-ons. You can fine-tune your speaker levels with the help of these accessories and add-ons. You may add equalizers, signal processing, and Bluetooth/wireless audio systems to your music collection. 
---
Frequently Asked Questions (FAQs)
1. How to make factory speakers louder?
You'll need an external amplifier if you want louder and better sound and one that can be readily integrated into an existing system. Adding an aftermarket amplifier to your car's audio system is a surefire method to improve its sound quality. 
2. Do all speakers need an amp?
Powered speakers do not need the use of a separate power supply. Even though they're commonly used interchangeably, powered speakers and active speakers have distinct meanings. With powered speakers, there is normally just 1 built-in amplifier for each speaker in the pair.
3. Do subwoofers need an amp?
Yes! You'll need an amplifier to power your subwoofer if it isn't already powered by your vehicle or boat's system. 
4. How to make a speaker louder by using a battery?
When listening to your favorite music, you'll want to get the sound as close to what you'd hear if you were at a concert as possible.
Conclusion
The methods we've outlined above are critical if you want to improve the sound quality of your vehicle's speakers. My car speakers sounded better and had more volume after following these similar instructions.
My automobile used to make low, muted noises. My automobile speakers changed from mediocre to extraordinary after following the same procedure.
Don't forget to leave your thoughts about this post in the comments area! Also, if you find this material interesting or useful, please share it with your friends. bookmark carwrenching.com for more useful and interesting update!