Dealing with a water pump leak on your Ford truck can be downright annoying, but it can also lead to engine damage. Unless you fix the broken water pump quickly, you will have a bigger mess on your hands. With our guide, you can find the best water pump for 7.3 Powerstroke engines and get that repair done quickly.
After all, your 7.3 Powerstroke engine is built to go the distance. Why would you want to let the water pump stand in the way? Read through our guide to understand the water pump better, learn what to look for in a replacement and get the steps needed to swap it out.
What is a 7.3 Water Pump?
The T444E water pump moves the coolant that's in the radiator into the coolant hoses, where it travels to the engine. From the motor, the coolant continues moving back to the radiator with the help of the internal impeller. Heat is transferred to the coolant as it enters the engine and cooled as it goes through the radiator. This valuable cycle of hot-cold temperature transfer is what keeps the 7.3 Powerstroke engine cool.
The water pump is responsible for keeping the coolant moving through the entire system, which includes the radiator, radiator hoses (both lower and upper), the thermostat, coolant temp sensors and additional internal components. If the water pump starts to leak or fail, excessive heat begins to build up.
Left unchecked, this will cause permanent engine damage, leading to costly repairs down the road.
7.3 Powerstroke Water Pump Buying Guide: Things to Look For
Finding the right 7.3 water pump isn't difficult if you know what to look for.
Compatibility
The water pump is specifically designed to work with a particular engine type. If you need a new water pump for your 7.3 Powerstroke truck, you can't choose one based on another model. Instead, choose the new water pump by the year, make and model of your Ford truck to ensure compatibility.
New vs. Used
You might be tempted to save some money and purchase a used water pump. However, these are not going to offer the same durability and reliability as a new water pump. Do you really want to be in the same boat after a few thousand miles when the used water pump fails? For peace of mind, pay a little extra and buy a new Powerstroke water pump.
Warranty
With your new water pump, you should get some type of warranty. This guarantee ensures you are covered if something gets damaged during shipment or there is some type of manufacturer defect. The longer the warranty lasts, the longer you can expect the water pump to operate. A lengthy warranty is worth a little more money.
Complete Package
When you install a new water pump, you will need other parts, such as gaskets and hoses. Some manufacturers offer a kit that you can buy everything together. However, you want to evaluate the price and ensure you aren't overpaying for convenience.
3 Best 7.3 Water Pump Replacement Options
1. Motorcraft PW455 Review: Best 7.3 OEM Water Pump
When you want an OEM replacement, it makes sense to opt for a Motorcraft model. Because this auto parts manufacturer is owned by Ford, you know your truck is well taken care of. This pump circulates coolant through the system efficiently.
Plus, it has precision bearings to provide many years of use. The aluminum and iron housing is durable but still lightweight. It also comes complete with all of the gaskets, but you will need to purchase your other parts.
Sadly, the price of this model is a little higher than some others you could find. With that said, there is a 1-year warranty that offers additional peace of mind and provides added value.
Features:
Compatibility: 1994.5-2003 7.3 Powerstroke
Weight: 7 lbs.
Dimensions: 16.06 x 10.5 x 8.44 inches
Warranty: 1-Year
Includes Gaskets
| | |
| --- | --- |
| Pros | Cons |
| OEM replacement | Expensive |
| Durable bearings | |
| Includes gaskets for installation | |
| 1-year warranty | |
2. Airtex AW4114 Review: Cheap 7.3 Water Pump
You don't need to spend your last penny to get a decent water pump for 7.3 Powerstroke engines. This Airtex model is completely capable and features a low price. Plus, it comes with your gasket, but the quality of this is worth upgrading if you can spend a few more bucks.
While it is an aftermarket water pump, all OE specs are followed, ensuring you don't have to deal with leaks or trouble with installation. It also receives exceptional customer reviews, which is unusual considering the price.
Furthermore, the manufacturer has placed a limited lifetime warranty on this water pump. That tells us that the pump should never fail, as long as you are good to your Ford truck. If a company can sell a water pump for this price and put a warranty on it, that's a winner in our book.
Features:
Compatibility: 1994.5-2003 7.3 Powerstroke
Weight: 10.14 lbs.
Dimensions: 16.63 x 10.6 x 8 inches
Warranty: Limited Lifetime
OE Specifications
| | |
| --- | --- |
| Pros | Cons |
| Cheap | Gasket is flimsy |
| Superior warranty protection | |
| High-quality construction | |
| Highly rated | |
Airtex AW4114 Engine Water Pump
This pump is used on accessory belt driven applications
Used mostly on models equipped with a fan clutch and highly recommended that fan clutch be replaced at the same time as the water pump
Durable housing features precisely-machined mounting surfaces for proper sealing
Read and follow all enclosed instructions to maximize pump life and validate warranty
Limited Lifetime Warranty
3. Gates 43546 Review: Highest-Rated 7.3 Water Pump
Another low-cost option comes from Gates. This model is nearly identical to our previous option. However, it might require the use of an adapter with the heater hose, or installation can become difficult.
Still, it follows all OE specs, so you know you get the perfect fit. The kit also includes a mounting gasket, so you won't need to purchase that part. What's most impressive about this option is the rating. Customers can't stop saying enough good, which is great considering the low price.
Plus, the company provides a 13-month warranty, which provides additional protection for your purchase. If you want the water pump that other 7.3 Powerstroke users rely on, this would be the one.
Features:
Compatibility: 1994.5-2003 7.3 Powerstroke
Weight: 1.8 lbs.
Warranty: 13-Month
Includes Gasket
| | |
| --- | --- |
| Pros | Cons |
| Low cost | Requires additional parts |
| High customer rating | |
| 13-month warranty | |
| Follows OE specifications | |
Gates 43546 Premium Engine Water Pump
Quality-assured with 100 percent leakage and functional tests of seals, bearings, castings and fully assembled water pump
Fits and performs exactly to OE specifications and requirements
Premium water pumps are designed to enhance the performance of the equivalent standard pump
Backed by a limited lifetime warranty
Signs you Need a New Water Pump for 7.3 Diesel Engines
How do you know if the water pump needs replacement in your 7.3 Powerstroke truck? Here are a few signs to watch for.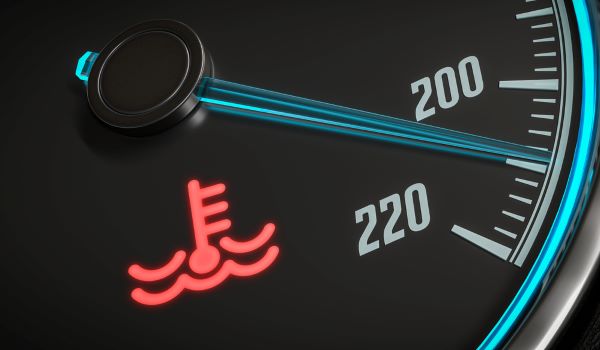 1. Leaking Coolant
The water pump contains seals and gaskets that keep the coolant in the system and ensure a regular flow. Over time, the gaskets and seals will dry up, wear out or crack. As this happens, the coolant leaks from the water pump onto the ground. You will notice it in the front of your truck, close to the motor.
2. Rust or Corrosion
If the water pump is leaking, it can also cause mineral build up. Look under the hood at the pump to see if there is contaminated coolant or rust on the surface. Additionally, using the wrong coolant type can lead to build up inside the pump, which reduces engine cooling.
3. Whining Sounds
If you hear a high-pitched noise coming from the motor, it could be caused by a loose belt. Sometimes a pulley gets loose or the bearings go bad that operate the water pump. If the problem is defective bearings in the water pump, the unit must be replaced.
4. Overheating Engine
If the water pump goes out, coolant cannot circulate through the engine the way it should. What you are left with is an overheating engine. If you don't repair the problem quickly, there will be engine damage following, including burnt-out pistons, blown head gaskets and cracked cylinder heads. Don't ignore an engine that starts overheating.
5. Steam
If there is steam coming out of the radiator, it's also a sign of an overheated engine. Pull over immediately and have the truck towed to the shop for repair.
7.3 Powerstroke Water Pump Replacement: Step-by-Step Guide
Replacing the 7.3 water pump with filter isn't an easy task. You will need some mechanical skills to do this job yourself. However, we will review the basic steps in case you want to tackle it yourself.
Before getting started, gather all of your equipment. Plus, you will need to drain all of the coolant out of the degas bottle and radiator before you take off the water pump. Here's how to get started.
1. Drain Coolant
Get a container that can hold all of the coolant and drain it. At the bottom of your truck's radiator, you will find the petcock to open.
On the degas bottle, you will need to remove the overflow hose. You might need pliers to get this done. There should also be bolts used to secure the degas bottle.
2. Remove Additional Parts
The upper radiator hose is the next to come off. Disconnect this part off of the radiator with pliers or vice grips. With a breaker bar used in the pulley slot, take off the truck's serpentine belt.
There are also two bolts holding on the shroud that need to be removed. On the pulley, you will find the clutch and fan that should also be taken off. This might require the use of an impact wrench. As you remove these parts, you must be careful that none of them bang the radiator, which can cause it to become punctured.
Your next component is the thermostat. If your truck has seen a lot of miles, the metal housing might be rusted, making it more difficult to remove. Use a screwdriver and pry it out if you need to. You should always replace the thermostat with the water pump anyway.
Take off the heater hose and ECT sensor connector. Next, remove the CPS wiring harness off of the water pump. You will then be ready to take off the pulley bolts on the water pump, as well as the pulley.
Your last component to remove will be the pipe that connects to the water pump.
3. Take off the 7.3 Water Pump
After all of this work, you are finally ready to remove the nine bolts that hold the water pump on. These 10mm bolts measure differently, so you will want to be careful about which ones you took out each location. You can label them or lay them out in the order they should be used.
With the water pump off, you want to clean the area where the gasket was previously. Be gentle or you will harm the aluminum.
Put the new gasket on the water pump with some grease. Install the bolts and make sure everything is torqued to spec.
4. Put Parts Back On
Reinstall the inlet pipe and new gasket. Place pipe on the new water pump. Next, attach the heater hose, ECT sensor, pump pulley and serpentine belt. You can find the diagram sticker in the engine bay.
When you install the clutch assembly and shroud, do it carefully. These parts are heavy and can cause a lot of damage to the radiator. Reinstall the truck's degas reservoir hose along with the upper radiator hose.
5. Refill Coolant
You will likely need about four gallons of coolant in the truck's degas bottle. You can top this off with some distilled water. Refill the system and check it before taking your truck for a test drive.
That's a lot of steps to remember, so you might prefer a visual from this YouTube video instead.
7.3 Water Pump FAQs
What is the 7.3 Powerstroke water pump replacement cost?
If you choose to do the 7.3 water pump replacement yourself, you are looking at a cost between $75 and $200 for all of the parts. However, if you need to have it professionally installed, you will need to pay for a couple of hour's labor at your local shop, meaning that the water pump replacement can become an expensive job.
What are other parts that should be replaced with my 7.3 water pump?
As noted in our installation instructions, you are already taking a lot of parts off to get to the water pump. During this job, you should consider replacing some other components as well. The thermostat should always be replaced along with the housing that is probably rusted. Additionally, it's wise to replace the upper and lower radiator hose because these parts start to crack over time. You could also replace the serpentine belt if you are having trouble. You may also notice that the coolant temperature sensor is oily and old, so swap it out while it is already off.
How long does a 7.3 Powerstroke water pump last?
The Powerstroke diesel engine contains a water pump that should last the life of the motor under normal use. With that said, it's rare for a Ford Super Duty to be used "normally." Therefore, you might need to replace the water pump at some point during ownership.
Conclusion
We've looked at several options as the best water pump for 7.3 Powerstroke engines. With these choices, you can find the model that best suits your truck and budget. Change out that water pump as soon as you notice trouble to protect your truck engine from damage.
Here's a quick summary of our top 3 water pumps:
Airtex AW4114 Engine Water Pump
This pump is used on accessory belt driven applications
Used mostly on models equipped with a fan clutch and highly recommended that fan clutch be replaced at the same time as the water pump
Durable housing features precisely-machined mounting surfaces for proper sealing
Read and follow all enclosed instructions to maximize pump life and validate warranty
Limited Lifetime Warranty
Gates 43546 Premium Engine Water Pump
Quality-assured with 100 percent leakage and functional tests of seals, bearings, castings and fully assembled water pump
Fits and performs exactly to OE specifications and requirements
Premium water pumps are designed to enhance the performance of the equivalent standard pump
Backed by a limited lifetime warranty