Duramax engines are highly efficient and reliable, generating high levels of energy to power your vehicle. In order for the engine to achieve such power, it needs sufficient heavy-duty and highly reliable oil.
This will ensure the engine runs smoothly and works perfectly. The best oil doesn't just give you the satisfaction of a smooth-running motor but it also guarantees your Duramax engine is protected and should last a long time.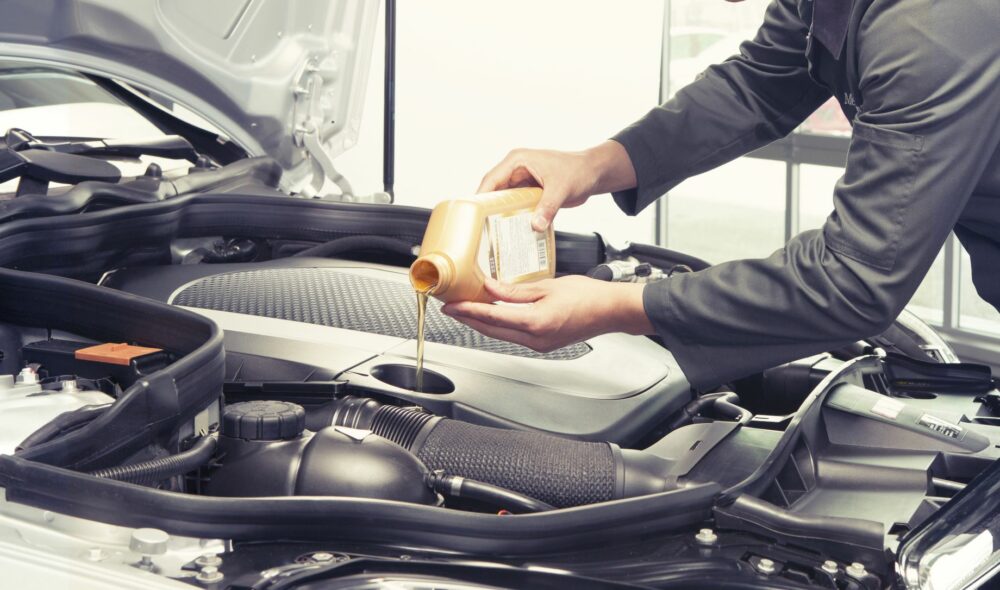 The right oil should be high-quality and enough to generate high torque and horsepower. It is imperative you find good engine oil, especially if you do regular long-distance journeys. Finding the right engine oil for your Duramax engine can be a hassle!
For high-powered Duramax engines, we have listed the highest-quality oils to ensure your motor runs at full capacity. Our in-depth reviews will help you decide what the best choice is for your engine's functionality.
With several options, we have also included a helpful buyer's guide with factors to consider when buying top-quality oil. Our FAQs section will answer the most common queries that you may also have.
In a hurry? Let's take a look at our top choice!
5 Best Oil for Duramax
1. Shell Rotella T6 Synthetic Heavy Duty Engine Oil
Shell Rotella T6 Synthetic Heavy Duty Engine Oil is a fantastic supportive solution for your Duramax engine.
Its main job is to encourage your engine's output and this is exactly what it does. This exclusive low-ash formula offers outstanding engine compatibility containing additives for the best performance possible.
It has a built-in Triple protection Plus which promotes a safe engine startup. It is important to find an oil that can withstand varying adverse temperatures or climates.
Shell's T6 engine oil offers superb efficiency whatever the conditions you are in. Its fully synthetic base imparts improve the burning of fuel within your engine so you shouldn't have to experience any oil breakdowns or wear.
Shell Rotella T6 Synthetic Heavy Duty engine oil offers enhanced fuel economy capabilities. It does so without any risk to the engine's durability.
Your Duramax engine will benefit from the improved deposit control this oil has to offer to help your vehicle run smoother for longer.
| | |
| --- | --- |
| Pros | Cons |
| Good supportive solution – Its low-ash formula will help the car's fuel efficiency | Poorly packaged in some cases resulting in a damaged container |
| Gives excellent engine durability – Improved deposit controls enhance your engine's protection | |
| Offers consistent optimal pressure – Tackles inner heat throughout its service interval | |
| Maximizes engine functionality – Fully synthetic base imparts improve the burning of fuel inside your engine | |
| Enhances fuel efficiency – Will save you money on fuel in the long run | |
Shell Rotella T6 Full Synthetic Heavy Duty Engine Oil 5W-40, 1 Gallon
Better fuel economy - compared to 15W-40 oils Rotella offers enhanced fuel economy capability of 1.5% without compromising engine protection or durability.
Improved wear performance - provides a significantly increased level of protection against harmful engine wear when compared to previous generation API CJ-4 engine oils
Improved deposit control - advanced multi-functional dispersant additives in combination with synthetic base oils provide an enhanced level of protection against the effects of soot, dirt and other contaminants
Emissions system compatibility - advanced low-ash formulation helps control blocking of or poisoning of exhaust after-treatment devices, helping maintain vehicle emission compliance and engine fuel efficiency
Improved heat resistance - resists breakdown by heat to provide continuous protection throughout the service interval
2. Liqui Moly Synthoil Premium 5W-40 Synthetic Motor Oil
Next up is a synthetic oil from the renowned German brand Liqui Moly. This oil will work well in any diesel or gasoline engine.
It is primarily made for engines with more modern-technologies such as a multi-valve, supercharging, and timing configuration.
If you live in a cold climate, this Liqui Moly motor oil will work straight away. Its cold-cranking abilities help will lubricate the entirety of your Duramax engine for optimal performance in all weather conditions, especially at colder temperatures.
If you frequently drive with heavy loads, year in, year out, your Duramax engine will be crying out for quality heavy duty oil. This motor oil will be the savior allowing your engine to reach its peak potential while improving the overall fuel efficiency.
This oil will also keep clean, removing any contaminants from within the engine, allowing your motor to run smoothly and efficiently. Unwanted sludge or soot deposits will be eliminated with the use of Liqui Moly motor oil improving your engine's efficiency.
| | |
| --- | --- |
| Pros | Cons |
| Fuel efficient – helps save fuel over long periods of time | Blue container can be confused with different grades of oil |
| Ideal in cold temperatures – Lubricates your engine on a cold start in order for your engine to run smoothly | |
| Works very well with upgraded engines – Perfect for vehicles with more modern technologies that may require more specific oils | |
| Improves motor's overall performance – Keeps your engine free of any contaminants and deposit build-ups | |
| Ideal for diesel and gas – Suitable for gas and diesel engines, especially modern vehicles | |
Liqui Moly 2041 Premium 5W-40 Synthetic Motor Oil - 5 Liter
The Lubro-Moly Synthoil High Tech 5W-40 Motor Oil is a fully synthetic and energy conserving motor oil for the latest engine concepts (both gas and diesel), such as multi-valve arrangements, variable cam and timing configurations, turbocharging, supercharging, intercooling, etc.
The Lubro-Moly Synthoil High Tech 5W-40 Motor Oil saves fuel and provides instant lubrication after a cold start.
Good for extended oil change intervals and the highest demands
Package Dimensions: 10.312 L x 31.496 H x 24.892 W (centimeters)
3. Shell Rotella T4 Triple Protection Conventional Engine Oil
In at number three is another entry from Shell. This is a new and improved version of its original predecessor.
Shell Rotella T4 Triple Protection Engine oil has been upgraded in order to adapt to any engine's condition. These include old diesel engines and more modern low-emission engine models.
Your engine will be fully protected thanks to Shell's impressive protection technology which removes deposits and reduces wear. It will prevent soot build-up as well as other contaminants, resulting in a more efficient, eco-friendly engine.
This oil has 50% resistance against oxidation so it will run for longer even when the engine is at maximum output. Your Duramax engine will be fully protected thanks to the oil's acid control.
With a variety of emission systems around, it is good to know that Shell Rotella T4 engine oil is compatible with many of these. Your engine should perform much better with this oil, even when under extreme pressure.
| | |
| --- | --- |
| Pros | Cons |
| Has superb wear protection – New protection technology reduces wear and removes harmful build-ups in the engine | Packaging can be poor leading to leakage in transit |
| Helps your engine perform well at all times – Even under stress and high temperatures, this oil helps your engine perform to its full potential | |
| Prolongs engine life – Its acid control will keep your engine running for longer | |
| Less ash content – Formulated with less ash content protecting the exhaust catalyst | |
| Compatible with many vehicles – Suitable for old diesel engines and those with modern-technologies as well as a host of emission systems | |
Shell Rotella T4 Triple Protection Conventional 15W-40 Diesel Engine Oil (2.5-Gallon, Single)
For best performance, follow the manufacturer's recommendations in your vehicle owner's manual.
Formulated for enhanced deposit protection to help keep engines cleaner over the oil drain interval
Exclusive low ash formulation helps protect the exhaust catalysts and particulate filters found on the latest low emission vehicles
Meets or exceeds API CJ-4 requirements, and is designed to provide extra performance Shell Rotella T4 performs well in both older and new engines
Enhanced shear stability performance for viscosity control and optimal oil pressure in your engine
4. Delo XLE 400 Synthetic Blend Oil, 15W40
If your Duramax is used for heavy loading or long journeys with heavy loads, Delo XLE 400 Synthetic Blend oil may be the best option for you.
Your hard-working engine should feel the benefits of this heavy-duty oil pretty quickly as it lubricates and cleans the entire engine prolonging its lifespan.
There are some impressive cleaning additives with this oil that can cut your maintenance costs exponentially. Any soot build-up or dreaded rust can be easily handled by Delo XLE oil ensuring no harm comes to your engine.
If you drive on the highways often, the ISOSYN Advanced Technology in this oil will work a treat! It is made to generate low greenhouse gas emissions and is compatible with Diesel Particulate Filter (DPF) and selective catalytic reduction (SCR).
Its long drain ability is outstanding ensuring you get the best performance with both off and on-road engines. With so many great features, this is an exceptional choice of oil, especially in its price range.
| | |
| --- | --- |
| Pros | Cons |
| Very high-quality synthetic-blend oil – Provides protection and support for your engine's overall performance | The container's handle is poorly designed – Makes pouring the oi out a little difficult |
| Excellent soot dispersant – Lubricates and cleans your engine, removing soot build-up or rust | |
| Superb wear protection – Ideal for vehicles that are used regularly for long distances, protecting the engine from possible wear and tear | |
| Perfect for heavy loads – Will help your engine run smoothly and efficiently with heavy loads over long distances | |
Delo 400 XLE Heavy Duty Synblend Diesel Engine Oil 15W-40, 1 Gallon, Pack of 1
A premium synthetic blend, long drain  mixed-fleet engine oil specifically formulated for on- highway applications, including 2017 greenhouse gas (GHG 17) compliant diesel engines
Isosyn Advanced Technology: The Next Generation of Heavy Duty Engine Oil Chemistry - engineered to deliver longer oil life, better wear protection and longer engine life
Isoclean: Certified clean - ensure your lubricants meet OEM cleanliness requirements to help you minimize downtime, reduce maintenance costs and extend equipment life
Provides high performance piston deposit control and turbocharger protection due to its superb oxidation performance. Its high performing detergent and dispersant additives provide excellent diesel engine component protection.
Exceptional soot dispersancy and wear control - Cylinders, pistons, rings, and valve train components are well protected against wear and corrosion, providing optimum service life and minimal maintenance, contributing to maximum equipment utilization and minimal downtime.
5. Valvoline Premium 5W-40 Oil, Full Synthetic Engine
Valvoline provides top-quality premium engine oil time and time again. This premium 5W-40 oil is another example of the brand's quality helping protect your engine's components from soot, debris, deposits, and wear.
If you experience classical seasons (cold and hot), Valvoline Premium engine oil will be able to tackle these temperatures easily. You will be safe in the knowledge that no problems should occur with your engine because of a change in temperature.
Your engine will thank you for using this oil by running faster and better, whatever the weather conditions! Its high total base number (TBN) helps tackle acidic materials and unwanted contaminants in your engine. It does this by cleaning out your engine for optimal and increased performance.
Your wallet should stay fuller too with this oil as it helps improve your fuel economy as well as reduce any ecological footprints.
The chances of oxidation of your engine will be cut with the use of Valvoline Premium oil so your vehicle can perform better in standard or long-distance journeys. If your engine is modern such as an Exhaust Gas Recirculation or DPF, this oil will work well.
| | |
| --- | --- |
| Pros | Cons |
| Protects against wear, soot, and deposits – Formula will lubricate your engine and remove unwanted debris within | Seal is a little weak under the caps of the containers |
| Recommended by leading engine manufacturers – Very reliable oil according to experts for top results | |
| Compatible with modern engines – Works for older engines as well as modern vehicles that may require a specific type of oil | |
| Improves fuel economy – This will help you save money with better fuel efficiency overall | |
Sale
Valvoline Premium Blue Extreme SAE 5W-40 Full Synthetic Diesel Engine Oil 1 GA, Case of 3
EXCELLENT WEAR PROTECTION IN HEAVY DUTY APPLICATIONS that can take a toll on critical internal moving parts
RESISTS OXIDATION AND FIGHTS DEPOSITS & SLUDGE with higher quality synthetic base oils and special inhibitors
PROTECTS DURING COLD START UPS WHILE CONTROLING SOOT as heavy-duty equipment can sit idle for extended periods of time
ADVANCED FUEL ECONOMY up to 1.5% over 15W-40 conventional oils in on-highway operations
UNIQUE 5,000 MILES OIL DRAINS EXTENSION in Cummins X15/X12 engines when average is 7mpg or higher
Buyer's Guide
Before you run ahead and purchase oil for your Duramax engine, there are a few important considerations to bear in mind first.
We will discuss some vital factors that make up top-quality oil. Read on to discover what to look out for to make your decision process that little bit easier.
Viscosity
The viscosity grade is the rate of flow of oil at a definitive temperature. The oil will typically flow quicker into the engine at lower temperatures if it is a lower grade. It is crucial you understand the viscosity grade as it tells you the speed at which the oil will flow into the engine.
This reduces any friction in the engine and speeds up the starting time of your vehicle in cold weather. It's important that oil continues with the same level of viscosity after a long time for the engine to sustain optimum power.
To ensure you find the right oil, check your car's manual for the correct viscosity grades. If you are in low temperatures, thin oil is advised while thicker oil is best suited to hotter temperatures.
Additives
Oil manufacturers usually use their own blend of additives for their formula. These additives help with certain properties to help the engine power better.
Some work by cleaning the engine to help it run efficiently and ensure the oil doesn't become too thin under hot temperatures.
Some different categories of additives are:
Detergent – This prevents rust built-up, soot, and other deposits from gathering on the engine's surface
Dispersant – An additive that prevents solid particles from forming in the oil. This blocks any sludge formation within the engine
Corrosion inhibitors – This slows down the gathering of water or moisture, preventing rust
Viscosity improvers – Prevents thinning of the oil's viscosity in high temperatures
Antiwear agents – This protects the vehicle's metal surface from wear and tear
Friction modifiers – Prevents friction in the engine components which helps improve fuel economy
Fuel efficiency
Good quality engine oil will improve your car's fuel economy as it will flow faster, keeping the engine's heat at a safer, lower level.
If the motor is at the correct temperature, the whole car will run more efficiently and be ecologically safer. Always look for engine oil that states it will give a higher fuel economy percentage.
Compatibility
You need to make sure engine oil is compatible with your existing oil. If this is not the case, you must drain the current oil inside your engine so no problems occur when you use your new oil.
Not all engine oil is compatible with Duramax so check your car's manual for the correct type.
Your purpose of driving
The right oil for your Duramax engine will make your engine perform better. You need to choose oil depending on your vehicle's workload.
If you typically carry or pull heavy loads, you should look for heavy-duty oil that will work well in all conditions.
Frequently Asked Questions
When is the best time to change the oil?
Simply check your owner's manual to see how often the oil needs to be changed.
This usually needs to be done every 5,000 miles but it can be changed more frequently if you do a lot of heavy hauling or off-roading.
How long can you store oil?
Motor oil can last up to 5 years, depending on where it is stored. It needs to be properly stored, in a dry, mild, indoor space.
Temperature, water, and oxygen can negatively affect the quality of engine oil pretty quickly.
What happens if you forget to change your oil?
Forgetting to change your engine oil can seriously harm your car's engine. It can become too hot and begin to malfunction.
Your engine will ultimately wear quickly before dying completely. It is crucial you change your oil regularly to save you money and hassle.