Your Ford diesel truck contains glow plugs instead of spark plugs, which are found with gas engines. Having a durable, well-functioning glow plug makes a big difference in the ignition of your engine. However, there are so many options; it can be difficult to find the best glow plugs for 7.3 Powerstroke engines.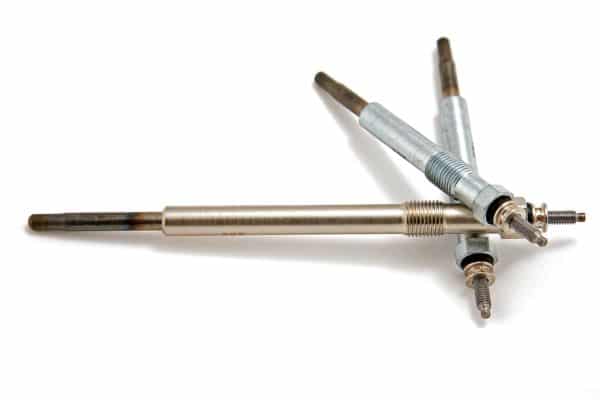 With so many companies vying for your attention, we put together a complete guide to the best glow plugs for 7.3 powerstroke. Our top choices come from the best brands and include superior customer reviews, ensuring your engine is well taken care of. You can learn more about the glow plugs, find the right product for your truck and get instructions on how to install them.
What are 7.3 Glow Plugs?
Glow plugs are an electrical device that provides diesel engine ignition, although it isn't necessary for the engine to start. This is a different design than the spark plug found in gas engines. With that said, the glow plug will help the diesel engine during cold temperatures when the motor struggles.
When the air from the intake isn't warm enough to create ignition, the glow plug raises the temperature to improve the process.
Glow plugs go through a three-step process to work.
Pre-Heating: Glow plugs are heated quickly to aid the engine in starting.
Temperature Maintenance: Glow plugs continue to maintain their temperature, further ensuring optimal combustion, especially in colder weather.
Post-Heating: Glow plugs remain heated up for a few minutes once the engine is started, basically to continue promoting combustion.
Choosing Best Glow Plugs for 7.3 Powerstroke: Top Considerations
Before you buy 7.3 glow plugs, you need to make sure you have the right type for your application. Here are a few buying considerations.
Compatibility
While glow plugs are similar in design among all diesel trucks, they do not provide a universal fit. Instead, you need to choose best glow plugs for 7.3 Powerstroke engines. Make sure that the model you choose is going to fit your Ford pickup before buying. A lot of internet sites share glow plugs that won't actually fit in your 7.3 Powerstroke, so it's your responsibility to perform due diligence and check the fit for yourself.
Warranty
Many of the top manufacturers are going to provide some form of warranty, offering peace of mind. Even if you have to pay a little more for this option, you know that your investment is protected. For example, Motorcraft offers a 12-month warranty, which is more than enough to determine if there's a defect with the manufacturing.
Price
We understand the need to find cheap 7.3 Powerstroke glow plugs, but your diesel engine is not something to skimp on. The 7.3 Powerstroke engine is known as the most reliable ever made, but you don't want to take chances by putting in sub-par components. Spend a little extra on your Powerstroke engine to ensure it runs the way it was intended.
Best Glow Plugs for 7.3 Powerstroke Diesel Engine: Our Top 5 Choices
1. Motorcraft Glow Plugs 7.3 Powerstroke: Top Choice
The Motorcraft ZD11 glow plug is a top choice among Powerstroke owners. You can purchase one or all eight, depending on your needs. These plugs contain a metal sheath combined with the open dual coil for maximum durability. Because they are from Motorcraft, you know they are built to OEM specs.
Unlike the majority of Motorcraft products, these plugs also include a limited lifetime warranty, which is exceptional considering the price. With these plugs in place, you can expect faster starting times and an optimal transfer of temperature. Plus, they contain vibration and corrosion protection for a longer life.
It's difficult to find anyone saying anything negative about these glow plugs. That's why we feel they are the best 7.3 glow plugs from Motorcraft and are happy to put them at the top of our list.
Features:
Fits: 1995-2003 7.3L Powerstroke
OEM
Limited Lifetime Warranty
Seizure Prevention
| | |
| --- | --- |
| Pros | Cons |
| Top-rated option | None |
| Can be purchased singularly | |
| Maximum warranty protection | |
| Vibration resistant | |
Sale
2. FOLCONROAD: Best Value 7.3 Glow Plugs
This manufacturer might not be one that you are familiar with, but you shouldn't overlook the value. These Powerstroke glow plugs fit perfectly and come at a sensational price, ideal for anyone trying to fix their diesel truck on a shoestring budget.
The company claims that the plugs provide 20% more performance, and so far, the customers seem to agree. While they are aftermarket plugs, you get an OE design, guaranteed to run like new. Sadly, you have to buy these in a pack of 8, so it might not be the best option if you just need to replace one glow plug.
With that said, for the price, it might be good to keep a set on hand. Plus, the company provides a 12-month warranty, which is outstanding considering how cheap they are.
Features:
Fits: 1995-2003 7.3L Powerstroke
Aftermarket
12-Month Warranty
20% Faster
| | |
| --- | --- |
| Pros | Cons |
| Low price | Newer brand |
| Increased performance | Only purchase in set |
| Highly rated | |
| Dual coil design | |
3. Ensun ZD-11: Reliable Powerstroke Glow Plugs
Ensun is a premium aftermarket supplier of glow plugs with a fit that's perfect for your 7.3 Powerstroke. These ZD11 glow plugs come at a reasonable price but are still effective and durable. The dual coil design offers more performance for a quicker start.
You will find that these glow plugs are hotter than the factory equipment. Powerstroke enthusiasts can't get enough of them and continue to leave rave reviews, many of which are worth reading.
As with many of the other packages, you can only get these in a set of 8, making individual glow plug replacement more difficult. However, you aren't going to spend much more to buy this set of 8 compared to a single plug from one of the top brands. Plus, Ensun provides a 12-month warranty for your protection.
Features:
Fits: 1995-2003 7.3L Powerstroke
Aftermarket
12-Month Warranty
Dual Coil Design
| | |
| --- | --- |
| Pros | Cons |
| Great value | Only comes in set of 8 |
| Produces heat faster | |
| Includes warranty | |
| Superior design | |
Ensun F4TZ-12A342-BA 8 Pcs Diesel Glow Plug - Dual Coils Fast Start - replacement for - 1995-2003 7.3L Powerstroke # ZD-11
【Premium Quality】: High Performance DUAL COILS Quick Start & Hotter Glow Plugs
【Direct Fit】: Direct replacement for a proper fit and easy installation, quality materials used, meets or exceeds OEM standards, 100% tested before shipping;
【Fitment/Compatibility】: 1995-2003 7.3L Powerstroke
【Replacement OEM ( Original Equipment Part) Number】: BOSCH 80033/ 0250202127; CHAMPION 190/CH237; DELPHI DS095A/ HDS310 BERU 100226138; AUTOLITE 1111; AC DELCO 37G; MOTORCRAFT ZD-10 / ZD-11; DRX00138 / DRX01004
【Buy with Confidence】: Order from Ensun, we offer a 12 Months Warranty, true worry-free shopping experience;
4. Sporthfish ZD-11: Cheapest Aftermarket 7.3 Glow Plugs
Even though glow plugs aren't expensive, there's always a way to save more. With these aftermarket plugs, you get a bargain-basement price but still a reliable construction and design. Customers continue to leave good reviews, further offering you some peace of mind.
While the set only comes with 8 glow plugs, there's no reason to choose another option because they are so cheap. If you purchased 2 Motorcraft plugs, you would spend nearly an identical amount, so why not get an entire set instead?
Even with the lower price, you are still getting dual coil glow plugs that provide effective performance. The only trade-off is a lack of warranty protection. However, it doesn't appear that you should run into any trouble.
Features:
Fits: 1995-2003 7.3L Powerstroke
Aftermarket
Dual Coil Design
| | |
| --- | --- |
| Pros | Cons |
| Cheap | Only comes in set of 8 |
| Fast heat production | No warranty information |
| Solid construction | |
| Good customer reviews | |
5. Blackhorse Racing Glow Plugs: Best 7.3 Powerstroke Plug Kit
If you are looking to do an entire tune-up, you want a kit instead of just the glow plugs. There aren't a lot of options out there to choose from, but this set is superior to what we've found. Not only does this contain the 8 glow plugs you will need, but also comes with the valve cover gaskets and a relay with a harness.
The customer reviews prove why it's a great option, not just for the price but also because of the durable construction and superior performance. While there isn't a dedicated warranty, the company has been known to make any issues right immediately. It's hard to find customer service as exceptional as this in present times.
Additionally, the installation of this kit is simple. With everything you need in one place, you can get the job done faster, so you can get back to enjoying your truck again.
Features:
Fits: 1995-2003 7.3L Powerstroke
Aftermarket
Complete Kit
| | |
| --- | --- |
| Pros | Cons |
| Includes everything needed | No warranty |
| Superior customer service | |
| Great value | |
| Highly rated | |
What Causes 7.3 Powerstroke Glow Plugs to Fail?
Glow plugs aren't made to last forever and can fail for a number of reasons. The most common cause is because of carbon buildup. The pre-chamber contains lots of carbon, which ends up on the glow plugs, leading to a short circuit or overheating situation with the plug.
Sometimes the glow plug won't turn off when there is a failure. This could be due to a defective relay but leads to a drain on the battery, so you want to have it fixed immediately.
5 Signs You Need to Replace 7.3 Glow Plugs
1. Trouble Starting
When you have trouble starting your diesel engine, it could mean that the glow plugs are damaged. It's difficult to get the combustion chamber to the right temperature without glow plugs when the temperature drops.
2. Misfiring Engine
To create combustion, there must be a high rate of fuel and compression entering at the same time. Misfires are caused when the fuel quality or compression isn't accurate, which could be caused by a bad glow plug.
3. Rough Idling
When the glow plugs start to burn out because of carbon buildup or damage, the engine suffers. You will notice performance issues such as rough idling when this occurs.
4. Poor Fuel Economy
Because the engine isn't working efficiently, you should also see a drop in fuel mileage. This will be especially noticeable during colder times of the year when the glow plugs are relied upon more heavily.
5. Smoke
You could see white or black smoke if the glow plugs are failing. White smoke occurs when there's not enough heat to burn the diesel fuel, while black smoke occurs when the air-fuel ratio balance is off.
How to Change Glow Plugs on 7.3 Powerstroke Engines
Do you know how to replace glow plugs on 7.3 Powerstroke engines? If you are mechanically inclined, you shouldn't have trouble changing glow plugs on 7.3 Powerstroke. We will cover the basic steps to get you started.
Take off the intake tube located on the filter.
Remove the intercooler's booster pipe.
Take off the engine harness main connector, plus the bracket that it attaches to.
Unplug wiring around the valve cover before removing the bolts and pulling it out.
If you need to, take off the valve cover gasket too.
Unclip all of the injectors.
Disconnect the glow plug. You will have to reach down the hole to pull each out.
Install the new glow plugs under each fuel injector. Make sure the surface between the gasket and head is cleaned to provide an optimal seal.
Replace the gasket, rubber side inward.
Plug the wires back in.
Take the truck for a test drive.
If you prefer visual instruction, check out this helpful video.
Ford 7.3 Glow Plugs FAQs
How many 7.3 glow plugs does my Powerstroke engine have?
Your 7.3 glow plugs are found below the valve covers, next to each fuel injector. Because of this design, your 7.3 Powerstroke truck will contain eight glow plugs.
Are 7.3 glow plugs the same as spark plugs?
While both the spark plug and glow plug are used to create an ignition source for the engine, they have different functions. Spark plugs are required to make a gasoline engine run, where the glow plugs are used to boost starting performance in diesel engines.
What is the 7.3 glow plug replacement cost?
It doesn't cost much to replace the spark plugs in your 7.3 Powerstroke engine. There's no reason to skimp on a replacement because of money. If you do the job yourself, you will only pay for the new glow plug, which should be between $25 and $50. If you require a professional installation, you will likely pay between $100 and $250 for replacement.
Will a diesel engine start with bad 7.3 L glow plugs?
Diesel engines do not need glow plugs to start as a gas engine requires spark plugs. However, the glow plugs do help ignite the fuel mixture. If something is wrong with the glow plugs, you might notice a decrease in performance, trouble starting the engine or poor fuel economy.
Conclusion
After looking at these best glow plugs for 7.3 Powerstroke engines, you should have no trouble picking the right model for your Ford pickup. For the cost, it only makes sense to replace bad glow plugs and keep your engine running the way it should.
Here's a summary of our top 5 best glow plugs for 7.3 Powerstroke engines:
Sale
Ensun F4TZ-12A342-BA 8 Pcs Diesel Glow Plug - Dual Coils Fast Start - replacement for - 1995-2003 7.3L Powerstroke # ZD-11
【Premium Quality】: High Performance DUAL COILS Quick Start & Hotter Glow Plugs
【Direct Fit】: Direct replacement for a proper fit and easy installation, quality materials used, meets or exceeds OEM standards, 100% tested before shipping;
【Fitment/Compatibility】: 1995-2003 7.3L Powerstroke
【Replacement OEM ( Original Equipment Part) Number】: BOSCH 80033/ 0250202127; CHAMPION 190/CH237; DELPHI DS095A/ HDS310 BERU 100226138; AUTOLITE 1111; AC DELCO 37G; MOTORCRAFT ZD-10 / ZD-11; DRX00138 / DRX01004
【Buy with Confidence】: Order from Ensun, we offer a 12 Months Warranty, true worry-free shopping experience;