The exhaust on your Ford truck is something you might not think about until there is a problem. However, upgrading the 6.0 Powerstroke exhaust is a great way to achieve more performance and efficiency. With the best exhaust for 6.0 Powerstroke engines, you harness the power of your Ford truck motor.
To help you navigate the Ford 6.0 diesel exhaust systems on the market, we've chosen the top models to evaluate. In this guide, you will find options that help you stick to a budget and some that just go all-out.
What is a 6.0 Exhaust?
Your truck's exhaust system is designed to take the gases coming from the engine and draw them away from the vehicle into the atmosphere. Your truck engine produces various gases, such as nitrogen oxides, carbon monoxide and carbon dioxide. These gases can be harmful to people, especially when in a larger quantity.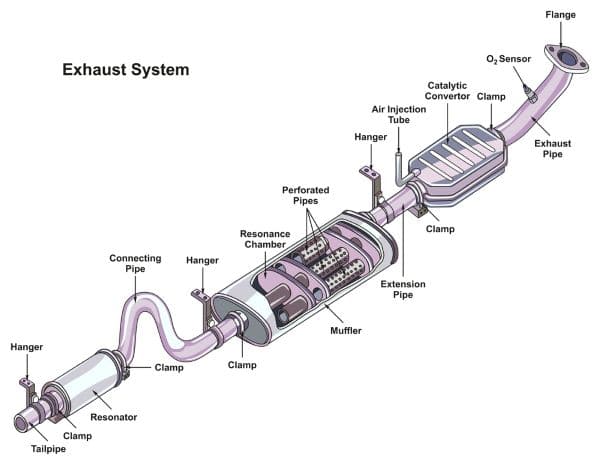 With the right exhaust system attached to your 6.0 Powerstroke, you ensure that the gases don't reach the cabin. Plus, the right exhaust system ensures that your truck operates just the way it should.
Parts of the 6.0 Exhaust System
The exhaust system on your Ford 6.0 Powerstroke is constructed of many parts working together to remove gases from the truck. Here are a few you should know about.
Exhaust Manifolds/Headers
After combustion occurs, the exhaust gas is pushed from the cylinders by the pistons. It then travels into the exhaust manifolds, which are bolted down to the engine head. There is a pipe attached to each cylinder that collects the gas and combines it into one exit pipe, otherwise known as the collector.
Many stock manifolds are constructed from cast iron, but they aren't very efficient. By swapping the manifold for a performance model, you can achieve better performance.
Catalytic Converters
The catalytic converter takes all of the dangerous chemicals coming from the exhaust and turns them into safer elements. To battle the carbon monoxide, hydrocarbons and nitrogen oxide, the palladium- or platinum-coated cat converter mixes with the pollutants to create a chemical reaction. This reaction converts the products into oxygen, carbon dioxide, water vapor and nitrogen before releasing the gases into the air.
However, this part can also go bad, especially if your engine's air/fuel mixture is off. When the catalytic converter goes bad, you are looking at some hefty repair bills, so work hard to perform regular maintenance on your 6.0 Powerstroke and keep the engine running right.
Mufflers
If there was nothing beyond the catalytic converter, your exhaust would be loud and annoying. It wouldn't sound anything like the aggressive tone you are used to. With a muffler, the sound is reduced, so it isn't deafening.
Generally, the muffler contains a resonating chamber with baffles to cancel out the sound waves. With a performance muffler, you get resonating chambers that tune and amplify the exhaust note to something deeper and more pleasing. You can also opt for a variety of inlet and outlet configurations, along with a dual-output design that makes your vehicle look like it has a dual exhaust when it doesn't.
Exhaust Tips
The exhaust tips are the last part of the exhaust system on your Ford truck. Even though it is very far from the engine where the journey begins, the tailpipe diameter and bend will still affect performance. The wider the diameter, the more gas can flow out and reduce a backup of pressure.
Sure, you could end the system with the metal pipe from the muffler sticking out, but that doesn't look good. Instead, the exhaust tip comes with a durable construction that can turn heads. Choose from various bends and straight or rolled edges to complete the look you desire.
Benefits of Choosing the Best Exhaust for 6.0 Powerstroke
If your truck already has a working exhaust, why would you consider upgrading to a new one? There are several reasons you should think about upgrading with an aftermarket 6.0 Powerstroke exhaust.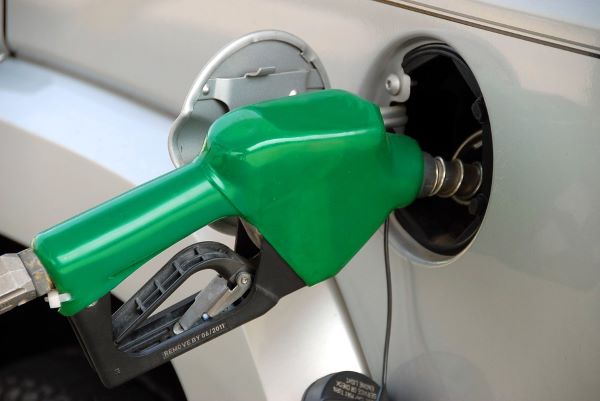 More Efficiency
Your older truck naturally expels a lot of gases into the environment. By choosing a newer and upgraded exhaust system, you help take care of the environment better. Plus, as the exhaust gets older, the efficiency naturally becomes reduced. With an upgrade, you can put out cleaner gases.
Better Style
An aftermarket exhaust for your 6.0 Powerstroke can upgrade the style of your truck, especially if you choose something with a polished tip. Show off how much you care about your truck.
Increased Performance
With a larger diameter pipe, there are fewer restrictions in place. As the gas flows freer, the engine works more efficiently, allowing the horsepower to increase. Because the system doesn't have to deal with back pressure, it also creates a boost to fuel economy.
Better Sound
As part of the exhaust system, you can replace the muffler, which alters the sound of the truck. You can choose something that creates a more aggressive tone or opt to reduce the overall noise.
How to Choose a 6.0 Powerstroke Exhaust: Buying Considerations
When you decide it's time to make the leap and upgrade your exhaust system, you want to make sure it checks every box you have. With a 6.0 Powerstroke engine, here are some factors you should consider.
Efficiency
To reduce the number of gases that get expelled into the air, you want a highly efficient exhaust system. With a new aftermarket exhaust, you can ensure all of the impurities are cleaned before reaching the atmosphere, which also reduces your carbon footprint.
Pipe Diameter
With a large diameter piping system, the exhaust offers the engine more space to breathe. With less pressure, the gases don't build up in the pipes. On the other hand, the smaller pipes, or a system with kinks, is going to trap the gases, causing back pressure and a reduction in horsepower. Choose the largest exhaust you can afford to go with if you want improved performance.
Material
You can choose an aftermarket exhaust made from several materials, including stainless steel and mild steel. While the mild steel is going to be more cost-effective, stainless steel offers more protection against corrosion.
Compatibility
If you are looking for a 2003 F250 exhaust, it won't do you any good to search through the 04 F250 exhaust options. While some might be compatible, it's essential that you find an exhaust made specifically for your truck. That's another concern when looking at different Powerstroke exhausts. In some cases, the 7.3 Powerstroke exhaust is not going to fit your 6.0 engine.
Price
Getting a cheap 6.0 Powerstroke exhaust might seem like a top priority, especially if you are low on cash. However, you don't want to sacrifice quality just to save a buck. Instead, choose an exhaust from a reputable manufacturer to ensure you get the performance and durability you need. After all, a cheap Ford exhaust isn't going to do you any good if it fails in a year.
Best Ford 6.0 Exhaust: Our Top 5 Choices
1. Diamond Eye Performance Aluminized Cat Back Review: Best Exhaust for 6.0 Powerstroke
You can get the 2005 F250 exhaust you've been looking for from Diamond Eye Performance. This company is known for making some of the best exhaust systems and this one lives up to the hype. With its 4″ diameter, the cat-back exhaust provides a rich and mellow tone to your exhaust.
Additionally, the aluminized construction ensures protection without breaking the bank. With your everyday hand tools, you will be able to install this kit, thereby helping you avoid costly mechanic bills. Plus, this exhaust system is going to help improve the fuel economy by about one to two mpg while boosting the horsepower and torque.
While we are big fans of this exhaust, it's clear that others haven't gotten on board yet. There aren't a lot of customer reviews, but that's probably due to a lack of awareness. If more people knew about this exhaust, we believe it would be a top seller.
Features:
Fits: 2003.5-2007 Ford F-250/350 6.0 Powerstroke
Material: Aluminized Steel
Type: Cat-back
Exit: Single
Diameter: 4″
Warranty: 1-Year
Improves Fuel Economy
| | |
| --- | --- |
| Pros | Cons |
| High-performance | Lack of customer reviews |
| Mellow exhaust tone | |
| Improves horsepower and torque | |
| Installs with hand tools | |
2. MBRP 6.0L PLM Series Exhaust Review: Best Cheap Exhaust for 6.0 Powerstroke
If you need a 2006 F250 exhaust, you know that MBRP is a top choice among manufacturers. This company leads the way in creating high-quality exhausts you can be proud of. While the price of this 6.0 Powerstroke exhaust is on the lower side of what you can expect to pay, you are not sacrificing quality.
In fact, the MBRP Performance Series is constructed from 100% aluminized steel to create the best value while still offering plenty of performance. You will find this is a solid option when working with a small budget. Plus, the sound quality of this exhaust is enough to turn heads.
The two-piece tailpipe comes with bolt-on hangers for a simple installation you can do at home. It's going to perform like the heavy-duty exhaust systems, but you get to keep more money in your pocket. The only trade-off is that you will probably need to replace it sooner than if you chose one made from stainless steel.
Features:
Fits: 2003.5-2007 Ford F-250/350 6.0 Powerstroke
Material: Aluminized Steel
Type: Turbo-back
Exit: Single
Diameter: 4″
Warranty: 1-Year
Creates Unique Tone
| | |
| --- | --- |
| Pros | Cons |
| Low price | Not as durable as stainless steel |
| Creates aggressive exhaust tone | |
| Easy to install | |
| Includes 1-year warranty | |
3. GPP Ported High Flow Exhaust Manifolds Review – Best 6.0 Powerstroke Manifolds
At one end of your 2004 F250 exhaust system is the manifold. To improve performance and the overall exhaust system, you need to start here. Upgrading your exhaust requires heavy-duty manifolds that can work with the high-performance tubing. These manifolds increase reliability, upgrade performance and add more flow.
While other kits will use the stock 6.0 manifold gaskets, spacers and hardware, this manufacturer chooses not to. After all, the 6.0 wasn't built that well, why would anyone want to borrow parts from it? This kit revamps everything, ensuring that your Powerstroke runs the way it should have from the factory.
This kit includes a lot of parts, such as the exhaust manifolds, gaskets, spacers and hardware. However, it doesn't come with the pipes for the exhaust. You must purchase these separately, which can make the price a little more than you were expecting. Still, if you want to get the job done right, you must have the best parts.
Features:
Fits: 2003.5-2007 Ford F-250/350 6.0 Powerstroke
Material: Steel
Type: Manifold
Warranty: 1-Year
Upgraded Exhaust Manifold
| | |
| --- | --- |
| Pros | Cons |
| Built with high-quality parts | Requires additional pipe purchase |
| Upgraded performance | |
| Replaces stock equipment | |
| Includes 1-year warranty | |
4. MBRP M1004S Universal Quiet Tone Muffler Review: Best 6.0 Powerstroke Muffler
At the other end of the exhaust system is your trucks' muffler. If you are going to upgrade the piping, you want to also place a high-performance muffler at the end. Who better to trust with this important component but MBRP, a leader in exhaust systems for Ford trucks?
This universal muffler will fit on a variety of vehicles but works perfectly with the 6.0 Powerstroke trucks. It is constructed with durable and long-lasting T-409 stainless steel for optimal longevity. Plus, the dual-core technology ensures an optimal flow combined with excellent sound suppression.
If you use your truck for towing, you will be happy with this muffler as it reduces the cabin noise. With the 4″ inlet and 30″ length, it's the perfect addition to any 6.0 Powerstroke exhaust system. Just remember, you will need to either attach it to your existing exhaust or pair it with an upgrade.
Features:
Fits: 2003.5-2007 Ford F-250/350 6.0 Powerstroke
Material: T-409 Stainless Steel
Type: Muffler
Exit: Single
Diameter: 4″
Warranty: 1-Year
Durable Construction
| | |
| --- | --- |
| Pros | Cons |
| High-performance | Not complete exhaust system |
| Reliable manufacturer | |
| Reduces cabin noise | |
| Easy to install | |
MBRP M1004S Universal Quiet Tone Muffler
T-409 stainless steel
Dual core technology provides optimal flow in conjunction with superior sound suppression
Perfect for over the road towing applications as cab noise is greatly reduced
Over a full year of on road testing
4 inch inlet/outlet; 30 inch length
5. MBRP T5112BLK 10″ Black Angled Exhaust Tip Review: Creates Best 6.0 Powerstroke Look
If you want the best appearance from your 6.0 Powerstroke exhaust, make sure you add this black tip. It has a 4″ diameter with a 3.5″ inlet and it's created from polished T-304 stainless steel for a long life. You can attach it to your existing exhaust or perform a complete upgrade for more function.
The integrated clamp construction ensures you don't have to weld anything to get it installed. You can have this tip installed in the blink of an eye, with very little mechanical experience. Yet, everyone who sees the MBRP logo on the tip will know you mean business.
Plus, the tip is easy to clean with the stainless steel construction and won't look like chrome does after a few years of use. However, you will still need to purchase your 6.0 Ford Powerstroke exhaust to go with this tip; it's not a complete system.
Features:
Fits: 2003.5-2007 Ford F-250/350 6.0 Powerstroke
Material: T-304 Stainless Steel
Type: Exhaust Tip
Exit: Single
Diameter: 4″
Warranty: 1-Year
High-Performance
| | |
| --- | --- |
| Pros | Cons |
| Stylish look | Not complete exhaust system |
| Easy installation | |
| Doesn't wear out like chrome | |
| Simple to clean | |
Sale
Types of Powerstroke Exhaust Systems
You can choose from various types of exhaust systems when looking to make a change.
Cat-Back
This exhaust is going to replace everything from your truck's catalytic converter back. These are the most common types of exhaust systems installed on the Ford Super Duty trucks. You can upgrade some piping diameter for better gas flow and an increase in horsepower.
Axle-Back
In this exhaust system, you will only replace the mufflers and equipment from the axle and back. This type is used mainly to improve the sound quality of your exhaust and is cheaper than the cat-back. Plus, it is simpler to install.
Header Back
In this system, you will replace every exhaust system component. These are the most expensive type of exhaust system because of all the pieces, but it allows you to upgrade the diameter of all the piping for better gas flow.
Single vs. Dual Exhaust Systems
Exhaust systems come with a single or dual tip, each with a purpose that might appeal to you.
Single Exhaust System
The single exhaust system is typically used with a smaller engine. The Y-design collects gas from the manifold and sends it through one single pipe. However, these systems can often be purchased with an extra tip to create the dual system look, even though it isn't the same configuration.
The single exhaust is the cheapest option because it doesn't offer a lot of performance. It's also easier to install.
Dual Exhaust System
The dual exhaust expels gases with the help of two pipes instead of one. It's the ideal choice to use with a larger engine to create additional efficiency. Two pipes take exhaust gas from the manifold and expel it out the back of the vehicle. While these are more expensive and can be harder to install, they are worth the performance upgrade you will experience.
Symptoms of a Bad 6.0 Powerstroke Exhaust System
When your exhaust system starts to fail, you might notice one of these symptoms.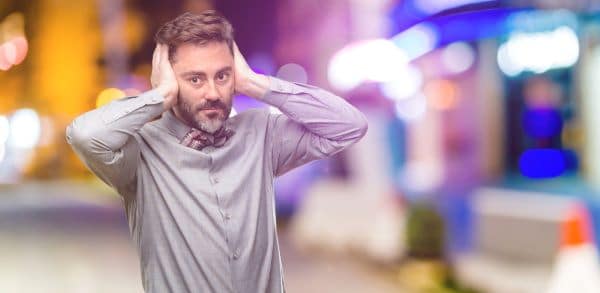 Excessive Noise
If there is a crack or leak in one of the pipes, you might suddenly deal with a loud exhaust sound. You might also notice a tapping or hissing noise that gets significantly worse when you accelerate.
Raw Fuel Smell
When the exhaust starts to fail, you could smell raw diesel fuel. These fumes might begin to infiltrate the cabin of your truck, making it not only annoying but also dangerous.
Decrease in Performance
Engine performance is a great gauge to how your truck is running. When acceleration, fuel efficiency or power starts to suffer, you want to inspect the exhaust system. There could be a leak that is causing your performance issue. However, many of these complaints can also be traced back to a multitude of other problems with your Powerstroke engine.
Physical Damage
If you notice exhaust tubes or pipes hanging down below your truck, something is probably broken. Not only will this probably become visible, but you might also have pipes touching the ground, which leads to a loud noise. It's possible that the exhaust became corroded and broke, requiring replacement.
Installing a New Exhaust for 6.0 Powerstroke
It isn't easy work to replace a 6.0 Powerstroke exhaust. You will want to have some mechanical experience and the right tools to complete the job. However, if you are mechanically inclined, you can do the installation yourself and save some money. Here are some basic guidelines to follow.
Park your truck on a flat surface.
Turn off the engine and remove the keys.
Safely raise the truck and secure it on jack stands.
Spray all hardware with a penetrating catalyst and let it soak for a few minutes.
Remove the stock exhaust. This might require cutting some pipes in front of or behind the catalytic converter.
Remove all hangers and replace them with new hangers.
Install new gaskets.
Put on the new exhaust system.
Secure all clamps and hangers to hold the exhaust system in place.
Check your work carefully.
Lower your truck to the ground and take a test drive.
If you want to know how to replace a 2004 F250 exhaust, consider following some of the tips from this video.
Taking Care of Your 6.0 Powerstroke Diesel Exhaust System
To avoid needing a replacement anytime soon, you want to take the necessary steps to care for your exhaust system. Here are some tips that will ensure your exhaust continues performing the way it should.
1. Listen to Check Engine Light
When the Check Engine Light comes on, there is something wrong. Yes, it might be as simple as a loose gas cap, but you should never ignore it. If the problem is related to the air/fuel mixture, you could be doing damage to the exhaust system.
Use your OBD II scanner to find out the trouble code. Once you know what is wrong, you can fix the problem.
2. Repair Broken Parts
The exhaust system contains many parts that must work together in harmony. If one piece of the puzzle isn't doing its job, it can create a problem for the entire system. As an example, if an exhaust hanger breaks, the pipes under your truck aren't going to be secure. The system could begin to sag, which strains all the other components. Therefore, no matter how small of an issue you think you have, fix broken parts immediately.
3. Fix Leaks
The exhaust system deals with constant pressure, vibration and heat. Over time, a leak can occur, which leads to performance issues. You might notice a leak in the exhaust manifold or with a gasket. The leaks can also occur at pipe junctures, which include gaskets as well. It's also possible for the pipes to fail because of rust or corrosion. Either way, if you can pinpoint where the leak is coming from, repair it before other parts begin to fail.
6.0 Diesel Exhaust FAQs
What is the 6.0 Powerstroke?
Originally, the 7.3 Powerstroke diesel engine was the big deal for Ford trucks. However, there were complaints about the efficiency, so in an effort to comply, Ford built the 6.0L Powerstroke to be included starting with some of the 2003 models. This was the second Navistar-built turbodiesel constructed for Ford trucks. It pumped out 325 horsepower and 560 pound-feet of torque and contained a bore of 3.74 inches with a stroke of 4.13 inches, which created a displacement of 365 cubic inches.
Who makes the best diesel exhaust system for 6.0 Powerstroke engines?
There are many companies you can trust to build a high-quality exhaust for 6.0 Powerstroke engines. We have highlighted several of our top choices and encourage you to find the model that best suits your needs.
What is the cost to replace a 6.0 Powerstroke exhaust?
You could easily spend $1,000 or more on a Powerstroke exhaust replacement, depending on what type of system you choose and if you have it professionally installed. Obviously, if you can do the installation yourself, there's a lot of money to be saved.
Does a new 6.0 diesel exhaust void my warranty?
It's unlikely that your 6.0 Powerstroke is covered by any factory warranty any longer. However, if you purchased the Ford truck used from a reputable lot, you might have received a dealership warranty. Aftermarket parts, including a new exhaust, cannot legally cause your warranty to be voided. The only way that the exhaust would create problems with the warranty is if the parts directly caused some type of failure.
What are some common 6.0 Powerstroke problems?
The 6.0 Powerstroke is one of the most complained about diesel engines out there. It's nowhere close to being as reliable as the 7.3 Powerstroke. Some of the top complaints include head gasket failure, a faulty fuel injection control module, trouble with the oil cooler and EGR cooler failure. It also suffers from EGR valve issues, trouble with the turbocharger, high pressure oil pump failure and cracks to the plastic degas bottle.
What is the difference between an aluminum and stainless steel exhaust system?
The two will perform similarly to one another, but polished steel looks better than aluminum. Additionally, the stainless steel is created to prevent corrosion and rust better than aluminum.
Conclusion
You can find the best exhaust for 6.0 Powerstroke engines by performing a little research. Improve the efficiency of your Ford engine or create a more aggressive tone that gets you noticed.
Here's a recap of our top 5 exhausts:
MBRP M1004S Universal Quiet Tone Muffler
T-409 stainless steel
Dual core technology provides optimal flow in conjunction with superior sound suppression
Perfect for over the road towing applications as cab noise is greatly reduced
Over a full year of on road testing
4 inch inlet/outlet; 30 inch length
Sale