Sometimes you are forced to buy a new 454 camshaft and other times, you simply want one to increase performance. Here's our list of 7 best cam for stock 454…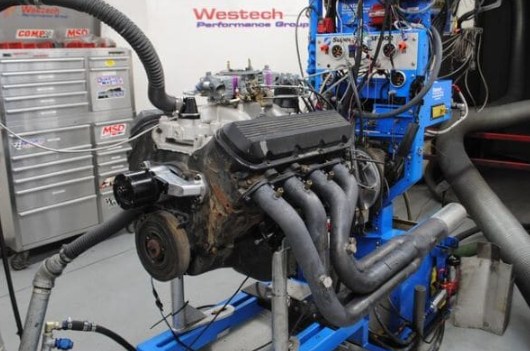 Sometimes you are forced to buy a new 454 camshaft and other times, you simply want one to increase performance. Whichever boat you find yourself in, you can treat your Chevy right with the best cam for stock 454 engines. We perform a complete review of the 454 camshaft selection available to you so that you can find the ideal replacement.
---
What is a Camshaft?
The camshaft is located near the top or center of the engine. It's part of the valve train, allowing fuel and air into the combustion chamber. It also moves the exhaust gases away after the fuel burns. Modern engines will have up to four camshafts.
When the camshaft rotates, the lobes move up and down. DOHC engines use each rotation to cause the valve to push down, which opens the cylinder. With SOHC or pushrod engines, the cam lobe (or pushrods) pushes the rocker arms to open the valve. When the lobe rotates even further, the valve spring causes the valve to close back up.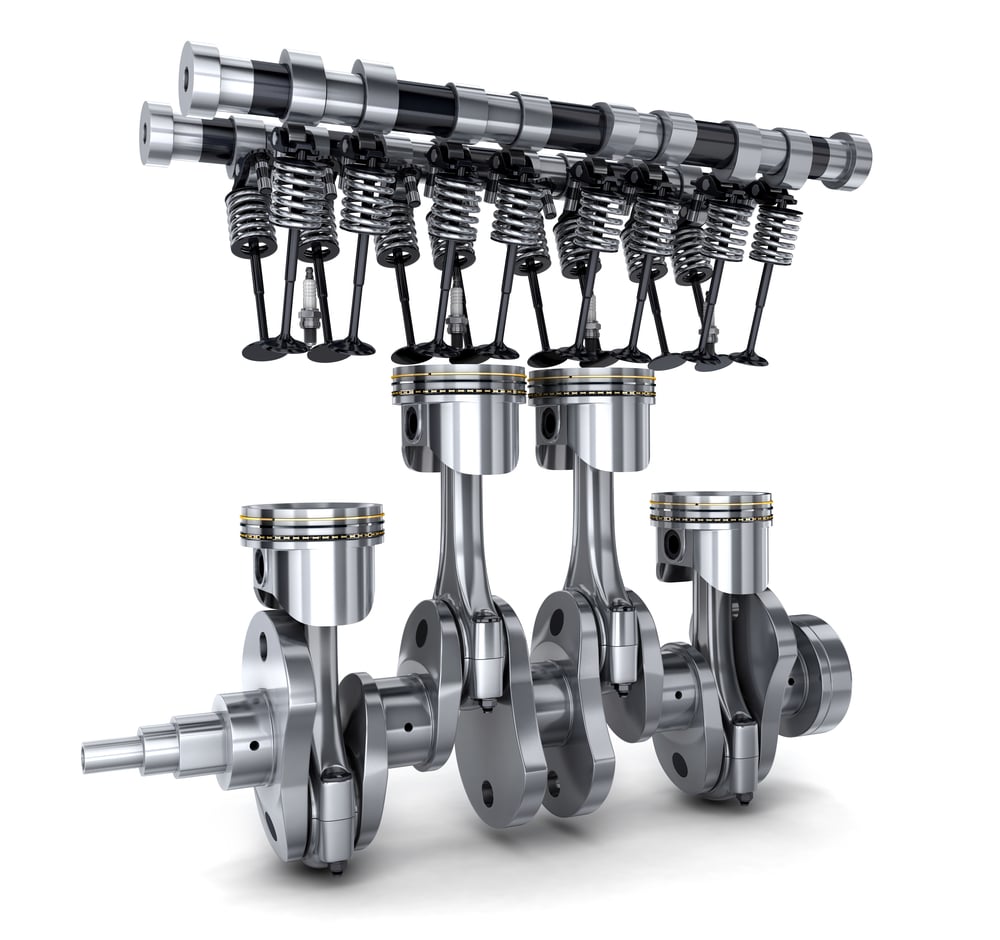 The 454 Chevy camshaft operates much the same as the modern models, but it is not considered DOHC or SOHC because it is not overhead. Because of this unique design, the 454 cams are harder to replace them some newer models.
Your vehicle's camshaft is connected to the crankshaft with the help of a timing belt or chain. Pushrod engines use timing gears. Camshaft gears contain twice as many teeth as crankshaft gears, allowing them to rotate half of the speed.
You will notice that there are four camshaft strokes. These are known as the intake, compression, power and exhaust.
---
What is the Stock 454 Engine?
The Chevy Big Block engine came in many sizes, with the 454 ranking as one of the best. Considering how many engines Chevy has made, that is saying something. Originally, the 454 engine was available in these vehicles.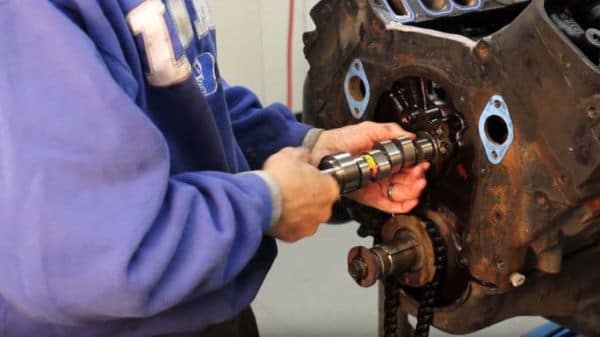 1970–1974 Chevrolet Corvette.
1970–1975 Chevrolet Chevelle.
1970–1975 Chevrolet El Camino.
1970–1976 Chevrolet Caprice.
1970–1975 Chevrolet Monte Carlo.
1971–1972 GMC Sprint.
It's known for its use in muscle cars of the 1970s, but it also has a solid reputation in the pickup segment. The 454 engines were available in some 1-ton Chevy trucks. Even though these engines are no longer installed from the factory in Chevy vehicles, they are still commonly purchased as a replacement by enthusiasts. You can also find a variety of parts that work with the 454 engine, making it a top choice for anyone looking to increase performance.
---
Benefits of Replacing the 454 Camshaft
Once you've upgraded your exhaust and your cold air intake, it's time to consider a new 454 cam kit. With this addition, you can increase the timing and duration of the valve opening.
When this occurs, the performance of your motor is heightened. Once the job is complete, you might notice some more horsepower, better acceleration, improved fuel economy and overall increased torque.
Hopefully, you are replacing your 454 camshaft because you want to. However, there are also times when a cam replacement becomes necessary.
---
Signs of a Failing 454 Big Block Cam (bbc camshaft)
The camshaft is an essential part of your Chevy engine. When the 454 cam starts to go bad, you might notice these symptoms.
Backfiring or popping noises.
Cylinder misfire occurring at either low or higher RPMs.
Tapping noise coming from the valves.
Why do BBC camshafts go bad? Sometimes the cam fails because of bad bearings, worn lifters or worn-out lobes. If the camshaft is broken, it could cause damage to the top of the motor. You don't want to pay for new connecting rods, pistons, valves or a cylinder block.
As with any major engine issue, if something is wrong, it should be looked at immediately. Allowing any vital component to fail only leads to more extensive and costly engine repairs.
Best Cam for Stock 454: Overview
---
7 Best Cam for Stock 454: A Detailed Review
Features
Made of high-quality material, this Camshaft can ideally fit in 1957-1985 small block Chevy engines.
It greatly enhances the horsepower by increasing the timing and duration of the valve openings during the strokes.
With a broader torque range, the Hydraulic Flat Tappet Camshaft offers good performance.
This premium camshaft is a perfect fit for engines 400, 350, 327, 307, 262, and 283.
It has a lobe separation of 114° and can lift to 0.488"/0.510".
The power brand RPM of the camshaft ranges from about 3000 RPM to 6500 RPM.
Being extremely light in weight, it can be taken around easily and assembled without any mechanical help.
The camshaft is designed in the USA and has a duration of @0.050":234°/302°.
The JEGS Hydraulic Flat Tappet Camshaft is a 5.4*2.8*31.2 inches camshaft specially designed to enhance the power and performance of your vehicle. Being the best for small block Chevy engines, this camshaft operates the poppet valves best.
Customers love that this item doesn't just come by itself but brings the whole kit along with it. Right from the installation manual to the set of lifters, it consists of everything.
This camshaft kit works excellent when combined with high-performance street stock converters. Besides, even when it works with other converters like 2000, the camshaft ensures the commendable optimum performance of the engine.
Moreover, this product has an excessively high RPM operating range that lies between 3000 RPM to 6500 RPM. Having such high RPM criteria provides you with maximum functionality and ensures complete reliability.
This Hydraulic camshaft is designed on optimum overlapping frameworks and offers increased power and a hard-hitting exhaust note. In addition, it also increases horsepower and presents you with a broader torque range. Weighing only 13 pounds, it is portable and easy to assemble.
With many exceptional features, it greatly enhances your vehicle's performance at the most budget-friendly price.
Pros
✅ Value for money.
✅ Premium quality product.
✅ It can be easily installed.
Cons
❌ Requires periodic replacement and maintenance.
---
Features
Hydraulic flat tappet.
1,600-5,800 basic operation RPM range.
110-degree lobe separation.
Lifters included.
This particular cam kit is specifically created for racing vehicles. It features an operating range of 1,600-5,800 RPM and works best with an 1800 RPM or higher stall. The quick opening lobe profile helps you achieve more responsiveness for heightened performance.
There is more vacuum produced from this kit which helps with vacuum assisted accessories. The duration adds more horsepower. It's a great addition if you've already added headers and an intake manifold. This cam kit fits the Chevy 396-454 Mark IV Big Block and comes with the camshaft, lifters, retainers, valve springs, valve seals, lubricant, a timing set and detailed instructions.
This kit is made in the United States. While we are big fans, we don't think this is the right choice for daily commuters. If you drive your car every day, consider something a little tamer.
Pros
✅ Meant for racing applications .
✅ Great with aftermarket manifolds.
✅ Durable construction.
✅ Enhances responsiveness.
Cons
❌ Not intended for daily drivers.
❌ Doesn't pair well with stock valve springs.
---
Features
Hydraulic flat tappet.
1,800-5,600 basic operation RPM range.
107-degree lobe separation.
Lifters included.
While we are discussing options from COMP Cams, consider this fine option, designed with the muscle car in mind. This kit includes three cam options for exceptional horsepower gain, longer exhaust duration and a broad torque curve. What you are left with is a deeper, more powerful exhaust note that turns heads.
This cam kit is the perfect fit for your 1967-1995 Chevy 396-454 engines. It's received rave reviews from enthusiasts, not just for the performance, but also because of the unique tones. In fact, among Chevy 454 owners, the Thumpr name has become commonplace.
This kit includes your assembly lubricant, lifters, plus a detailed instruction manual. However, some people find that they need to upgrade the valve springs, so you must be prepared to do another job for the best performance.
Pros
✅ Enhances any 454 engine.
✅ Makes exhaust note more profound.
✅ Includes all necessary components.
✅ Early intake valve openin.
Cons
❌ Further modifications might be necessary.
---
Features
Hydraulic roller tappet.
1,800-5,400 basic operation RPM range.
112-degree lobe separation.
Lifters included.
This hydraulic roller cam is a great upgrade for your 454 Chevy engine. With the premium lifters, you create the street performance you crave. Get ready for increased power and heightened performance that blows away the competition once you finish the installation.
This kit works with 1965-1996 396 and 454 big block engines. Because it was created to be race-ready, you can also count on the durability. Prepare for better acceleration, increased valve duration and a crisper throttle. Not only will you experience additional horsepower, but also a reduction in friction.
While this remains a top choice for 454 enthusiasts, some people aren't happy about the price. However, you get what you pay for, which is precisely the case with this exceptional aftermarket upgrade.
Pros
✅ Easy fit.
✅ Designed with performance in mind.
✅ Durable and efficient .
✅ Increases horsepower.
---
Features
Hydraulic flat tappet.
1,800-6,200 basic operation RPM range.
110-degree lobe separation.
Lifters included.
Why would a company name its cams Voodoo? Maybe it's because this set has everyone under a spell. It's often considered one of the best hydraulic flat tappet cams out there, so it deserves all of the respect. This high-performance street cam comes complete with a dual plane intake along with headers.
Because it covers more ground under the curve, you can look forward to more throttle response, increased torque, added horsepower and better acceleration. Plus, the company is known for its durable construction, so you won't need to worry about replacing the cam again anytime soon.
This set does come with valve springs, lifters and other accessories. However, it will not work without changing the valve springs. If you were hoping for an easier installation, this might not be the ideal kit for you.
Pros
✅ More performance.
✅ Strong construction.
✅ Versatile for any type of vehicle.
✅ Includes all necessary parts.
Cons
❌ Needs valve springs to work.
---
Features
Hydraulic flat tappet.
1,900-7,000 basic operation RPM range.
113-degree lobe separation.
Lifters included.
Our list of the best cams for stock 454 engines wouldn't be the same without mentioning one more from this industry leader. This particular model is specially designed for strip or street racing, because of its wide range. Additionally, the high exhaust duration positively affects the engine performance.
With this cam, you can expect more valve lift, plus a wide lobe separation. If you are hoping for more horsepower out of your Chevy, this kit won't disappoint. While it operates like one of the top-dollar cams, the price remains reasonable enough for the everyday modifier.
While it will fit a variety of engines, you need to make sure that yours has an LS3 or L92 rectangle port head. Otherwise, this cam simply won't work. However, engines that can take advantage of this kit are going to benefit greatly from the upgrade.
Pros
✅ Increases horsepower.
✅ High performance.
✅ Durable construction.
✅ Reputable company.
Cons
❌ Works with rectangular port heads only.
---
Features
Hydraulic flat tappet.
2,400-3,000 basic operation RPM range.
108-degree lobe separation.
Lifters included.
Whether you are looking to take off the line on the strip or show off your exceptional power on the street, this kit is sure to please. With exceptional craftsmanship, the company provides a cam that improves stability that often suffers when power is added. You also gain more horsepower and acceleration, just the way you were hoping for.
This company manufacturers its cams in the USA with a durable manganese phosphate coated and flame-hardened surface. This unique design ensures durability and longevity. After all, what good is power if it isn't going to last? What's most exceptional is the price. You would think that this cam would cost far more than it does, but there's no reason to pay more.
The only downside is that this kit provides more low-end torque than the other models. This might not be a problem for you, but it's something to consider.
Pros
✅ Increased performance.
✅ Low cost.
✅ Solid build.
✅ Made in the USA.
---
Installing a New 454 Cam Kit
Once you find the 454 cam you want, it isn't that difficult to install it. It helps to have some mechanical know-how. Otherwise, you might prefer taking your vehicle to a professional. Here are some basic instructions.
Take off the timing cover.
Take out the old camshaft. Sometimes, it's necessary to remove the entire engine.
Place your new parts in a solvent.
Lubricate the new cam.
Rotate your cam and mark Top Dead Center (TDC).
Set the timing chain.
Lubricate the lifters.
Finish assembling.
Check the timing and make any needed adjustments.
Start the vehicle, while keeping a close eye on the oil pressure.
We recommend watching this YouTube video to learn more.
---
Frequently Asked Questions (FAQs)
Which is better: a 350 or 454 engine?
For most passenger vehicles, the 350 is going to be better. It's an efficient yet powerful small block Chevy engine. However, if you have a performance car or truck, you will prefer the additional power provided by a 454 engine.
Is the 454 a good engine?
Enthusiasts continue to prefer the 454 engine because of its power and performance. It is a favorite among restorers because there are so many compatible aftermarket parts to choose from. Plus, it's available in many muscle cars that have become favorites for collectors.
How can I get more power out of a 454?
Start by upgrading your air intake and fuel system. The more fuel and air that gets into the big block engine, the more power you create. Consider upgrading the stock exhaust with something high-flow instead.
Additionally, you can replace stock timing parts with aftermarket components designed for racing. When all else fails, add a supercharger.
How much does it cost to replace a 454 camshaft?
If you do the job yourself, you can save a lot of money because you will only need to buy the parts. The cam typically runs around $500, with lifters adding another $500. Don't forget that you will also need gaskets, oil, a filter, cleaners, sealer and other miscellaneous items.
Can I drive with a bad camshaft?
A damaged camshaft can lead to serious engine issues. If you want to avoid more costly repairs, it's best to stop driving immediately and have the cams looked at.
Otherwise, you might need to replace connecting rods, pistons, valves, the cylinder block and head or the crankshaft. Depending on how much your vehicle is worth, it might just be the end of its life.
How much horsepower does a cam add to a 454?
A cam can add about 52 hp to a 454 as it responds quite well to the cam upgrade.
What does an oversized cam do?
You can put more air and fuel into the cylinder with an oversized cam by opening the intake valve wider. Thus, the greater the cam, the more fuel it will allow.
Conclusion
Whether you are looking at a new 454 Thumpr cam or you want to make 454 Vortec performance upgrades, our guide helps you make the right choices. Find the best cam for stock 454 engines and see how much more performance you can pump out of your vehicle.