Cars are my life. They're my everything and if it has a motor, I love it – Jessi Combs
While we believe in, and subscribe to, the same philosophy that Jessi Combs did, in our heart of hearts, we're truck people.
Much as love cars, we've always thought that bigger was better, and motors don't come much bigger, or better than the diesel motor that's used to power the 2500 and 3500 RAM series, Cummins six-point seven-liter beast.
While RAM is devoted to the ideology of guts and glory, Cummins is more focused in its mindset and thinks that only two things matter as far as a motor is concerned are power and longevity.
Even though Cummins has engineered and designed its motor to be the absolute best that it can be, and there's no denying that a motor that's just beginning to realize it's potential at one hundred thousand miles is an incredible diesel-powered technological miracle, there are ways to push it further and harder and make it even better than Cummins intended it to be.
And we're going to walk you through the seven upgrades that you can make to your RAM's motor that'll improve its power and performance and will even add a couple of years to its lifespan.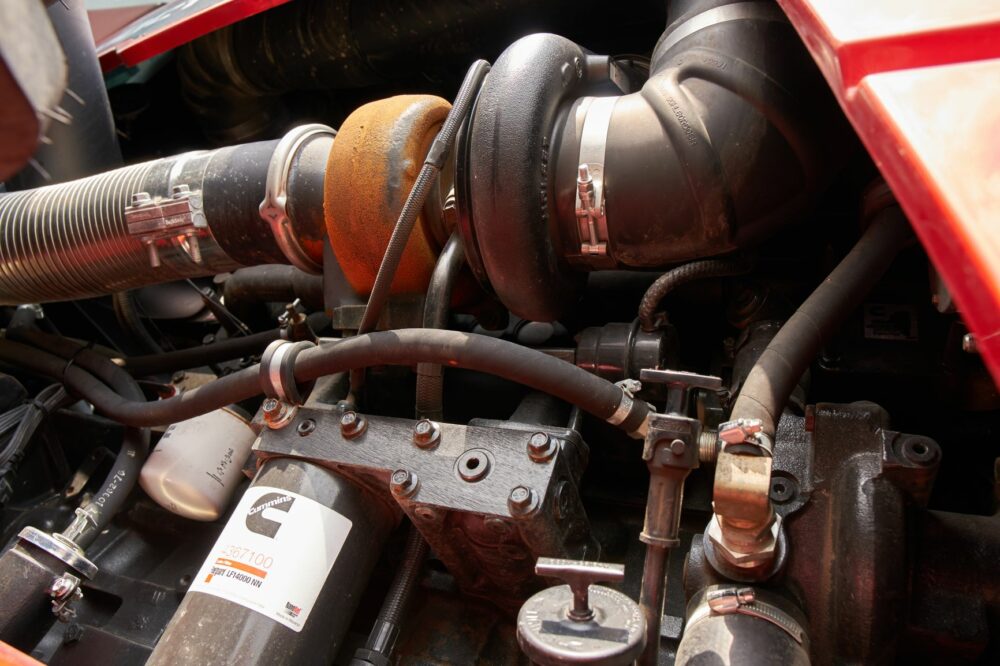 Fueling The Monster
A monstrously powerful motor like the Cummins needs a reliable and effective way to get the fuel from its tank to its heart so that it can make all of the power that it was made to produce.
The high-pressure fuel pump system that Cummins uses has been purpose-designed to do this, but it does have one inherent flaw.
It's susceptible to failure if it's forced to run on bad fuel for too long, that's why an upgrade that most long term diesel mechanics would happily recommend that any truck owner makes is the addition of a lift pump.
Far from being just another pretty bolt-on accessory, lift pumps can increase and improve the performance of your engine.
As they work on a lower pressure system than your standard fuel pump does and have a superior fuel filtration system, bad diesel won't be a problem and they'll always make sure that your motor gets all of the fuel that it needs.
Fass makes a specialist lifter that'll fit most Cummins engines that were made before two thousand and eighteen and they have the sort of solid cast-iron reputation that you and your truck can depend on. 
Swapping Out The Air Intake
Wages are going down and prices are going up, that's the way the world has always been and the way it's always going to be, so if you want to save a few dollars every time you visit the pump and improve the performance of your truck, one of the best ways to do it is by fitting a new cold air intake.
The Cummins is a powerful, dependable motor, but all of that performance and reliability comes at a cost, and that cost is its size.
And the cold air intake was probably way down somewhere near the bottom on the list of Cummins priorities when they designed their motor, which means that the intake that they fitted while adequate, wasn't exactly ideal for the size of the motor.
By fitting an aftermarket air intake like the one that Banks Power makes, you'll soon start to feel the difference in both your pocketbook and the miles that you'll get out of your truck from a single tank of diesel. 
Changing The Intercooler
It's a given that you're going to push your truck hard. RAM's are workhorses, and they were made to be driven hard, but the harder you push your truck, the hotter the motor is going to get, and because of its size, the Cummins can get very, very hot.
So, it doesn't really help that because it's so big, RAM had to shoehorn it in their trucks, which meant that there wasn't a lot of room for the intercooler.
It works, and it does what it's supposed to do, but if you want to keep your motor cooler and extend its life by supplying it with a more continuous supply of colder air which will also help to up to its performance game, fitting a Mishimoto intercooler (which isn't much bigger than the Cummins standard unit and will fit in the limited space of your engine compartment but is much more efficient and powerful) will give your Cummins the boost that it needs. 
Fitting A Better Exhaust
Motors work the same way the world over. They use fuel to create a reaction by combining it with oxygen that's converted to energy that's then used to drive the wheels and during that process, waste gases that are pumped out of the exhaust are produced, and the bigger your truck's exhaust is, the more power you'll get from your motor.
And even though Cummins stringent emission control systems limit the sort of performance modifications that you can make to your truck, a bigger exhaust will reduce the backpressure in the system, and while you probably won't make any extra horsepower, if you want to hear your Cummins roar like it was supposed to, the best way to do it is by strapping a new exhaust to your RAM.
Getting The Studs Right
Head studs are vital, if underappreciated part of any motor that uses a turbocharger, and while they're not strictly necessary for the standard six-point seven liter Cummins if you're running the VGT variant in your truck and you want to ensure that your head gasket won't blow, and want to make the most of the power that you motor makes at the same time, then we'd seriously suggest that you fit a set of aftermarket head studs. And some of the best head studs that you can fit on your Cummins are made by ARP.
No products found.
It's A Transmission Thing
Anyone who has ever sat behind the wheel of a RAM knows just how incredible the Cummins power plant is, but like Achilles, it has a heel that's a major weak point.
In the Cummins case, the heel is its transmission, so anything that you can do to cool the transmission fluid that it uses even further will make it perform better than it already does and will inevitably help to extend its working life.
The best way to do that is by swapping the sump pan for a heavy-duty unit that's designed to increase fluid capacity and lower its temperature, and your first port of call for any transmission pan should always be Pacific Performance.
Tuning
The last and most vital improvement that you can make to your Cummins is having it tuned by a specialist tuner. Any decent tuning shop will be able to plug straight into your truck's computer and rewrite (or remap) the software and the programs that Cummins use to ensure that their engines run smoothly and safely.
Don't worry, it's completely legal and safe, and the rewrite or engine tune will increase your motor's performance and efficiency and help to elevate and increase the power it makes. All an engine tune really does is unlock your motor's performance and help it to reach its full potential.
And the Cummins six point seven liter has a lot of untapped and hidden potential that any good tuner is more than capable of unleashing.
Here's a summary of the top products that you might find useful to upgrade your Cummins: