The heart of any motor vehicle is the engine. This vital component needs regular maintenance and care to run correctly. The best 0W-20 oil can help you achieve optimal performance and protect the engine from unnecessary wear.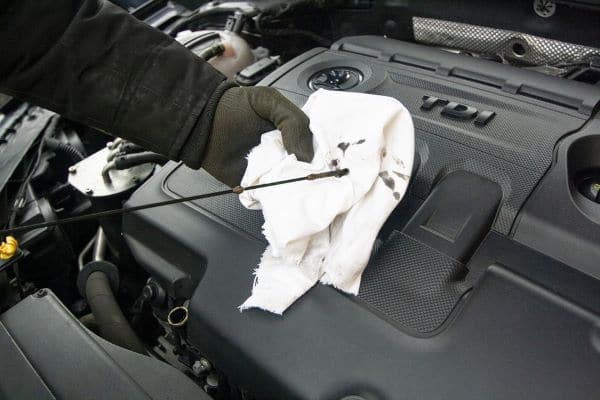 In the world of motor oils, it's difficult to determine when 0W-20 should be used. This motor oil is ideal for cold climates when the viscosity can change the performance. Many vehicles rely on 0W-20 motor oil, which is almost always synthetic, to provide better efficiency and protection.
To find the right 0W20 oil for your application, you have a lot of choices to pick from. Our motor oil review helps you pick the best lubrication for your vehicle type and needs.
What is 0W-20 Oil?
Oil is rated by how it performs in cold or hot temperatures. The rating of motor oil indicates how stable it is at a certain temperature.
0W-20 motor oil is a viscosity that is suitable in both cold and hot temperatures. The W stands for winter viscosity, while the 20 refers to the oil viscosity at higher temperatures.
With the best 0W20 oil, your vehicle can handle the lower temperatures just as effectively as the hot climates. Most publications agree that this oil is made to be used between -52.6 and 401 degrees Fahrenheit, ensuring you are never driving in a situation outside what this oil can handle. It's just one reason that many people use 0W-20 oil during the winter months.
Benefits of the Best 0W 20 Oil
It's often more expensive to use 0W 20 oil, especially when it is synthetic. However, there are several benefits to consider about this upgrade.
First, if you are using synthetic motor oil, you will have to perform oil changes less frequently. This longer interval ensures you save more money over the long haul.
Additionally, you can expect these benefits from synthetic 0W-20 motor oil.
Maximum protection against breakdown and engine wear
Ultra-low viscosity improves power and fuel economy, with less friction
Better low- and high-temperature engine wear protection
Improves cold starts, which is when wear often takes place
Reduces sludge in older engines
However, you have to decide if the additional cost is worth it for you. If you are driving a vehicle that is on its last leg, you might not want to put more money into the oil upgrade. Instead, you might prefer using a cheaper conventional oil and getting the most out of the engine while you can.

Types of 0W-20 Motor Oil
As you look for the best 0W-20 motor oil, you have several types to choose from. For the most part, 0W-20 oils are usually synthetic, but you can find other options.
Full Synthetic 0W-20 Oil
Fully synthetic oils are best for vehicles that require high performance levels and maximum lubrication. With the higher viscosity level, the engine receives more protection from thermal breakdown and oxidation. Plus, this motor oil will break down oil sludge.
Overall, you can expect synthetic oil to provide the best fuel efficiency and horsepower, but it does come at a cost. In fact, it could be priced four times higher than conventional oil.
Most auto technicians agree that full synthetic oil should be used on vehicles that regularly tow, haul or drive in extreme conditions.
Synthetic Blend 0W-20 Oil
With a 0W-20 synthetic blend, you get the cost-saving benefits of conventional oil with some of the protections of the more expensive option. This oil is mixed with both conventional and synthetic options to create a blend. There are also additives included for more resistance.
This oil is one of the most popular today and regularly used during oil changes. It's the middle ground for drivers who want more performance or fuel efficiency without breaking the bank.
Conventional 0W-20 Oil
Conventional oils were the standard many years ago. Today, this cheaper oil is only used for vehicles that don't demand a lot of performance or efficiency. It's the cheapest option on the market but not always the best for protection.
High-Mileage 0W-20 Oil
If your vehicle has more than 75,000 miles on the odometer, you want a high-mileage oil instead. This option reduces oil consumption, minimizes seepage and leaks, plus reduces emissions and smoke. It's the ideal protection if you want your engine to last another 75,000 miles.
While these are termed high-mileage oil options, they are really just a specialized synthetic oil. However, there are normally added conditioners and protectants that help older engines last longer.
Best 0W-20 Motor Oil: Buying Guide
Before you purchase the first 0W 20 oil you see, you want to take these factors into consideration. It's difficult to choose the wrong oil as long as you look at compatibility and the additives.
Motor Compatibility
The motor oil for a 5.7 Hemi is going to be different than a 6.7 PowerStroke. Not only does each engine require a different type of motor oil, but not all engines are compatible with 0W-20.
Thankfully, it's not difficult to figure out what motor oil is best for your vehicle. Look on the oil cap of the engine or check the owner's manual to figure out what's recommended.
Your vehicle might also use more than one viscosity grade, giving you the option to choose from several motor oils. Some modern models allow either 5W-20 or 0W-20 to be used interchangeably.
Don't ever use motor oil that isn't compatible with your engine. Otherwise, you could create larger issues that might also require expensive engine repairs down the road.
Motor Oil Additives
The quality of motor oil you purchase relies heavily on what additives are included. Here are a few to consider.
Anti-foaming agents: neutralizes air bubbles that can reduce oil quality.
Antioxidants: prevent premature degradation.
Anti-wear agents: Zinc dialkyl dithiophosphate (ZDDP) slows down metal degradation to extend the engine's lifespan.
Conditioners: softeners are ideal for high-mileage vehicles that are prone to oil leaks.
Corrosion inhibitors: prevent acids from eating away at the internal components and creating rust.
Detergents: removes debris and gunk from the oil.
Dispersants: prevent blockage by reducing accumulating sludge.
Friction modifiers: reduce friction under high temperatures or when hauling heavy loads.
Viscosity index improvers: ensures the oil never loses integrity due to weather changes.
You don't need to find a motor oil with all of these additives. Just look for the ones that suit your driving needs the best.
7 Best 0W-20 Oil Options: Our Top Picks Reviewed
1. Castrol Edge 0W-20 Synthetic Review
The Castrol Edge 0W 20 motor oil is fully synthetic for superior protection. Castrol uses dispersant molecules in the formula to prevent sludge and debris from building up. Overall, you can count on the increased performance as friction is reduced.
Because of the superior lubrication, the engine receives a longer life. Plus, the viscosity and anti-wear properties ensure that all of the metal components perform as they should. You will find this formula to be one of the most efficient on the market.
Many of the top automakers recommend using this 0W-20 oil, including Lexus, Acura, Toyota and Honda. However, you will find that the price goes up a little more than most other options, mainly because of the optimal performance. Still, you can't really argue with the exceptional customer reviews.
Features
Size Options: 1 Quart, 5 Quart, 6 Gallon
Fuel Compatibility: Gasoline and Diesel
Additives: Dispersants
Reduces Friction
| | |
| --- | --- |
| Pros | Cons |
| Highly rated | Expensive |
| Removes sludge and buildup | |
| Numerous size options | |
| For use in all engine types | |
Castrol 03124 Edge 0W-20 Advanced Full Synthetic Motor Oil, 5 Quart
42 percent better rating on fighting power robbing deposits
Superior engine protection vs conventional and synthetic blend oils
Superior performance against deposits, wear and oxidation; Bottle Color: Black
Meets the needs of Honda, Toyota, Acura, Lexus and other vehicles where 0W-20 grade is recommended
Exceeds ILSAC GF-5, API SN, ACEA A1, ACEA B1
2. Valvoline 0W20 Review
The SynPower oil from Valvoline is another full synthetic option that protects your car engine. This 0W-20 motor oil decreases the heat of the motor while also reducing wear and sludge caused by friction. With the included dispersants and detergent, you know the engine oil remains clean and functional.
The oil also provides high-temperature protection, which is useful if you tow or haul heavy equipment. With the lower viscosity, this Valvoline oil will flow faster when temperatures drop. If you regularly need to start your vehicle when the air is cold, you will be happy with the performance.
Valvoline also adds antioxidants that resist breakdown for longer changing intervals. You are looking at a relatively high price for this type of performance, but customers agree it's one of the best options on the market. However, you don't want to use this oil with your diesel engine. It's only formulated for use with gasoline motors.
Features
Size Options: 1 Quart, 5 Quart
Fuel Compatibility: Gasoline
Additives: Antioxidants, Dispersants, Detergents
Keeps Oil Clean
| | |
| --- | --- |
| Pros | Cons |
| Reduces friction | Not for use with diesel engines |
| Cleans oil | |
| Longer changing intervals | |
| High and low-temperature protection | |
Valvoline Advanced Full Synthetic SAE 0W-20 Motor Oil 5 QT
Innovative anti-wear additives provide 50% more wear protection than industry standards as tested in the industry Sequence IVA wear test
Full synthetic formula for exceptional high and low temperature protection
Extra detergents help fight sludge and deposits
Superior antioxidants resist motor oil breakdown in extreme conditions
3. Royal Purple 0W-20 Review
If you have asked your friends for their recommendations, you've probably heard about Royal Purple. This premium synthetic oil is made to perform and rarely disappoints. It's one of the best lubricating motor oils available, with the price tag to prove it.
Not only does this oil lubricate, but it also cleans and reduces friction. All of the additives work together to ensure the motor lives on as long as possible. With the corrosion inhibitors, the engine resists corrosion and rust, which would otherwise lead to expensive repairs. Basically, Royal Purple acts as an insurance policy, especially for older engines.
Plus, this motor oil is meant to work at any temperature, even when the weather turns sub-zero. If you want the engine to start quickly and efficiently, you will get the results desired from Royal Purple. Invest in your engine for maximum performance and longevity.
Features
Size Options: 1 Quart, 5 Quart, 5 Gallon, 12 Quart
Fuel Compatibility: Gasoline
Additives: Corrosion Inhibitors, Dispersants, Detergents
Lubricating
| | |
| --- | --- |
| Pros | Cons |
| Prevents corrosion | Expensive |
| Improves fuel economy | |
| Available in many sizes | |
| Extends motor life | |
Sale
4. Mobil 1 Synthetic Oil 0W 20 Review
Mobil 1 continues to be one of the most popular options for 0W-20 oil. This leader increases engine efficiency and boosts fuel economy for superior outcomes. There are several additives included with the oil to ensure the oil remains clean and provides plenty of lubrication.
With the reduction in friction, your motor is designed to last longer. Plus, you won't need to change your oil as often, thereby increasing the value you receive. The ultra-low viscosity makes it easier to start your engine, even when the temperatures are frigid. Many of the top brands recommend this oil, such as Toyota, Lexus and Honda.
The thermal and oxidation protection reduces aging and ensures longer-lasting protection. Plus, it is designed for all driving conditions, whether you are a daily commuter or a hard-working hauler. As with many of the premium options, you are going to pay more for this oil, but the benefits prove it's a winner.
Features
Size Options: 5 Quart
Fuel Compatibility: Gasoline
Additives: Corrosion Inhibitors, Dispersants, Detergents
Reduces Friction
| | |
| --- | --- |
| Pros | Cons |
| Reduces friction | Expensive |
| Improves performance | Doesn't work with diesel engines |
| Top-notch additives | |
| Oxidation protection | |
Mobil 1 Advanced Fuel Economy 120758 Advanced Full Synthetic Motor Oil for 0W-20 5, 4.73L, 5 quart
For best performance, follow the manufacturer's recommendations in your vehicle owner's manual.
Low viscosity, advanced full synthetic formula; helps increase engine efficiency and improve fuel economy up to 2 percent
Outstanding thermal and oxidation stability; helps reduce oil aging, resulting in long lasting protection
Outstanding low-temperature capabilities; quick cold-weather starting and fast protection helps extend engine life
Precisely balanced additive component system
5. AmazonBasics Dexos 0W 20 Review
You don't have to choose a name-brand option to get the motor oil you are looking for. The 0W-20 synthetic oil is a popular option, available in several sizes. You can use this oil for most gasoline engines, but not ideal for diesel.
Because of the viscosity, you have the protection you need against cold and hot temperatures, making this a versatile option. It also comes mixed with anti-wear agents, corrosion inhibitors, antioxidants and dispersants for an extreme value.
With the AmazonBasics oil, you should see an improvement in fuel economy and engine longevity. Plus, you won't have to change the oil as often, which saves you money and time overall. Still, you need to pay more for this oil compared with conventional or synthetic blends, but your car engine is worth the expense.
Features
Size Options: 1 Quart, 5 Quart
Fuel Compatibility: Gasoline
Additives: Anti-Wear Agents, Corrosion Inhibitors, Antioxidants, Dispersants
Longer Changing Intervals
| | |
| --- | --- |
| Pros | Cons |
| Cleaner oil | Expensive |
| Improves efficiency | Doesn't work with diesel engines |
| Plenty of additives included | |
| Corrosion protection | |
AmazonBasics Full Synthetic Motor Oil - 0W-20 - 1 Quart - 6 Pack
For best performance, follow the manufacturer's recommendations in your vehicle owner's manual.
Formulated for longer drain intervals
Helps prevent build up that can cause rust and corrosion
Reduces friction for less engine wear
High resistance to viscosity and thermal breakdown
6. Castrol 0W20 GTX MAGNATEC Review
This Group 3 synthetic oil is created by taking conventional oil and converting it through hydrocracking into synthetic. It's a unique process but comes with many benefits. When it is being refined, the molecules become more consistent. The end result requires fewer additives to perform as well as other top brands.
This oil provides a fine film over the metal engine components to ensure maximum protection for a longer life. Not only will it offer more fuel efficiency, but you should notice a boost to performance, especially in colder conditions.
Of all the Castrol synthetic oils, this one provides the least amount of protection and additives. However, it's still a superior choice when compared with conventional oils. It just isn't as good as removing debris, contaminants and sludge from the oil, requiring more frequent changes than the other Castrol oil we reviewed. Still, this fact hasn't slowed down the positive customer reviews, ensuring your expectations should still be met.
Features
Size Options: 5 Quart, 6 Quart, 15 Quart, 6 Gallon
Fuel Compatibility: Gasoline
Additives: Unique Molecule Formulation
Specially Created for Performance
| | |
| --- | --- |
| Pros | Cons |
| Slightly cheaper than other options | Not good at cleaning sludge |
| Many size options | |
| Exceptional customer reviews | |
| Reliable protection | |
Castrol 03060 GTX MAGNATEC 0W-20 Full Synthetic Motor Oil, Green, 5 Quart
-Dramatically reduce engine wear
-Leave critical engine parts 4X smoother* * As tested in the industry Sequence IVA wear test
-Superior wear protection on critical engine parts
-Unsurpassed level of protection against viscosity breakdown
-Unique full synthetic technology to fight against harmful sludge build-up
7. Mobil 1 0W20 High-Mileage Review
If you are looking to protect your high-mileage vehicle, Mobil 1 has you covered. This synthetic oil is specially formulated for your older motor, ensuring you get plenty of more miles out of it. You can even go up to 10,000 miles between your oil changes, ensuring you save money and time.
This specially created oil provides low-speed pre-ignition protection, as well as reduces the wear to the timing chain. In the end, you get a cleaner engine that is properly lubricated for better fuel economy. The internal heat protection is rated at up to 500 degrees Fahrenheit, so you can push your vehicle to the extreme.
On the flip side, it is also a good oil when driving in temperatures reaching -40 degrees Fahrenheit. If you deal with harsh winters, this oil is going to give you the cold start-up protection you need. Plus, detergents are used to prevent sludge buildup and reduce deposits. It's the perfect option if you want to get more life out of your high-mileage engine without spending more than needed.
Features
Size Options: 5 Quart
Fuel Compatibility: Gasoline
Additives: Detergents, Antioxidants
Created for High-Mileage Vehicles
| | |
| --- | --- |
| Pros | Cons |
| Protects older engines | Not many size options |
| Highly recommended | |
| Removes sludge and contaminants | |
| Superior lubrication | |
Mobil 1 High Mileage Full Synthetic Motor Oil 0W-20, 5 Quart
Mobil 1 High Mileage full synthetic motor oil 0W-20 is designed for engines with over 75,000 miles to go up to 10,000 miles between oil changes*
Meets ILSAC GF-6 standards to help provide low-speed pre-ignition (LSPI) and timing chain wear protection while keeping your engine clean and helping to improve your fuel economy
Provides excellent internal engine heat protection (up to 500 degrees F) and low temperature protection (to -40 degrees F)
Helps extend engine life by working to prevent damaging deposits and sludge buildup
Helps to protect your engine from the five factors that can damage engines over time
Synthetic Oil vs. Conventional Oil: Pros & Cons
Most 0W-20 oils are synthetic or a blend, but it's important you understand the benefits of both. Let's examine the advantages and disadvantages of both synthetic and conventional oils.
Synthetic Oil
When investing in synthetic oil, it's important you know the benefits you get for the added money.
Pros of synthetic oil
No impurities because it's artificially made (no sulfur or paraffin wax)
Reduces friction better
Improves engine performance
Maintains composure in extreme cold temperatures
Resists viscosity breakdown under high temperature conditions
Oil changes occur less frequently – typically between 7,500 and 15,000 miles
Improves fuel economy
Prevent sludge and oxidation
Doesn't evaporate quickly
However, there are also some disadvantages to choosing synthetic motor oil.
Cons of synthetic oil
More expensive
Not compatible with older rotary engines
Conventional Oil
If you are looking to save money, you might consider the benefits of conventional oil instead.
Pros of conventional oil
Cheaper
Works on rotary engines from older models
Seasons new cars better
Easier to produce
Decent lubricant for engines
Tolerates hot temperatures well
Yet, there are more downsides with conventional oil compared to synthetic.
Cons of conventional oil
Not ideal for winter temperatures
Contains impurities that create deposits and sludge
Needs to be changed more often, sometimes every 3,000 miles
Overall, it's clear that synthetic oil is a better option for most vehicles. It is specifically created in a laboratory to provide fewer impurities and better performance.
How to Pick the Best Oil for Your Car
How can you ensure that you are using the right motor oil for your vehicle? Follow these simple steps.
Check the owner's manual to determine the appropriate viscosity.
Determine if the automaker recommends synthetic, conventional or a blend.
You can also look on or under the oil cap to read what's recommended.
Read product labels carefully to ensure you only purchase the motor oil that is recommended by the manufacturer. If the automaker suggests 0W-20, make sure that's what the oil label states.
Check to ensure the oil works with your fuel type. Some are labeled for gasoline or diesel engines only.
Investigate what additives are included to ensure you get the right formula.
Look for the SAE symbol, which indicates that the oil has been approved for use by the Society of Automotive Engineers.
Check the expiration date of the oil to ensure it is still good to use.
Toyota also offers some guidance when looking for compatible oil. Watch this video for more help.
0W-20 Motor Oil FAQs
How often do you need an oil change with synthetic oil?
Most synthetic 0W-20 motor oils should be changed between 7,500 and 15,000 miles. However, you want to get the exact service requirement from your owner's manual as each vehicle is different.
How long does 0W-20 last?
0W-20 oil contains a shelf life between three and five years. If stored at room temperature in a sealed container, the oil might even last longer than five years, but you should always choose oil with the longest date possible.
Can I use 0W-20 instead of 5W-20 or 5W-30 instead of 0W-20?
If you are looking for more protection during winter, you might want to substitute 0W-20 oil for 5W-20 or 5W-30. As long as the vehicle manufacturer states this is okay, you are good to make the leap. However, it's never recommended to go against factory specifications.
What is 0W-20 motor oil used for?
0W-20 oil is generally synthetic, used in a variety of automobiles, especially during colder temperatures. This viscosity provides superior protection and better fuel economy that ensures your engine gets the miles it deserves.
Conclusion
Doing an oil change is never a fun experience, but one that can be performed less often with the best 0W-20 oil. Look through our guide to find the 0W-20 motor oil that suits your vehicle the best.
Here's a recap of our top 7 picks:
Castrol 03124 Edge 0W-20 Advanced Full Synthetic Motor Oil, 5 Quart
42 percent better rating on fighting power robbing deposits
Superior engine protection vs conventional and synthetic blend oils
Superior performance against deposits, wear and oxidation; Bottle Color: Black
Meets the needs of Honda, Toyota, Acura, Lexus and other vehicles where 0W-20 grade is recommended
Exceeds ILSAC GF-5, API SN, ACEA A1, ACEA B1
Valvoline Advanced Full Synthetic SAE 0W-20 Motor Oil 5 QT
Innovative anti-wear additives provide 50% more wear protection than industry standards as tested in the industry Sequence IVA wear test
Full synthetic formula for exceptional high and low temperature protection
Extra detergents help fight sludge and deposits
Superior antioxidants resist motor oil breakdown in extreme conditions
Sale
Mobil 1 Advanced Fuel Economy 120758 Advanced Full Synthetic Motor Oil for 0W-20 5, 4.73L, 5 quart
For best performance, follow the manufacturer's recommendations in your vehicle owner's manual.
Low viscosity, advanced full synthetic formula; helps increase engine efficiency and improve fuel economy up to 2 percent
Outstanding thermal and oxidation stability; helps reduce oil aging, resulting in long lasting protection
Outstanding low-temperature capabilities; quick cold-weather starting and fast protection helps extend engine life
Precisely balanced additive component system
AmazonBasics Full Synthetic Motor Oil - 0W-20 - 1 Quart - 6 Pack
For best performance, follow the manufacturer's recommendations in your vehicle owner's manual.
Formulated for longer drain intervals
Helps prevent build up that can cause rust and corrosion
Reduces friction for less engine wear
High resistance to viscosity and thermal breakdown
Castrol 03060 GTX MAGNATEC 0W-20 Full Synthetic Motor Oil, Green, 5 Quart
-Dramatically reduce engine wear
-Leave critical engine parts 4X smoother* * As tested in the industry Sequence IVA wear test
-Superior wear protection on critical engine parts
-Unsurpassed level of protection against viscosity breakdown
-Unique full synthetic technology to fight against harmful sludge build-up
Mobil 1 High Mileage Full Synthetic Motor Oil 0W-20, 5 Quart
Mobil 1 High Mileage full synthetic motor oil 0W-20 is designed for engines with over 75,000 miles to go up to 10,000 miles between oil changes*
Meets ILSAC GF-6 standards to help provide low-speed pre-ignition (LSPI) and timing chain wear protection while keeping your engine clean and helping to improve your fuel economy
Provides excellent internal engine heat protection (up to 500 degrees F) and low temperature protection (to -40 degrees F)
Helps extend engine life by working to prevent damaging deposits and sludge buildup
Helps to protect your engine from the five factors that can damage engines over time