There's nothing better than getting behind the wheel of your Ford Super Duty truck. It's built for adventure and hard work. However, when one of the fuel injectors on the 6.0 Powerstroke engine goes bad, the ride is anything but enjoyable. The good news is, with the best injectors for 6.0 Powerstroke, you can get back on the road quickly.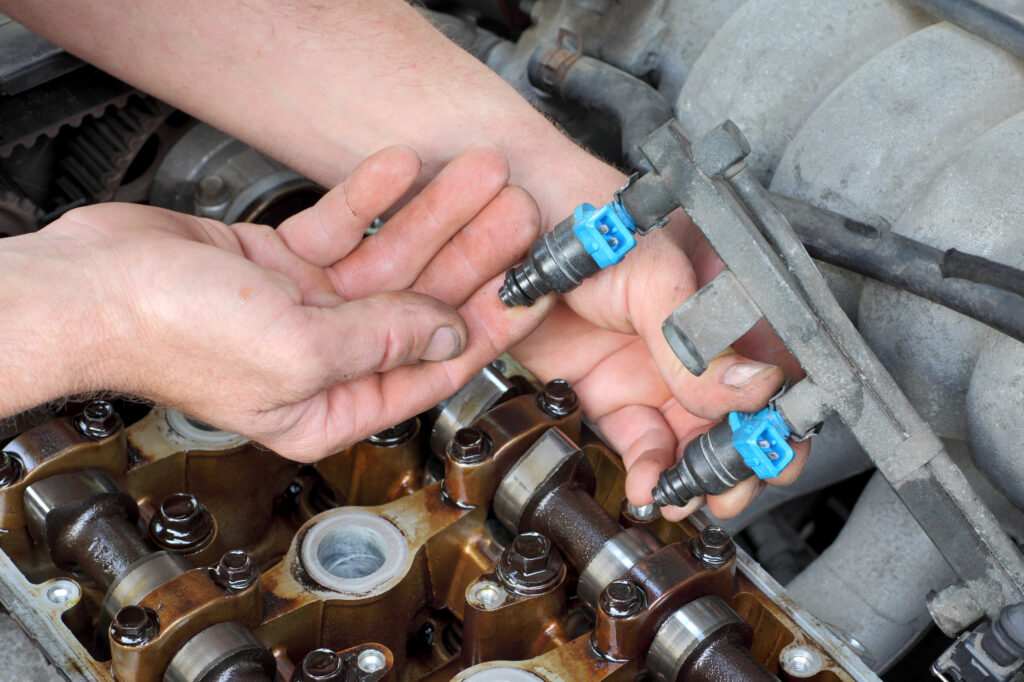 We look at the best 6.0 injectors for your truck and evaluate when you might need to replace them. Our comprehensive guide also shows you how to install the 6.0 Powerstroke injectors so you can save money and time.
What are Ford 6.0 Diesel Injectors?
Fuel injectors are located on the head of the Ford engine. They contain a nozzle that sits in the combustion chamber. Each injector contains a small fuel reservoir tank, solenoids and a filter, all used to transfer the diesel fuel into the engine of your truck.
Most Powerstroke fuel injectors are meant to last about 100,000 miles, so they don't last as long as gas fuel injectors might. However, the Powerstroke injectors contain advanced features that make them more powerful and highly functional. They are required to be heavy-duty to handle all of your towing and hauling needs.
While the fuel injector sounds like a complicated piece of machinery, it's very simple. The fuel pump supplies the injectors with pressurized diesel fuel. When this pressurized fuel enters the injector, the valve opens, allowing the fuel to be squirted into the engine through the tiny nozzle. From here, the fuel is burned by the engine to create power.
Powerstroke fuel injectors are just one piece of the complicated and advanced Ford fuel system. While these injectors are for diesel fuel, you can also find a injectors on gas-powered trucks and cars.
What is the 6.0 Powerstroke?
Ford has created several diesel engines that have received attention. Probably one of the most well-known is the 7.3L diesel.
The 7.3L Powerstroke was considered one of the best by truck enthusiasts. However, it was replaced during the 2003 model year with the 6.0L Powerstroke instead. It continued being included with Ford Super Duty trucks through the 2007 model but made it until 2009 with the Econoline van lineup.
Many 6.0L Powerstroke owners experienced problems, some of which turned into class action lawsuits. The main complaints related to the materials used for the in-block oil cooler and EGR cooler. As the truck got older, the system would clog with sediment, reducing the flow of coolant and causing the engine to overheat.
This truck is also known for premature failure of the high pressure oil system and defective head gaskets. While the fuel injectors haven't been a main source of trouble, there are still times when you need to find the best fuel injectors for a 6.0 Powerstroke. By ensuring your Ford truck has the right injectors, you help avoid fuel system problems down the road.
Buying the Best Injectors for 6.0 Powerstroke: What to Look for
If you need to find new injectors for your 6.0 Powerstroke, consider these criteria.
Compatibility
First and foremost, you need to find the injector that fits your truck. Just because you have a Powerstroke doesn't automatically mean that the injectors are universal. If you need 2003 6.0 Powerstroke injectors, you won't search through the selection of 2006 Ford 6.0 injectors. While these will probably work, it's always best to ensure compatibility with your specific truck.
OEM Part Number
The best way to ensure compatibility is to know the OEM part number of your injectors. While you don't have to purchase the Original Equipment Manufacturer component, you can use it as a means to cross-reference the exact fit of an aftermarket injector.
Features
You might pay more to get the advanced features of a high-performance injector, but the cost will be well-worth it when you get on the road. If you can afford to, buy injectors that have been upgraded with the latest technology and equipment.
Flow Rate
Each vehicle is meant to operate at a certain fuel flow rate. Before you purchase an injector, you must make sure that the flow rate is going to be suitable for your Ford truck.
Price
Everyone wants to buy cheap F250 6.0 injectors, but what is the outcome? Typically, you are going to find yourself replacing the injectors somewhere down the road. However, if you are willing to invest just a little bit more into something reliable from a reputable company, you will find that the added expense is worth the cost.
5 Best Injectors for 6.0 Powerstroke: Rated & Reviewed
1. Motorcraft CN5019RM Review – Best Injectors for 6.0 Powerstroke
If you want a trusted name in OEM parts, you want Motorcraft. The company has built a business on manufacturing high-quality parts for Ford trucks and other vehicles from the automaker. This genuine part is built to replace your factory injectors for a superior fit and reliable performance.
It works with 2003-2007 6.0 Powerstroke engines, so it would be a great fit for your 2005 F250 injectors. This injector also works with 4.5L V6 Powerstrokes, just in case you have another truck at the house you need to repair.
The customer reviews couldn't be any better, with users raving over how easy they were to install and reliable the performance was. The company also offers a 2-year warranty on the part. If something were to fail prematurely, you would be covered. However, Motorcraft parts do tend to be a little more expensive, and this component is no exception. Prepare to pay a little more now, but count on the reliability and durability this part offers.
Features
Fit: 2003-2007 6.0 Powerstroke
Dimensions: 6.9 x 4.2 x 1.4 inches
Weight: 3 lbs.
OEM
2-Year Warranty
| | |
| --- | --- |
| Pros | Cons |
| Reliable fit | More expensive |
| Lengthy warranty term | |
| OEM durability | |
| Easy to install | |
Motorcraft CN5019RM Fuel Injection Nozzle, 1 Pack
Our Focus has always been on building a reputation as the number-one source for quality Auto parts
All genuine parts are built with the engineering expertise
They're the original equipment for Ford, Lincoln and Mercury vehicles and help restore new-vehicle-like performance and reliability
Package Dimensions: 6.9 L x 1.4H x4.2W(inches)
2. Ford Diesel 4C3Z-9E527-BRM Review – Most Reliable 2005 6.0 Powerstroke Injectors
When it comes to 2005 Ford 6.0 injectors, you can't go wrong sticking with the original manufacturer. This injector is made to work with your Ford truck, so there are no surprises. You won't need to worry about how these injectors work because they are the same design already found in your truck.
The internal part of this injector is precision engineered to handle the extreme tolerances of your 6.0L Powerstroke engine. Not only will this ensure a longer life, but it also improves gas mileage and the performance of your truck. The company also chemically treats and micro-brushes all of the assemblies to ensure a clean installation.
This is going to be your most expensive option from our list. However, you can get a portion of your money back when you return the core. Additionally, you want the best performing injector on the market, and that is going to cost a little more upfront but will save you in the long run.
Features
Fit: 2003-2007 6.0 Powerstroke
Dimensions: 9.5 x 4 x 2.25 inches
Weight: 1 lb.
OEM
Chemically Treated
| | |
| --- | --- |
| Pros | Cons |
| Superior performance | More expensive |
| Micro-brushed | |
| OEM compatibility | |
| Highly-rated | |
Ford Diesel Fuel Injector Nozzle Assembly, 4C3Z-9E527-BRM
INCLUDED IN THE SELLING PRICE OF THIS ITEM IS A 180.00 REFUNDABLE CORE CHARGE IF THE OLD INJECTOR IS RETURNED IN THE ORIGINAL BOX PROVIDED. WE WILL ALSO PROVIDE A PREPAID RETURN LABEL FOR THE CORE RETURN.
2005-2010 Ford Super Duty 6.0L Powerstroke Diesel Fuel Inject Injector OEM NEW
4C3Z-9E527-BRM
Ford 4C3Z-9E527-BRM
3. Orion Motor Tech Review – Best 6.0 Powerstroke Performance Injectors Regulator
Along with your 2004 6.0 injectors, you might require pressure regulators. This regulator is designed to offer superior fuel delivery and increase engine performance. With the superior fit and durability, you are sure to get many more miles out of your Powerstroke.
The advanced technology ensures that the 2004 6.0 Powerstroke injectors remain leakproof, giving you the function and design you need. This injection pressure regulator valve also includes a lifetime warranty, providing you with the peace of mind that you need.
Keep in mind that this part is not the actual injector itself. However, this fuel pressure regulator is also a great part to upgrade when you install your 2004 6.0 injectors. It's the perfect complement to ensure that your fuel delivery system continues working as it should.
Features
Fit: 2003-2007 6.0 Powerstroke
Dimensions: 5.8 x 2.2 x 1.9 inches
Weight: 1.25 lbs.
Injector Regulator
Lifetime Warranty
| | |
| --- | --- |
| Pros | Cons |
| Leakproof design | Not actual injectors |
| Superior fit | |
| Reasonable cost | |
| Works in conjunction with the injectors | |
4. Diesel Destruction 3C3Z-9E527-ECRM Review – Best 2006 6.0 Powerstroke Injectors
If you are willing to go with an aftermarket brand, you will find that Diesel Destruction makes a high-quality injector option. This injector has been remanufactured using OEM parts and finished with OEM specs for a superior fit and function.
The rebuild uses a new coil assembly nozzle, tips and O-rings. Plus, you don't need to send the core back. This low price is made possible without you returning anything, which is unlike the other options. That saves you time and money all in one.
Plus, this company is proud to offer a 1-year warranty, which we don't think you will ever need. In fact, the customers can't seem to say enough good about the performance from these injectors. The only trouble that some people have had is a rough idle at times. However, this is a common issue with 6.0 Powerstroke engines and not necessarily related to the injectors.
Features
Fit: 2003-2007 6.0 Powerstroke
Aftermarket
Complete Rebuild
| | |
| --- | --- |
| Pros | Cons |
| Remanufactured with OEM parts | Might cause rough idle |
| Easy install | |
| Low cost option | |
| 1-year warranty | |
5. Diesel Destruction 4C3Z-9E527-BRM Review – Cheap 2004 Ford 6.0 Injectors
Another option from this top aftermarket company is this fuel injector replacement. As a high-quality manufacturer, the injector has been completely rebuilt to OEM specs using genuine parts from Ford. This construction ensures the best fit and offers the longevity you are hoping for.
In the rebuild, the company utilizes a new coil assembly nozzle, O-rings and tips. The manufacturer also doesn't make you send back any core but offers the low price without any strings attached. Not only will you save money with this budget-friendly option, but you also retain more of your precious time with the fast installation.
The company provides users with a 1-year warranty that is only for more peace of mind. It's unlikely that you will ever need to take advantage of it, according to most customers. However, there have been some complaints about a rougher idle after the installation. It's something to be aware of from this manufacturer, as the last option also exhibited those symptoms.
Features
Fit: 2003-2007 6.0 Powerstroke
Aftermarket
Complete Rebuild
| | |
| --- | --- |
| Pros | Cons |
| Remade with OEM parts | Sometimes leads to a rough idle |
| Quick installation | |
| Lower cost injector | |
| Reliable construction | |
Symptoms of Bad 6.0 Diesel Injectors
Why would you need to buy the best injectors for 6.0 Powerstroke engines? If you are noticing any of these symptoms, it's likely that the injectors are going bad. However, many of these bad injector symptoms can also be caused by other problems, so it's vital that you have your Powerstroke engine checked out by a professional.
1. Trouble Starting the Vehicle
Diesel injectors are required to give the engine the fuel it needs. This flow of fuel is most important when you start the engine. If you are having trouble getting the engine to start, but you notice it cranking, it could be due to failing injectors.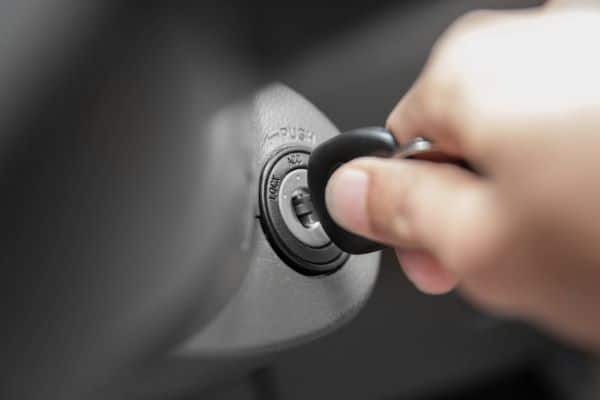 2. Rough Idle
Additionally, idling issues can be caused by the injectors. The engine goes through various speeds while idling, causing a higher demand for fuel. If the injectors can't provide what's needed, the engine will suffer.
3. Misfiring Engine
When the motor misfires, it can be multiple problems. However, the lack of fuel injection is a common issue. A complete diagnosis needs to be performed to determine where the problem lies, but it most likely has to do with the fuel system.
4. Fuel Smell
If you start to smell diesel fuel inside the cabin of your truck, there's a leak somewhere. It might be found at the injector. When these components go bad, sometimes they allow fuel to flow out even when it's not supposed to.
5. White Smoke
As the injectors create an uneven fuel burn, the exhaust can pour our dirty emissions. You will notice this by the white smoke coming from the tailpipe.
6. Reduced Fuel Economy
Because the engine isn't working efficiently, you will notice an increase in fuel consumption. Watch your miles per gallon to see when the engine is suffering.
Replacing 6.0 Powerstroke Fuel Injectors
We can offer you some basic steps showing you how to replace your 6.0 Powerstroke fuel injectors. However, some models have a few different instructions, which is why you should reference your service manual. For example, the process to remove the high pressure oil rail for 2003 Ford 6.0 injectors is different compared to those with 2006 F250 6.0 injectors.
Open the truck hood.
Locate the valve cover. It is on the top of the engine.
Remove any bolts securing the valve cover.
Pull the valve cover off of the engine.
Locate the truck's injector lines, supplying fuel to each injector. Typically, they are gold and screw right into the engine.
Remove the nut securing each line to the injector. Remove the line away from the engine.
Find the hold down bracket for the injector in the engine. This bracket holds each injector in place and typically contains two bolts. Take these bolts off with your wrench and remove the bracket.
Grab the top of the injector and remove it carefully from the engine with your pliers.
Replace the faulty injector.
Move in reverse order to put everything back the way it was.
Repeat the steps for each injector you need to replace.
Here is a handy video if you require visual examples.
6.0 Ford Injectors FAQ
What are the best injectors for 6.0 Powerstroke?
We have evaluated a few injectors that we think could be the best. Look through our guide above to find the diesel fuel injectors that meet your goals and your budget.
Why do injectors for 6.0 Powerstroke fail?
Over time, injectors fail. You will need to replace the 6.0 Powerstroke injectors after about 100,000 miles of use. If they fail before this milestone, it could be due to a faulty injector that couldn't take the vibration or heat.
Do I need to clean or replace my 6.0 injectors?
Sometimes it makes sense to use a fuel injector cleaner on your diesel truck. If you notice that the performance isn't what it once was, there might be a clog in the system. Try cleaning it out first, but you will need a replacement if that doesn't solve the problem.
Can bad injectors in 6.0 Powerstroke create an engine knock?
Fuel injectors aren't going to cause an engine knock. Instead, the faulty injectors will lead to performance issues, such as a rough idle, misfiring or decrease in fuel economy. Diesel engine knock isn't as common as with gasoline motors, but it can occur if there is air in the cylinders. If the engine starts to knock, you want to have it looked at by a diesel mechanic before it leads to more costly repairs.
How much does it cost to have the 6.0 Powerstroke injectors replaced?
You will spend about $400 and $500 to have a Super Duty fuel injector replaced. The part should be between $200 and $300, while labor will make up the remainder of the bill. If you can replace your Powerstroke injectors yourself, you could save a lot of money in the end.
Conclusion
It's not difficult to find the best injectors for 6.0 Powerstroke trucks if you know what to look for. With our helpful guide, you can get your injectors replaced and be back on the road in no time. Treat your diesel engine right so it can provide you with many more miles.
Here's a summary of our top five 6.0 Powerstroke injectors:
Motorcraft CN5019RM Fuel Injection Nozzle, 1 Pack
Our Focus has always been on building a reputation as the number-one source for quality Auto parts
All genuine parts are built with the engineering expertise
They're the original equipment for Ford, Lincoln and Mercury vehicles and help restore new-vehicle-like performance and reliability
Package Dimensions: 6.9 L x 1.4H x4.2W(inches)
Ford Diesel Fuel Injector Nozzle Assembly, 4C3Z-9E527-BRM
INCLUDED IN THE SELLING PRICE OF THIS ITEM IS A 180.00 REFUNDABLE CORE CHARGE IF THE OLD INJECTOR IS RETURNED IN THE ORIGINAL BOX PROVIDED. WE WILL ALSO PROVIDE A PREPAID RETURN LABEL FOR THE CORE RETURN.
2005-2010 Ford Super Duty 6.0L Powerstroke Diesel Fuel Inject Injector OEM NEW
4C3Z-9E527-BRM
Ford 4C3Z-9E527-BRM