While there are many things you think about as a driver, you probably don't give much consideration to the catalytic converter until you are facing expensive repair bills. However, with a little forethought, you could reduce these bills and unclog your cat at home. With the best catalytic converter cleaner, you take care of your exhaust system.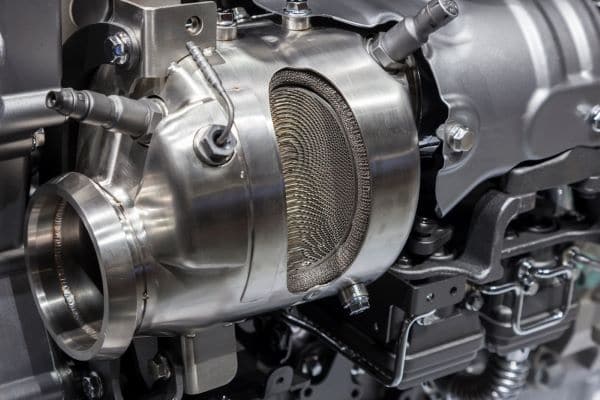 We evaluate your top choices and show you how to use them. Choose from a budget-friendly option or something more high-performing. You will find formulas that clean out tough clogs and some that make maintenance easier than ever.
What is a Catalytic Converter?
When your car is operating as it should, the engine produces gases during combustion. The catalytic converter is responsible for taking these pollutants and turning them into a gas that's less harmful. This process involves a chemical reaction between metals inside the cat and the exhaust gases.
When your vehicle doesn't run right, it will use more fuel than needed. This problem is described as running rich. The unburned fuel causes damage to the catalytic converter, sometimes even leading to a rotten egg smell. With a cleaner, you can remove the buildup in the cat to ensure a smoother running exhaust system.
What Causes Catalytic Converter Issues?
As time goes on, the catalytic converter gets clogged up with carbon buildup. This buildup prevents the catalyst from turning the emissions into something less harmful.
This carbon buildup comes from an engine that is running rich. That means your air-fuel ratio is not burning all of the fuel it is using. Several causes can lead to this rich-running engine, such as defective spark plugs or trouble with the fuel system.
Occasionally, this turns into a dashboard warning light that tells you to service your engine. You might see a P0420 or P0430 code when you scan it with an OBD2 tool.
Excessive carbon buildup within your catalytic converter is a possible sign that your car is running rich. "Running rich" means the air-fuel ratio is less than optimal and your engine is not burning all of the fuel it is using.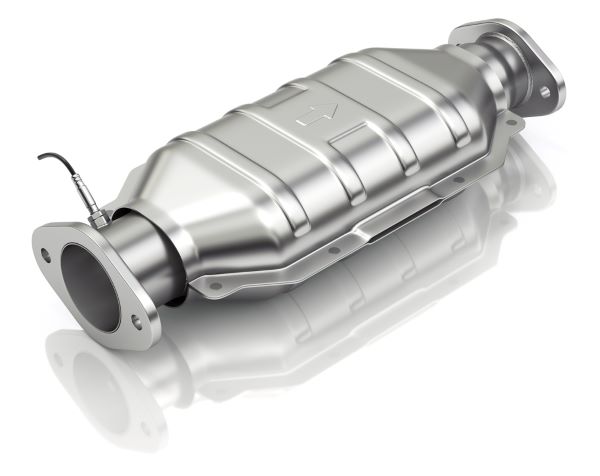 Best Catalytic Cleaner Buying Guide: Top Factors to Consider
Before you go out and buy the first cat cleaner you see, consider these criteria.
Compatibility
Catalytic converter cleaning treatments are designed to work with a specific engine. Whether you have a gas engine, diesel or hybrid, you want to make sure it is meant to be used, or you could do further damage.
Simplicity
You aren't looking to spend hours cleaning your catalytic converter, which is why you want something simple to dump in the tank. By choosing these options over the products that require being sprayed directly to the intake, you save yourself some time.
Effectiveness
You can find cat cleaners only meant for that part, or choose a formula that cleans out all of the fuel system components. These advanced formulas work best if you have a failing O2 sensor or other fuel system concerns.
Legal Use
There are some additives that are banned in certain states. Before you buy a product, make sure you aren't violating any laws.
Price
We want a cheap catalytic converter cleaner as much as the next guy, but you should never sacrifice quality to save a buck. Instead, choose a cat cleaner from a reliable brand. Otherwise, even the small amount of money that you have spent will be wasted.
8 Best Catalytic Converter Cleaner: Our Top Choices Reviewed
1. Cataclean: Best Engine Catalytic Converter Cleaner Review
Cataclean continues to be the most popular option among drivers. It's a fuel and exhaust system cleaner designed to remove stubborn deposits left in the catalytic cleaner. However, it also takes care of the fuel injector, cylinder head and dirty oxygen sensors.
The company estimates that one bottle can reduce hydrocarbon emissions by 50%, which is pretty significant. The EPA-approved formula can be used in every state. Plus, it's simple to use. Just pour this formula into the gas tank and start driving. However, you need to purchase different formulations based on what engine type you have. This one is rated for diesel engines only.
Cataclean uses a two-way system to get the job done. First, it dissolves the deposits, but it also improves the combustion process for a better burn. It can repair your error codes and help you pass an emissions test. But, you are going to pay a premium price for this formula. With that said, the customers in the Cataclean reviews are happy they invested in the best.
Features:
Size: 473 Milliliters
Engine Type: Diesel
Legal In All 50 States: Yes
Application Method: Pour In Tank
Reduces Emissions by 50%
| | |
| --- | --- |
| Pros | Cons |
| Cleans out carbon deposits | Expensive |
| EPA-approved | |
| Fixes error codes | |
| Helps pass emission tests | |
Cataclean 120007 Complete Engine, Fuel and Exhaust System Cleaner, 473 Milliliter
Using Cataclean can lower your total hydrocarbon emissions by up to 50 percent
Reduces carbon build-up in catalytic converter, oxygen sensors, fuel injectors and cylinder heads which results in improved fuel efficiency
Improves overall vehicle performance-including driveability issues such as power reduction, hesitation, rough idle, hard starts and lost fuel economy
Safe for gasoline, diesel, hybrid and flex-fuel vehicles; does not alter fuel
Not for use in 2-stroke or oil / gas mix engines
2. Hi-Gear: Budget-Friendly Catalytic Converter Cleaner Review
This advanced cat cleaner isn't going to break the bank but might also help you save thousands on costly repairs. If you have noticed the fuel economy starts to tank, you want to use this formula immediately before the problem gets worse.
Hi-Gear cleans the combustion chamber, pistons, EGR valves, injectors and oxygen sensors as well as the catalytic converter. It's your jack of all trades for the fuel system. Not only has it been known to help pass an emissions test, but it reduces that nasty rotten egg smell you might be experiencing.
One can is enough to treat up to 20 gallons of fuel and should remove any cat clogs that aren't too severe. If the first bottle doesn't work, you might need to try again, especially if you've never cleaned the catalytic converter before. If you purchase too many bottles, you would have been better off with our top choice, so keep that in mind.
Features:
Size: 15 Ounce
Engine Type: Gasoline
Legal In All 50 States: Yes
Application Method: Pour In Tank
Complete Fuel System Cleanout
| | |
| --- | --- |
| Pros | Cons |
| Budget-friendly | Might need multiple applications |
| Easy to use | No diesel formula |
| Improves fuel economy | |
| Clears minor clogs | |
3. Solder-It: Best Catalytic Converter Cleaner for Odors Review
With Solder-It, you can not only clean out the fuel system, but also remove those noxious odors. If you are dealing with a catalytic converter code, trust Solder-It to fix the problem quickly and reduce the chance of a costly repair.
Simply pour some of the formula into your gas tank when you fill it up and drive it a little. Most people report nearly instantaneous results. Plus, this solution is quite cost-effective. The company recommends using it every six months to ensure the fuel system continues running as it should.
This formula is meant for gasoline engines. Sadly, the company doesn't produce one for diesel or hybrid options. However, it is legal in all 50 states, meaning you might finally be able to pass those stringent emissions tests that occur in parts of the country.
Features:
Size: 16 Ounce
Engine Type: Gasoline
Legal In All 50 States: Yes
Application Method: Pour In Tank
Removes Noxious Odors
| | |
| --- | --- |
| Pros | Cons |
| Cost-effective | No diesel formula available |
| Pour in tank and drive | |
| Helps pass emissions tests | |
| Highly rated | |
4. Seafoam Injection Cleaner: Best Fuel System Cleaner Review
This Seafoam cleaner isn't meant to clear clogs from the catalytic converter. However, it will prevent clogs from occurring. That's why you want to consider this formula before you run into problems. For the price, you just don't have a reason to avoid it. Plus, this bottle treats up to 25 gallons.
Seafoam works on gasoline engines to clean the injectors and restore a proper spray pattern. It also adds lubricity to the upper cylinders to recover fuel economy and lower emissions. For the price, it makes sense to have a few bottles on hand for your regular tune-ups.
Plus, take a look at those customer reviews. It's crazy how well this formula performs. It's the ideal preventative option if you are looking to save your catalytic converter. However, if you start noticing clogs or performance issues, it might be too late to try this. Instead, opt for Cataclean.
Features:
Size: 5.25 Ounce
Engine Type: Gasoline
Legal In All 50 States: Yes
Application Method: Pour In Tank
Cleans Entire Fuel System
| | |
| --- | --- |
| Pros | Cons |
| Cheap | Doesn't remove clogs from the catalytic converter |
| Easy to use | |
| Special concentrated formula | |
| Perfect for prevention | |
Sea Foam IC5 Fuel Injector Cleaner, 5.25 oz
Add To Fuel To Help Clean Fuel Injectors And Restore Injector Spray Patterns
Adds Lubricity To Upper Cylinders
Helps Recover Lost Mpg And Reduce Exhaust Emissions
Concentrated Formula Treats Up To 25 Gallons
5. Royal Purple Max Clean: Best Fuel System Cleaner to Boost Performance Review
Another complete system option is Max Clean. This three-in-one fuel additive is known for keeping engines clean and improving the performance of the car. On average, it will boost fuel economy by 3.2% and increase horsepower by 2.6%. Plus, it takes care of the many of the issues that would cause the catalytic converter to clog.
Royal Purple claims it reduces hydrocarbon by about 12%, NOx by 13% and CO emissions by 18%. If you love the environment, you owe it to yourself to try this formula. It's also known for fixing a multitude of problems. According to the MaxClean reviews, it can reduce deposit-related engine pinging and knocking, plus prevent rough idling and stalling.
You might even decide to use this when you put your vehicle in storage for the season because it is a superior fuel stabilizer. This formula works on all engine types but isn't known for removing stubborn clogs. If you are already in trouble, you will need something a little more powerful. This Royal Purple cleaner is more of an insurance policy ensuring the fuel system doesn't get clogged.
Features:
Size: 20 Ounce
Engine Type: Gasoline, Diesel
Legal In All 50 States: Yes
Application Method: Pour In Tank
Fuel Stabilizer
| | |
| --- | --- |
| Pros | Cons |
| Highly rated | Doesn't remove clogs from catalytic converter |
| Use in all engines | |
| Prevents problems | |
| Increases performance | |
Royal Purple 11722 Max Clean Fuel System Cleaner and Stabilizer
Formulated with PEA detergents to provide exceptional cleaning of the entire fuel system
Restores horsepower by an average of 2. 6%
Reduces deposit-related engine knocking and pinging
High flash point solvents penetrate and remove the most stubborn deposits to restore lost fuel economy, horsepower and throttle response
Recommended for use every 20, 000 miles
6. Boost Up Catalytic Converter Cleaner: Best for All Engine Types Review
It doesn't matter what type of engine you have, the Boost Up cleaner might be just what you need to get rid of tough clogs. With a deep clean, you can effectively push out those clogs and avoid needing a catalytic converter replacement. If the engine light is on, you might want to try this before heading to the mechanic.
The company claims it can reduce your emissions by up to 50%, which is pretty impressive. Plus, it enhances performance by cutting down on consumption, cleaning the fuel injection system and removing buildup from the cylinders. That's why it's a good choice if you are having trouble with the oxygen sensors, cylinder heads or injectors too.
Pour this right into the fuel tank. You can use it every few months as a maintenance precaution. However, there aren't a lot of customer reviews yet, which might cause a little apprehension. For the price, it's worth a try.
Features:
Size: 120 Milliliter
Engine Type: Gasoline, Diesel
Legal In All 50 States: Yes
Application Method: Pour In Tank
Reduces Emissions by up to 50%
| | |
| --- | --- |
| Pros | Cons |
| Easy to use | Not heavily reviewed |
| Use in all engines | |
| Cleans entire fuel system | |
| Helps pass emissions tests | |
7. Liqui Moly 8931: Award-Winning Catalytic Converter Cleaner Review
If you haven't heard of Liqui Moly, you might have been living under a rock. This award-winning brand is known for making superior additives. This catalytic converter cleaner breaks down carbon deposits, even the stubborn ones.
Liqui Moly is meant for flushing out the impurities and removing sediments that are caused by buildup. It will also help you clear out error codes and possibly help you pass those emissions tests. Additionally, it helps boost fuel efficiency, eliminates toxic odors and reduces emissions.
However, the application isn't as easy as the other options. You will need a pressure sprayer and put it directly on the intake tract. If you aren't sure what you are doing, this might be too complicated for you.
Features:
Size: 10.6 Ounces
Engine Type: Gasoline
Legal In All 50 States: Yes
Application Method: Spray on Intake Tract
Award-Winning Formula
| | |
| --- | --- |
| Pros | Cons |
| Effective against tough clogs | Complicated to use |
| Removes carbon deposits | |
| Helps pass emissions tests | |
| Boosts engine performance | |
Sale
Liqui Moly 8931 Catalytic-System Cleaner
Special combination of additives for cleaning and removal of sediments and typical impurities in the intake system and combustion
Catalytic-system
Item Package Weight: 0.299 kg
Item Package Dimension: 17.6cm L x 5.0cm W x 5.0cm H
8. Motorkote: Best Exhaust System Cleaner Review
You might know Motorkote or this might be the first time you are hearing of it. Either way, the formula is effective enough to clean the catalytic converter and the entire exhaust system. It's been rated as one of the most effective when dealing with the P0240 trouble code for the catalytic converter.
Additives are used in Motorkote to reduce zinc and phosphorus levels in the cat. This buildup is one of the top reasons that the system becomes clogged. It will also dissolve and flush the deposits left on the oxygen sensors, thereby reducing emissions to help you pass that critical test.
Additionally, you might notice better acceleration and improved fuel economy as a result. Use a bottle every six months to maintain a clean system. However, it is only good for gas-powered engines.
Features:
Size: 16 Ounces
Engine Type: Gasoline
Legal In All 50 States: Yes
Application Method: Pour in Tank
Fixes P0240 Trouble Code
| | |
| --- | --- |
| Pros | Cons |
| Pushes out stubborn clogs | Only for gas engines |
| Reduces buildup | |
| Great for maintaining clean engine | |
| Help pass emissions test | |
Sale
Signs You Need Catalytic Converter Repair
Sometimes a cleaner simply won't do it and you need to replace your catalytic converter. Here are some signs to watch for.
Decrease in Engine Performance
When the catalytic converter starts to fail, you will notice decreased performance from your engine. Any blockage or clog is going to restrict the exhaust flow, which reduces acceleration, fuel economy and power. The same symptoms are found when the converter becomes cracked because it starts to leak.
Check Engine Light
When the Check Engine Light comes on, it could be for any number of problems, but the failing catalytic converter is one of them. When the air-fuel ratio is off, it sends alerts from the sensors to prevent further damage.
Rattling Noises
While a rattling can happen because of numerous problems, it can also be traced back to the catalytic converter. As the cat ages or is damaged internally from a rich fuel mixture, the mesh inside can collapse or fall apart, thereby causing a rattling sound.
How to Clean a Catalytic Converter: Keep Your Exhaust Cleaner
If you want to know how to clean a catalytic converter with Seafoam or how to use Cataclean, you will find that many of the products work the same way. However, you should always read the instructions and follow the manufacturer's guidelines.
From a basic standpoint, these are some steps you could follow.
Start with a near-empty fuel tank.
Add the cleaner to your fuel tank. Make sure you put in the recommended amount.
Fill up the tank to the specified level.
Drive around for a little. Most products require the converter to reach at least 400 degrees Fahrenheit for the additives to start working.
When the gas tank empties, fill it up all the way.
At this point, any error codes should have reset, but you can do it manually if not.
Not only have you cleaned out the catalytic converter, but you've helped the entire exhaust system.
You can also clean your catalytic converter with a lacquer thinner. Here's a YouTube video if you want more instruction.
Catalytic Converter Cleaner FAQs
Does catalytic converter cleaner work?
Most high-quality cat cleaners will remove the carbon build up in the exhaust system. However, it's not meant to clear out ten years' worth of build up, so you should use it at the first sign of trouble.
Will these catalytic cleaners help me pass an emission test?
If your vehicle fails because of poor emissions, it won't hurt to try a catalytic converter cleaner. It will improve emissions, stop offensive odors and improve fuel efficiency. However, if the car failed because something else is broken, the cleaner won't fix all your problems.
How much does it cost for a catalytic converter replacement?
Nobody wants to think about the catalytic converter cost because it is downright expensive. Most vehicles are going to cost between $900 and $2500 for catalytic converter replacement. That's why trying a cleaner first is a great alternative. Additionally, it pays to maintain your vehicle to avoid damage to the catalytic converter in the first place.
What steps do I follow if I want to know how to unblock a catalytic converter?
You want to start by using a catalytic converter cleaner, which is your cheapest solution. If that doesn't work, consider manually cleaning the converter instead. At worst, you will need a replacement.
Can I learn how to fix a catalytic converter without replacing it?
If the catalytic converter is clogged or blocked, cleaning it might solve your problems. If it is cracked or pieces have come loose, there's no other option but to replace it.
Conclusion
We've looked at a variety of catalytic converter cleaners to offer you a solid selection. All that's left to do is choose the one that will work for you and clean out that cat. By taking care of your vehicle, you avoid costly repairs down the road.
Here's a recap of our top 8 picks:
Cataclean 120007 Complete Engine, Fuel and Exhaust System Cleaner, 473 Milliliter
Using Cataclean can lower your total hydrocarbon emissions by up to 50 percent
Reduces carbon build-up in catalytic converter, oxygen sensors, fuel injectors and cylinder heads which results in improved fuel efficiency
Improves overall vehicle performance-including driveability issues such as power reduction, hesitation, rough idle, hard starts and lost fuel economy
Safe for gasoline, diesel, hybrid and flex-fuel vehicles; does not alter fuel
Not for use in 2-stroke or oil / gas mix engines
Sea Foam IC5 Fuel Injector Cleaner, 5.25 oz
Add To Fuel To Help Clean Fuel Injectors And Restore Injector Spray Patterns
Adds Lubricity To Upper Cylinders
Helps Recover Lost Mpg And Reduce Exhaust Emissions
Concentrated Formula Treats Up To 25 Gallons
Royal Purple 11722 Max Clean Fuel System Cleaner and Stabilizer
Formulated with PEA detergents to provide exceptional cleaning of the entire fuel system
Restores horsepower by an average of 2. 6%
Reduces deposit-related engine knocking and pinging
High flash point solvents penetrate and remove the most stubborn deposits to restore lost fuel economy, horsepower and throttle response
Recommended for use every 20, 000 miles
Sale
Liqui Moly 8931 Catalytic-System Cleaner
Special combination of additives for cleaning and removal of sediments and typical impurities in the intake system and combustion
Catalytic-system
Item Package Weight: 0.299 kg
Item Package Dimension: 17.6cm L x 5.0cm W x 5.0cm H
Sale